Looking for fun things to do with kids in London at Easter 2023? This might be the ultimate Easter guide with 100+ eggs-cellent family events and activities at cultural places this April 2023.
Note: This year, the two-week Easter school holidays falls between 1 and 16 April 2023. In London, most schools are closed Monday 3 April 2023 to Friday 14 April 2023. Easter weekend includes bank holiday Good Friday (7 April 2023), Easter Sunday (9 April 2023) and bank holiday Easter Monday (10 April 2023).
From London's famous sites to hidden gems all across the city, there's bound to be some new ideas for the children here. Fancy an Easter day trip from London? I've also included family events that are close to the capital – including Kent, Sussex and the South East.
Read on for Easter egg hunts in historic gardens, special family days, workshops, indoor trails, storytelling, family-friendly exhibitions, art and theatre. From tots to teens, whatever their age or interests, you're sure to find something on this list that they'll love. And, mindful of the cost of living crisis, I've included plenty of FREE events too.
To make it easier for you, each event has a clickable link to the venue's own event page. This should be frustration free – I've only included events which you can still get tickets for at the time of publishing, or are drop-in. But many events I share book out quickly. Let's hop to it!
Psst: Like what I do? Show your support by buying me a coffee.

Table of contents
Outdoor Easter Egg Hunts and Trails 2023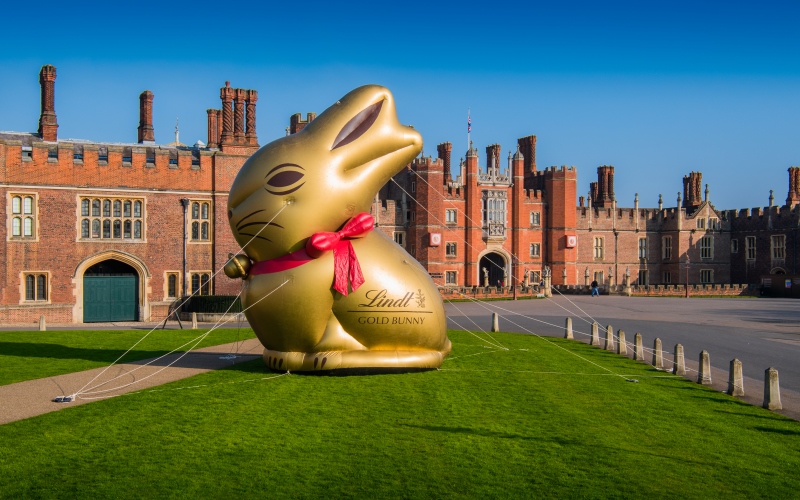 There's no greater incentive to get a child running round a historic site than an Easter egg hunt, and its promise of a chocolate treat. And if your child can't or won't have chocolate, many offer alternative prizes – check with individual venues for more information. Here's the outdoor Easter trails, both with and without eggs, on offer from museums and heritage sites in and near London:
The Lindt GOLD BUNNY hunt is back at Historic Royal Palaces! Find the Lindt gold bunnies and discover the stories of fascinating characters who visited, lived and worked at the palaces. When you've finished receive a Lindt GOLD BUNNY (10g)* reward. Included with paid admission, booking recommended. Best ages 4-12.
Hampton Court Palace: 1-16 April 2023. Allow 90 minutes for the trail.
Note: Kensington Palace Lindt GOLD BUNNY hunt is not running in 2023.
Explore the beautiful riverside grounds of Old Royal Naval College with The Great Easter Trail. Find all the hidden objects and places in the booklet to win a sweet treat. 1-16 April 2023, 10:00-17:00. Trail booklets £3.
Join the Zoonormous Egg Hunt at ZSL London Zoo. With birds, reptiles, fish and butterflies amongst the amazing egg-laying creatures at the Zoo, there's eggs of all sizes and colours. Unscramble clues and riddles to find the location of a secret golden egg while learning about some incredible animals along the way. With Easter craft activity. 1-16 April 2023. Included with paid admission, book ahead.
Help the Easter Bunny find their sweet treats around Hever Castle gardens, figure out the special word and receive a chocolate treat. Enjoy a dazzling display of spring blooms from late-flowering daffodils to hyacinths, camellias and tulips. Their Easter family fun also includes Easter egg decorating workshops (daily) and egg and spoon races and rolling (7-10 April 2023). 1-16 April 2023. Included with paid admission, book ahead.
Quack the case with Duck Dectectives at WWT London. Investigate underwater mysteries, follow tracks to work out who's been creeping around at night and use everything from bird calls to animal poo (honestly!) to reveal wildlife secrets only a true Duck Detective knows. ou'll see plenty of real ducks too, from the brightly coloured Mandarin to adorable whistling ducks. Go pond dipping at 11:00 and 14:00, and play plant detective at 13:00. 1-16 April 2023. Paid.
Embark on an Easter Quest with Lady Baillie's beloved Great Danes, Danny and Boots, through Leeds Castle great outdoors. Find spring-filled Easter displays, crack the clues, count the hidden golden eggs, and claim your Easter treat. Meet the majestic birds of prey, and watch as they swoop overhead in the falconry arena performances. And be transported back to the 1930s inside the Castle. 1-16 April 2023. Paid.
Magical beasts have come to the Painshill landscape to lay their eggs. Find the missing egg in the Egg-straordinary Dragon Trail. The one mile route is perfect for little legs and buggies. Don't miss the incredible crystal grotto, made from 10,000 gems, and the natural play area. 1-16 April 2023. Included with paid admission, book ahead.
Crack the code on the Easter Mission at the top-secret home of the World War Two Codebreakers, Bletchley Park. Learn more about binary in their activities for families (5-8 and 10-12 April 2023) or join an Amazing People, Amazing Machines family tour (5, 6 and 12 April 2023, ages 5-14). There's also free digital guides to the historic site and Easter brainteaser packs (£1). 1-16 April 2023. Included with paid admission.
Search RHS Wisley in the the giant Easter egg hunt, featuring brand new competition-winning designs. Learn all about spring and what you can do at home for nature and wildlife, and be rewarded with a chocolate treat. Make an Easter Bunny finger puppet or 3D tulip, or plant your own poached egg plant seeds to take home and nurture. 1-17 April 2023. Included with paid admission.
Pebble and Grit have hidden riddles and clues around the standing stones and treehouses at Tumblestone Hollow as well as in the Gardens at Stonor Park. Follow the Easter trail, exploring and playing as you go along. Solve the puzzle to receive a chocolate treat. Hear the stories of Tumblestone Hollow read by a woodland elf who might even give you a special washable tattoo. 1-16 April 2023. Paid, book ahead.
And here's my Reel from our Easter visit to Tumblestone Hollow.
Create your own whimsical headwear in Hogarth's House Easter Bonnet Workshop and Garden Easter Egg Hunt. Wear it whilst you retrieve hidden eggs from their Mulberry Garden, to exchange for a treat. 6 April 2023, 13:00-16:00. Paid, book ahead.
Chelsea Physic Garden's Easter Trail takes you around their 4-acre garden, where you'll discover more about the amazing world of plants. At the end, each trail entry receives a chocolate treat or prize. 7, 9 and 10 April 2023. Paid, book ahead.
Meet the Easter bunny at Blenheim Palace Easter Eggstravangza. Take the egg trail to win a Hotel Chocolat treat. Hop along to the Walled Garden to enjoy a whole host of egg-citing activities including circus skills, balloon modelling, bubble performances, bungee trampolines and a travelling vintage variety show. 7-10 April 2023, paid.
Psst: Team with a visit to The Lost Garden, Blenheim Palace's brand new adventure playground. Opens 1 April 2023. Paid, book ahead.
Follow the Easter Trail around Knebworth Gardens to gather all the Easter clues and solve the word jumble for a prize. Plus you can try Have-a-go Archery (£2). Their dinosaur trail and Adventure Playground, included in admission, make for a fun day out. 7-10 April 2023. Paid.
Squishy the chick was too busy eating chocolate and now can't find their friends at the Heath Robinson Museum! Help find them in the park on the Easter Chick Trail. Answer the quiz questions to receive a little Easter prize. 8 April 2023, 11:00-15:00. Paid, drop-in. Ages 3-10.
Take an egg hunt through Windmill Gardens with Brixton Windmill's Easter Family Day. Collect your trail sheet from Brixton Windmill Centre and find every clue to claim your prize. Book for their windmill tours or drop-in for their children's crafts activities. 9 April 2023, 13:00-16:00. £2 suggested donation for egg trail, drop-in. £5 windmill tours, pre-booking required. Minimum height 1.2m for windmill tours.
National Trust Easter Egg Hunts 2023
Make your way along the National Trust Easter Egg hunt in one of the many gardens they care for. Pick up your trail activity sheet and pencil, complete the 10 themed station to secure an Easter egg.
Trails cost £3 per child and include a trail map, a pencil and a chocolate or free-from egg at the end. Whilst stocks last. Normal admission fees apply. Best ages 4-10.
Psst: National Trust are running an unlimited FREE Easter trails in 2023 for new members who sign up via Direct Debit at one of their properties. Here's more info.
Here's a handy summary of the National Trust Easter trails in London and the South East:
London
Ham House and Garden, TW10 7RS. 1-16 April 2023.
Osterley Park, TW7 4RB. 1-16 April 2023.
Morden Hall Park, SM4 5JD. 5-10 April 2023.
Easter adventures at Rainham Hall and Community Garden, RM13 9YN. 6-10 April 2023.
Berkshire and Buckinghamshire
Waddesdon, HP18 0JH. 29 March-9 April 2023.
Cliveden, SL1 8NS. 31 March-16 April 2023.
Basildon Park, RG8 9NR. 1-16 April 2023.
Easter Adventures at Hughenden, HP14 4LA. 1-16 April 2023.
Easter Adventures at Stowe, MK18 5EQ, 1-16 April 2023.
Kent
Igtham Mote, TN15 0NT. 25 March-23 April 2023.
Smallhythe Place, TN30 7NG. 1-2, 5-9 and 12-16 April 2023.
Easter trail: Being Winston at Chartwell, TN16 1PS. 1-16 April 2023.
Eater trail: Village Fete at Emmetts Garden, TN14 6BA. 1-16 April 2023.
Knole, TN15 0RP. 1-16 April 2023.
The Great Scotney Easter Egg-stravaganza at Scotney Castle, TN3 8JB. 1-16 April 2023.
Sissinghurst Castle, TN17 2AB. 1-16 April 2023.
Surrey
Claremont Landscape Garden, KT10 9JG. 25 March-16 April 2023.
Easter trail: Run wild through time at Polesden Lacey, KT23 4PZ. 25 March-19 April 2023.
Dapdune Wharf, GU1 4RR. 7-10 April 2023.
Hatchlands Park, GU4 7RT. 1 & 3-16 April 2023.
Hindhead Commons and the Devil's Punch Bowl, GU26 6AG. 1-16 April 2023.
Spring into Nature at Winkworth Arboretum, GU8 4AD. 1-16 April 2023.
Sussex
Nymans, RH17 6EB. 25 March-16 April 2023.
Standen House and Garden, RH19 4NE. 25 March-16 April 2023.
Petworth House and Park, GU28 9LR. 1-10 April 2023.
Lamb House, TN31 7ES. 1-4, 7-11 and 14-16 April 2023.
Bateman's, TN19 7DS. 1-16 April 2023.
Bodiam Castle, TN32 5UA. 1-16 April 2023.
Sheffield Park, TN22 3QX. 1-16 April 2023.
English Heritage Easter Adventure Quest 2023
Get out and about in history with an English Heritage Easter Adventure Quest. Hunt for clues and challenges and discover traditional Easter games like egg rolling and the egg and spoon race. Track down the Easter eggs and you'll be rewarded with a chocolate treat from Love Cocoa and an adventurer's certificate.
£2 per child, usual entry fees apply.
London
Eltham Palace and Gardens, SE9 5NP. 1-16 April 2023.
Kenwood, NW3 7JR. 1-16 April 2023. No additional entry fees.
Marble Hill House, TW1 2NL. 1-2, 5-9 and 12-16 April 2023. No additional entry fees.
Bedfordshire
Wrest Park, MK45 4HR. 1-16 April 2023.
Essex
Audley End House and Gardens, CB11 4JF. 1-6 and 11-16 April 2023.
Kent
Dover Castle, CT16 1HU. 1-6 and 11-16 Apr 2023.
Walmer Castle and Gardens, CT14 7LJ. 1-16 April 2023.
Sussex
1066 Battle of Hastings, Abbey and Battlefield, TN33 0AE. 1-16 April 2023.



Celebrate Spring Arrivals 2023
Be greeted by a sea of over 110,000 tulips in Tulip Festival at Hampton Court Palace, the UK's biggest display of planted tulips. Stroll through the courtyards and gardens to see the blooming displays and see rare, historic and specialist varieties inspired by Mary II's famous 17th century collection. Combine with the Lindt Gold Bunny hunt and the Magic Garden playground. 14 April-1 May 2023. Included with paid entry.
Each Spring, Wimpole's 280 rare breed ewes give birth to several hundred new additions. Come to Lambing at Wimpole to see newborn spring lambs explore the world. See paddocks and pens filled with skipping, bleating new life. Find out about rare breed sheep, including the teddy bear Oxford Down and the multi-horned Manx Loghtan. 2023 dates haven't yet been announced; last year the main lambing dates were 24 April-8 May 2022. Paid, book ahead.
Watch our reel from our visit to Lambing at Wimpole.


Indoor Easter Egg Hunts and Trails 2023
In case of Spring showers, here's some indoor children's trails to enjoy this Easter.
Discover significant moments that shaped London's transport as we know it today with Momentous Moments at London Transport Museum. From VE Day to 2012 Olympics, you'll meet a cast of characters from different eras of the city's history. Build your very own futuristic time-travelling vehicle in a hands-on interactive craft workshop (Mondays-Fridays between 10:30 and 16:00, ages 7-14). 1-16 April 2023, included with paid admission.
Help Riley Ratcliffe spot members of her furry family and find out what life was like in the past for these little Londoners in Tail Trail at Museum of London Docklands. 1-16 April 2023. FREE, drop in. Ages 3+.
Psst: Don't forget to pre-book for the FREE Mudlarks children's play gallery. Bookings open 10:00 the day before your visit.
What can the classic chocolate bar teach us about the Second World War? In Imperial War Museum Story Seekers: Chocolate Edition find out how chocolate helped power the nation and discover the strange ways people satisfied their sweet tooth during rationing. Get hands on with real artefacts, explore the galleries and complete the activity to receive a chocolate reward. 1-6 and 11-16 April 2023. FREE. Ages 7+.
Pick up your free family Easter bunny trail at Gunnersbury Park Museum and find all the different bunnies hiding in the museum's gallery cases. Hand in your completed trail to enter a competition to win a soft toy. 1-2, 4-9 and 11-16 April 2023. FREE, just turn up.
Find Bella the Tower Bridge Cat and characters from the award-winning books in the Tower Bridge Cat Trail. The Bridge Master and his friends will help you complete tasks and answer key questions about the bridge's history. Collect and stamp your Apprenticeship Record to become part of Bella's Tower Bridge team. Included with paid admission, booking recommended.
Traditional Easter events 2023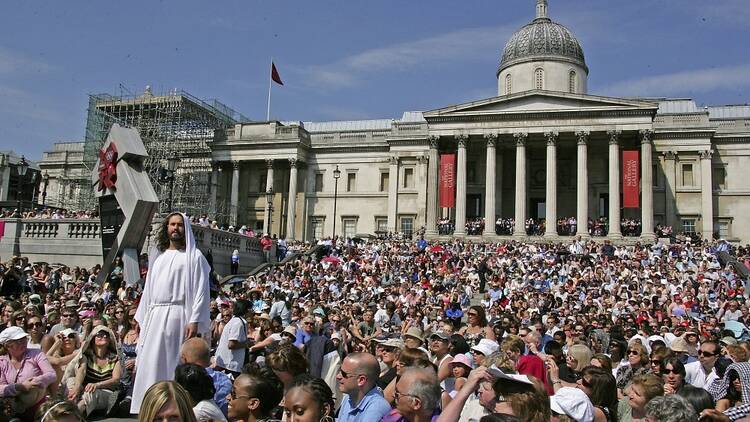 Remind the kids of the traditional side of Easter with one of these London events.
One hundred Wintershall players bring their electric and moving portrayal of the final days of Jesus to the iconic Trafalgar Square in the Passion of Jesus. This biblical play is a very popular event with 20,000 visitors pre-pandemic; live screens and speakers share the action. 7 April 2023, 12:00 and 15:15. FREE, just turn up. Parental guidance advised as it is a realistic interpretation of the crucifixion.
St Paul's Cathedral 2023 Easter family events have not yet been announced, but here's a link to St Paul's Cathedral Lent, Holy Week and Easter services. FREE, just turn up.
Westminster Abbey 2023 Easter family events have not yet been announced, but here's the Abbey's Holy Week and Easter services. FREE, just turn up.
Quirky Easter traditions 2023
And for something more silly, try an unusual child-friendly Easter activity. I'll add more as I find them.
Roll Easter eggs from the top of Box Hill. Bring your decorated eggs – prizes are awarded to the best decorated eggs at the start. Come early if you'd like to visit the egg decorating station first. Afterwards, enjoy some of Surrey's finest viewpoints and explore the woods on a gentle spring walk round the family play trail. 7-10 April 2023, 11:00 and 15:00.
Family friendly exhibitions April 2023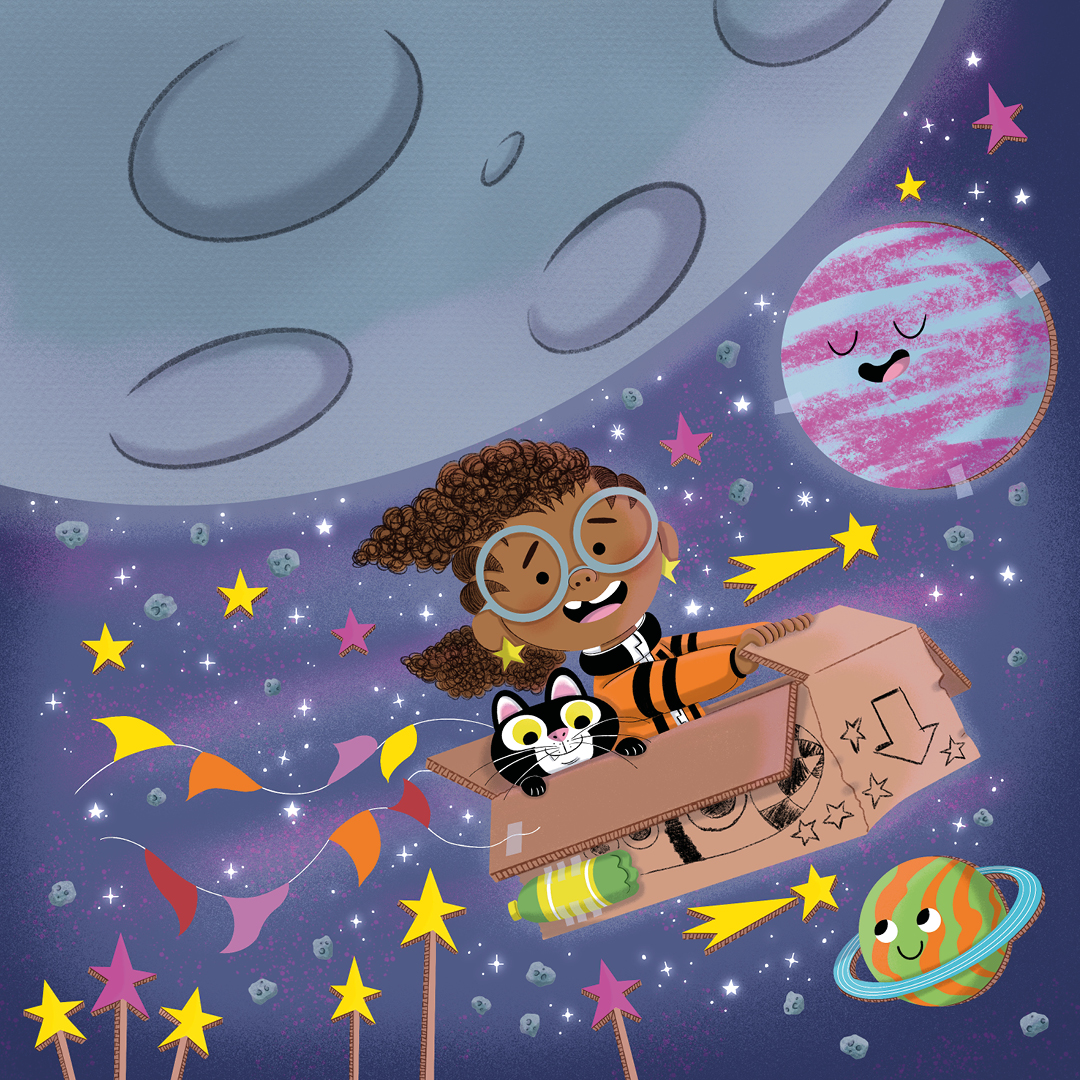 Here's the best exhibitions aimed at families in London and the South East.
Step into the world of one of the largest known creatures to have ever walked our planet in Titanosaur: Life as the Biggest Dinosaur at Natural History Museum. This is the first time ever that Patagotitan mayorum has been displayed in Europe. Handle specimens, explore interactives and learn how this colossal creature survived, and thrived, on Earth. Find out how we can protect the giants we share our earth with today. 31 March 2023-7 January 2024. Paid, booking recommended. Best ages 5+.
Travel on an intergalatic adventure in The Box Rocket at Discover Story Centre, Arrive in your homemade rocketship on a peculiar planet where you must complete an important mission. This space-themed, immersive exhibition is created with Dapo Adeola and Tọlá Okogwu. From 1 April 2023. Paid, book ahead. Ages 0-8 and their families.
Step back in time with Brick Dinos at Horniman Museum. Meet dinosaurs and other prehistoric giants face to face, each one built using LEGO® bricks and discover more about the Jurassic and Cretaceous Periods. There's plenty of hands on activities for under 5s, but less for older children so I'd say it's best for under 7s. Until 29 October 2023. Paid, booking recommended.
It's your last chance to walk through David McKee's colourful world in Elmer and friends at Horniman Museum. This first ever major retrospective of his striking illustrations celebrates over 30 years of Elmer the Patchwork Elephant. Encounter characters, stories and original artwork from the Elmer series, Not Now Bernard, Mr Benn and King Rollo. Until 16 April 2023. Paid, booking recommended. Best for under 7s.
Wonderlab at the Science Museum is one of the Museum Kids' favourite things to do in London. Get hands on with real scientific phenomena – play with forces on giant slides, see lightning strike before your eyes, or watch live science shows. Daily. Paid, book ahead.
Watch our Wonderlab Reel for East Midlands Railway here
Kaboom! The Art of Creating Comics at Story Museum Oxford reveals what makes a great comic and gives children the skills to make their own. Step inside a giant comic which takes you from developing characters and plotting, to drawing, colouring and lettering – with the help of familiar Beano and The Phoenix faces, and original artwork. Until Spring 2023. Paid, book ahead.
Read about our visit to the Story Museum.
Family fun days Easter 2023
Enjoy special events with activities aimed at families. They're a great way of trying somewhere new, or a good reason to revisit old favourites.
From free masterclasses to fabulous performances on the Great Map, Caribbean takeover at National Maritime Museum celebrates black history and culture in Britain. Create your own Windrush inspired ship hat, try soca dancing, watch performances with historic Black characters, learn African circus, and more. 1 April 2023. FREE.
Note that National Maritime Museum family events are usually exceptionally busy.
Discovery Days take place on Tuesdays, Wednesdays and Thursdays during the school holidays at The LookOut Discovery Centre in Hyde Park. They include a range of free and exciting nature-inspired activities for families. You could be pond dipping, helping your children discover an underwater world, sweep netting in the meadow or bug hunting at the minibeast hotel. 4-6 and 11-13 April 2023, 11:00-15:00. FREE, drop in.
Meet historic characters at Easter Escapades at Audley End House and Gardens and Dover Castle. Get involved in traditional games, activities and races along with storytelling sessions. Audley End is offering circus skills lessons whilst there's sword school in Dover. Combine with the Easter Adventure Quest (£2 per child). 7-10 April 2023. Included with paid admission.
The Jungle Book reimagined at Sadlers Wells Theatre retells the journey of Mowgli through the eyes of a climate refugee. Time your visit with their special family wraparound activities. Write a letter to the future, paint a cardboard climate protest sign, take part in movement workshops, build your own animal kingdom with cardboard boxes and create a shadow puppet performance. 7 and 8 April 2023. Included with paid admission, book ahead.
Enjoy a day of live performances and march in the Spring eco-Bonnet parade at Horniman Spring Fair. Make an Easter headband, create your own badge, catch bubbles from the costumed stilt walker, win a prize on the Spring trail, enjoy live Samba, try Lindy hopping dance workshops, play eco action games, and more. 8 April 2023. Paid, book ahead.
Meet eyewitnesses and war veterans at the Family Day: We Were There on HMS Belfast. Hear their memories of life at sea and what it was like to grow up during the Second World War. 14 April 2003, 11:00-12:30 and 13:30-15:00. Paid. Ages 7+.
Combine with their interactive family activity Find Your Sea Legs. 1-16 April 2023, 10:00-15:00. Included with paid admission, drop in. Best ages 7+.
Join a massive celebration of all things reading at Book Buzz at Arts Depot. There's badge making,music performances, drag storytelling, paper bag puppets and more! and puppet making. Bring a book for their legendary swap! 16 April 2023. FREE, drop-in.
Family-friendly art exhibitions April 2023
There are currently a lot of immersive art experiences, but Frameless is my favourite London one (and the UK's largest). Wander through a maze where art appears to float in space, use your own gestures and movements to paint and be enveloped by art. Featuring 40+ works by famous artists including Monet, Dalí, Klimt, Munch, Rousseau, Rembrandt, Turner, Kandinsky and Mondrian. Paid, book ahead.
Read my full review here.
Using portable headsets, journey through a new virtual dimension in Julian Opie: OP.VR@LISSON/London at Lisson Gallery. See new works in Opie's distinctive pared back style including VR, fast-paced dance video artworks, life-size and large-scale portraits, as well as landscapes and architectural works. Until 15 April 2023, Tuesdays-Saturdays 11:00-18:00. FREE, book VR experience.
See iconic abstract structures inside the stunning Pitzhanger in Anthony Caro: The inspiration of architecture. Kids can play on Child's Tower Room, one of sixteen key works exploring contained space, architectural features and materials like perspex, wood, concrete and brass. Until 10 September 2023. Paid.
Top tip: Visit on a family event day – Mini makers for under 5s (7, 19, 21 and 26 April 2023. Paid, book) or Open Sundays (2, 9, 16, 23 and 30 April 2023, 10:00-12:30. FREE, drop in.
Experience interactive body-movement artwork with The Spaces In-Between at Outernet Global. Three artworks 'Tessellations', 'Transcendence' and 'A Step Beyond' by Rupert Newman and We Are Pixel Arworks take over the 360-degree, four-storey screens. Interact with the work as geometric shapes respond to the movements of your body. Until September 2023, Mondays to Saturdays. Check app for specific timings. FREE, drop in.
Grab the family map and wander through Henry Moore Studios and Gardens 70 acres of lawned gardens, meadows, woodland and sheep fields to find 21 monumental sculptures in the glorious Hertfordshire countryside. From 5 April 2023, Wednesdays to Sundays and bank holiday Mondays. Paid.
New ticket offer for 2023: Entry prices have been frozen and your ticket is now valid for a year, so you can revisit as many times as you like.
The brand new Gilbert and George Centre in the East End opens with psychedelic The Paradisical Pictures. From 1 April 2023, Fridays to Sundays, 10:00-17:00. FREE.
Ai Weiwei: Making sense at the Design Museum mixes recent works with commissioned pieces, inviting us to meditate on value and humanity, art and activism. Kids will be wowed by the 15 metre long Lego recreation of Claude Monet's iconic Water Lilies painting. 7 April-30 July 2023. Paid, booking recommended.

Also on my art radar:
Our Connection to Water at National Maritime Museum. From 31 March 2023. FREE.
Milk at the Wellcome Collection. 30 March-10 September 2023, Tuesdays to Sundays. FREE.
All the flowers are for me by Anila Quayyum Agha at Shirley Sherwood Gallery of Botanical Art, Kew Gardens. 1 April-17 September 2023. Included with paid entry.
Storytelling events Easter 2023
Featuring a library of books by authors of colour from around the world, Story Space at Tate Britain aims for everyone to see themselves reflected in what they read. Read to yourself, to someone else, with each other, out loud and tell your own story through dress-up and drawing activities. 1-16 April 2023; every weekend and Thursdays during term time. FREE, drop-in.
Join The Postal Museum for sensory storytelling to learn about the ways the museum protects the collection from Mischievous Mice. Discover the true story of Tibs, the Post Office cat employed to chase away mischievous mice munching on the mail. You can also create and bring to life your own sensory story using recycled and re-used materials. 1-2, 5-6 and 12-13 April 2023, 11:00-16:00. Included with paid admission. Best ages 5-11, all welcome.
Have you heard of Theives' Cant? Learn how to Speak like a scoundrel at Museum of London Docklands. Go on a stroll through Sailortown to learn the history of a secret language once spoken by scallywags. Be careful – you never know who might be looking to pick your pocket! 7 and 14 April 2023 at 11:00, 13:00 and 14:00. FREE, drop in.
The V&A Museum usually runs pop-up performances with storytelling during school holidays. Easter 2023 pop-up performances haven't been announced yet, so keep an eye on this page.
Kids workshops and activities Easter 2023
Little Amal, the 3.5m puppet of a 10 year old Syrian refugee girl, returns to London for a festival of welcome, celebration and friendship. 29 March 2023 in the City of London and 2 April 2023 in Camden and Kings Cross. Mixture of FREE and paid events, some drop in and some pre-book/invite only. Check Walk with Amal for more details.
Explore, play and create in Clay Studio at Tate Britain. Squeeze and roll your way through a lump of clay, moulding it into something that inspired you in the new collection displays. Suitable for families of all ages, including early years. Come dressed for the mess! 1-16 April 2023, 10:30-16:30. FREE, drop in.
What do you get when you mix soap and water? Bubbles! Join Museum of Water and Steam for some crafts, hands-on activities and their popular Wet and Bubbly Science Show. 1-16 April 2023, included with paid entry. Take a Thomas Wicksteed locomotive trip on 1 April 2023 (additional donation suggested).
Read my review of the Museum of Water and Steam here.
Discover how Marc Brunel was inspired by humble shipworm in Tales of Teredo Navalis at Brunel Museum. This interactive exhibitions shows how the famous Victorian engineer learnt from nature to create the ground-breaking tunnelling shield which made the Thames Tunnel possible. 1-16 April 2023, 11:00-17:00. Paid. Ages 7-11 (younger and older siblings welcome).
Turn drawing on its head in Easter Holidays: Ways into Drawing at National Maritime Museum. Play with mark-making and materials in this spring with SEAson of Drawing activities for the whole family, inspired by the Van de Velde exhibition at the Queen's House. Select dates in the Easter holidays, keep an eye on the event page for more details. FREE, drop in but booking museum entry recommended.
Play with cutting-edge construction kits in Family construction play: Wiggel, Criaturas Infinitas & JAP at Somerset House. Work together to create temporary structures and sculptures exploring the creative possibilities of collaboration. 2 and 9 April 2023, 11:00-14:00. FREE, drop in. Ages 7+. Part of Now Play This Festival.
Join a creative family Easter Holiday Workshop at Foundling Museum. Create a collaborative community tree through printmaking (4 April 2023). Learn drawing skills from illustrator Salvatore Rubbino and create a fun, large-scale family portrait to display at home (5 April 2023, ages 7-12). Or get messy with plaster-casting to explore the feeling of family through sculpture (6 April 2023). Paid, book ahead. 11:00-13:00 and 14:00-16:00. Ages 5-12.
Decorate, animate and bring shadow animal puppets to life in Shadow puppet masterclass at Polka Theatre. With professional puppeteer and puppet-maker Liz Fost, learn the tips and tricks of shadow puppetry animation and record your own magical show. 6 April 2023. Paid, book. Ages 8-12.
Mini golf by Craig & Karl returns to Canary Wharf. The fun, bold minigolf course will again transform Montgomery Square with artists Craig Redman & Karl Maier, fun, bold and colourful designs, will once again transform Montgomery Square with their exciting minigolf course. Museum Boy absolutely loved this last summer. From 6 April 2023. FREE, just turn up. Note, you may find Minigolf closed in inclement weather.
Experiment with collage still life in Family Art Day: Easter Break at Estorick Collection. Inspired by Giorgio Morandi's fascinating compositions, have fun playing with scissors, glue and coloured paper. 16 April 2023, 10:00-12:00. Paid. Ages 5+.
Under 5s events and activities Easter 2023
It's never too early to introduce a child to culture. Here's some events just for the very smallest.
When everyone has left the house in the morning, the bath toys head off on exciting adventures in The Flying Bath at Little Angel Theatre. Julia Donaldson and David Roberts' playful and adventurous story splashes into life in this adaptation featuring catchy songs, quirky bath toys and everyday heroes. 29 March-23 April 2023. Paid, book. Ages 2-5. Running time 45 minutes.
Get set for a musical adventure with Rattle & Hums: Music Workshop for under 5s at Pitzhanger. From classic, much-loved nursery rhymes to modern children's songs with interactive elements, expect tunes about pirates, a hungry boa constrictor, sleeping bunnies and more. With live music on the guitar, djembe and a tiny steel drum. 5 April 2023, 10:30-11:15. FREE, drop in.
Join Gunnersbury Park Museum for Little Flamingos. Expect rhymes, action songs and interactive stories, followed by free play in the small soft play area. Tea, coffee and juice will be served. 6 April 2023, at 10:30-11:30 and 13:30-14:30. Paid, book ahead. Under 5s.
Props, music and singing evoke all the elements of spring time in sensory storytelling Time travel tinies at National Archives. The storytelling lasts for 30 minutes with time for playing and a simple craft afterwards. 14 April 2023, 10:30-11:30. Paid, booking required. Under 3s.
Events for teens Easter 2023
Young Barbican: The takeover is back! Taking place across the Barbican Centre, performances, workshops and talks critically engage with key issues affecting us today and explore the potential for euphoria in our futures. Includes movement based workshops, a live DJ set, Nok Cultural ensemble, and a performance by Chagall using a capture suit and sensor enabled gloves. 1 April 2023. Paid, book. Ages 14-25 only.
Now Play This 2023 experimental games festival returns to Somerset House. Now in its ninth year, this year's festival explores the relationship between democracy and game design. View and play trailblazing projects inspired by gaming culture. 1-2 and 4-9 April 2023. Paid, book ahead.
Note: Although all ages are welcome, some games have written content warnings for explicit language and content which might make them unsuitable for younger children.
An immersive video installation takes you deep in the heart of the Brazilian Amazon in Broken Spectre at 180 Studios. Award-winning artist Richard Mosse's new work is the result of three years filming in the world's largest rainforest and seeks to overcome the inherent challenges of representing climate change. Includes large-scale photographs that have not been exhibited in the UK before. Until 9 April 2023. Paid, book.
Thinking of studying architecture or design? 'Skill up' with RIBA London workshop series. Think critically about how to design sustainable and responsible architecture and express yourself through creative practice. Upcoming sessions include in-person workshops Future architecture (3-4 April 2023) and Ideal architecture (12 April 2023) plus online workshop Spare spaces (15 April 2023). Paid, book ahead. Ages 15-18.
Time Out might describe Thin Air at The Beams as 'just an empty nightclub and someone's left the lightshow running and the smoke machine on' – but I think sometimes that's enough to impress a teen. Take younger kids at your peril – you're very likely to lose them in this dark, vast Docklands warehouse. Until 4 June 2023. Paid.
Climb the iconic Cutty Sark's masts in its rig climb experience. Make your way up into the rigging, just as hundreds of sailors did during the ship's long and fabled career at sea. Enjoy views of the Thames and London and descend via a zip wire. Paid, book ahead. Ages 12+.
Theatre and shows Easter 2023
A selection of family friendly shows to introduce your child to the theatre (and circus!)
Zippos Circus at Blackheath. 30 March-17 April 2023. Paid.
The Singing Mermaid at Polka Theatre. 31 March-8 April 2023. Paid. Ages 3-8. Running time 60 minutes.
The Instrumentals at Little Angel Theatre. 31 March-16 April 2023. Paid, book. Ages 6-11.
Jack V Giant at Arts Depot. 2-4 April 2023. Paid, book. Ages 4+.
Marty and the Party at Queen Elizabeth Hall. 7-8 April 2023. Paid, book. Ages 3+.
The Wish Gatherer at Arts Depot. 11 April 2023. Paid, book. Ages 7+.
I Want My Hat Back Trilogy at The Albany. 12 April 2023. Paid, book. Ages 3-6.
Snow White by London Children's Ballet at Sadlers Wells Theatre. 13-16 April 2023. Paid. Ages 3+. Running time 1 hour 40 minutes, including 20 minute interval.
The Lost Spells at Polka Theatre. A Little Angel Theatre, Blouse and Skirt Theatre Company, Goblin Theatre and Mercury Theatre co-production. 13 April-7 May 2023. Paid. Ages 4-12. Running time 45 minutes.
At home Easter activities
And if you can't leave the house for any reason, here's some at home Easter inspired activities to join in with.
Easter crafts how to guides from National Trust. Make naturally dyed Easter eggs, an Easter basket and bean bag Easter chicks.
Easter activities for kids from English Heritage. Make your own clay dragon, a shield, a sword, decorate Easter eggs and cook saffron buns. Learn why we eat eggs at Easter, how we used to celebrate Easter, Saxon Easter traditions and dragons and their origins.
Make a chocolate painting with Tate Kids
Decorate Spring Eggs with Tate Kids
Cat themed Tower Bridge activities including colouring sheets
I hope this guide helps you enjoy your Easter holidays!
Please take a second to share this post. It helps parents find fun things to do, grows my community, and encourages more visits to cultural attractions. All mentions and shares make a difference, be that on Facebook, WhatsApp or in person.
If you do something I mention, I'd love to hear about it. Comment below, or tag me @museummum on Instagram or @museum_mum on Twitter. Follow me on Instagram for more days out ideas and to see what the Museum Family get up to this Easter. I've already posted our own holiday plans over in my stories.
And if this guide has been useful, why not buy me a coffee to say thanks?

Disclosure: Just like a journalist, I have been gifted free entry to many of these museums for review purposes. I work at the Museum of London, although I can't take any credit for their family activities, and this blog is not associated with them