Looking for fun things to do with kids in London at Easter 2022? This might be the ultimate Easter guide with 150+ eggs-cellent family events and activities at cultural places this April 2022.
Note: This year, the two-week Easter school holidays falls between 2 and 24 April 2022. In London, most school holidays are between 2 and 18 April 2022. Easter weekend includes bank holiday Good Friday (15 April 2022), Easter Sunday (17 April 2022) and bank holiday Easter Monday (18 April 2022).
From London's famous sites to hidden gems all across the city, there's bound to be some new ideas for the children here. Fancy an Easter day trip from London? I've also included family events that are close to the capital – including Kent, Sussex and the South East.
Read on for Easter egg hunts in historic gardens, special family days, workshops, indoor trails, storytelling, family-friendly exhibitions, art and theatre. From tots to teens, whatever their age or interests, you're sure to find something on this list that they'll love. And, mindful of the cost of living crisis, I've included plenty of FREE events too.
To make it easier for you, each event has a clickable link to the venue's own event page. This should be frustration free – I've only included events which you can still get tickets for at the time of publishing, or are drop-in. But many events I share book out quickly. Let's hop to it!
Psst: Like what I do? Show your support by buying me a coffee.

Table of contents
Outdoor Easter Egg Hunts and Trails 2022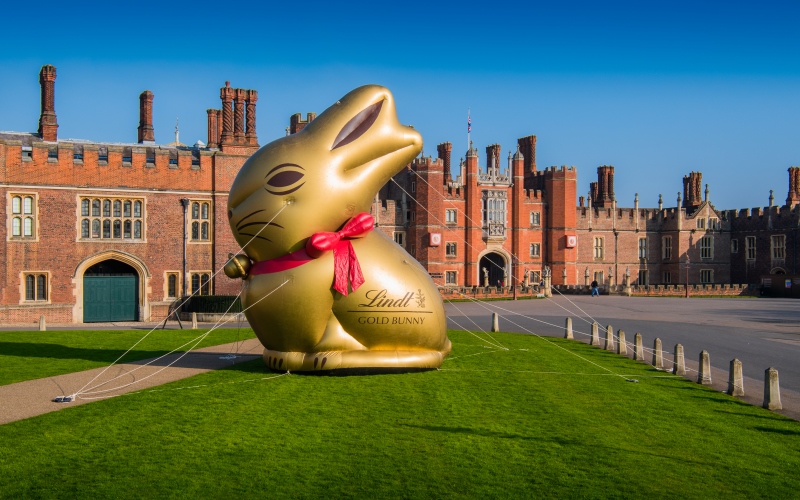 There's no greater incentive to get a child running round a historic site than an Easter egg hunt, and its promise of a chocolate treat. And if your child can't or won't have chocolate, many offer alternative prizes – check with individual venues for more information. Here's the Easter trails, both with and without eggs, on offer from museums and heritage sites in and near London:
Discover the enormous painted eggs hidden around RHS Wisley in The Giant Easter Egg Hunt. Join in planting or craft workshops in the CLORE Learning Centre for daily Easter activities. 1-19 April 2022. Paid.
The Lindt GOLD BUNNY hunt is back at Historic Royal Palaces! Find the Lindt gold bunnies and discover the stories of fascinating characters who visited, lived and worked at the palaces. When you've finished receive a Lindt GOLD BUNNY (10g)* reward. Paid, booking recommended. Best ages 4-12.
Hampton Court Palace: 2-18 April 2022. Allow 90 minutes for the trail.
Kensington Palace: 2-3, 6-10 and 13-17 April 2022. Allow an hour for the trail.
Celebrate 40 years since the publication of Dear Zoo at ZSL London Zoo. Embark on an interactive activity trail, enjoy lively storytime sessions and learn all about their amazing animals while seeing them up close. Complete tasks to help save orangutans in the forest, camels in the desert and even whales in the ocean. Collect stamps and claim your special anniversary Dear Zoo sticker at the end! 2-18 April 2022. Paid, book ahead.
Embark on a transformational journey to becoming a beautiful butterfly at Kew Gardens The Very Hungry Caterpillar. Based on Eric Carle's much-loved book, wind through sculptures of juicy fruits and a cosy chrysalis and digest facts about the wonder of nature and the close connections between plant and insect life on Earth. 2-18 April 2022. Paid, book ahead. The Very Hungry Caterpillar also takes place at Wakehurst, Sussex. There's a bonus caterpillar picnic scavenger hunt at £4.50 per participant, including a prize and Cawston Press drink. 2-24 April 2022. Paid, book ahead.
Discover hidden eggs around Hever Castle gardens, write down all the answers hidden around the eggs and receive a chocolate. Enjoy a dazzling display of spring blooms from late-flowering daffodils to hyacinths, camellias and tulips. Their Easter family fun also includes a colourful carrots hunt and scratch art workshops. Head into the Castle to find a variety of animals that hatch from eggs. 2-18 April 2022. Paid, book ahead.
Embark on an adventure through Leeds Castle great outdoors in their Easter Nest Trail. Find six giant bird nests and use the clues to guess which bird lives in each nest and count the number of eggs they've laid. Once all nests have been solved, claim your Lindt chocolate egg. 2-18 April 2022. Paid.
Quack the case and find the bright yellow ducks hiding around WWT London on the Easter Duck Trail. You'll see plenty of real ducks too, from the brightly coloured Mandarin to adorable whistling ducks. There's spotlight talks, otter feeding and indoor and outdoor play areas, plus pond dipping at 11:00 and 14:00. 2-24 April 2022. Paid, book ahead.
Join the Great Easter trail across Old Royal Naval College grounds and buildings to track down clues, gather information and reveal the name of a secret location where a chocolate prize awaits. Take the Skittle Egg Challenge in the historic skittle alley for another chocolate prize. 2-18 April 2022. Paid.
Psst: there's two FREE workshops to join in with, no ticket needed. Create your own solar system (12-14 April 2022) and make bunny ears and pom-pom chicks (17 April 2022).
Giant eggs are waiting to be found in the Painshill landscape in their Easter Egg Statue Trail. Come along and see if you can tick off all the colourful characters. Don't miss the incredible crystal grotto, made from 10,000 gems, and the natural play area. 2-24 April 2022. Paid, book ahead.
Crack the Easter egg code at the top-secret home of the World War Two Codebreakers, Bletchley Park. On their Easter egg hunt, each egg has a secret code. Collect a small prize if you can work out the hidden word. There's also Top Secret Mission Packs and free family multimedia guides to tour the historic site. 2-24 April 2022. Paid, all ages.
Combine with their model Enigma machine making workshop to create your own secret messages. 5-7 and 13-20 April 2022. Ages 7-14, drop-in.
The Great Gunnersbury Easter Quest is an interactive quest led by storytellers at Gunnersbury Park and Museum. Help discover where the Rhyming Rabbit has hidden the chocolate treasure by following clues and completing challenges. 6-13 April 2021. Paid, book ahead.
Find and collect two eggs hiding in Hogarth's House Mulberry Garden in their Easter egg hunts and crafts session. Decorate your eggs and make an Easter basket using recycled materials to hold them. 9 April 2022, 10:00-12:00. Paid, book ahead. Ages 5-11.
Play the Easter trail at Tumblestone Hollow through the playground and historic walled gardens, finding riddles and solving an anagram to win a chocolate prize. The epic playground is inspired by the magical history of Stonor Park, one of Britain's oldest family-owned stately homes. Nestled in the woods with stunning views of the surrounding Chilterns countryside, it's a very special place to play. 9-24 April 2022. Paid, book ahead.
And here's my Reel from our visit to Tumblestone Hollow last Easter.
Chelsea Physic Garden's Easter Trail takes you around their 4-acre garden, where you'll discover more about the amazing world of plants. At the end, each trail entry receives a chocolate treat or prize. 15, 17 and 18 April 2022. Paid, book ahead.
Meet the Easter bunny at Blenheim Palace Easter Eggstravangza. Take the egg trail through the walled garden to win a Hotel Chocolat treat. Learn circus skills in the big top, meet Conk the Clown and watch Punch and Judy and bubble shows. Fairground rides, bungee trampolines, archery and face painting available at extra charge. 15-18 April 2022, paid.
Follow the Easter Trail around Knebworth Gardens to gather all the Easter clues and solve the word jumble. Drop-in craft activities 12:00-15:00. Their dinosaur trail and Adventure Playground, included in admission, make for a fun day out. 15-18 April 2022. Paid.
The Easter Bunny's children have eaten way too much chocolate and gone berserk all over the park at the Heath Robinson Museum! Help find all the silly bunnies on the Easter Funny Bunny Trail. Answer the quiz questions to receive a little Easter prize. 16 April 2022, 11:00-15:00. Paid (£3 per child), drop-in. Ages 3-10.
Take an egg hunt through Windmill Gardens with Brixton Windmill's Easter Family Day. Collect your trail sheet from Brixton Windmill Centre and find every clue to claim your prize. Book for their windmill tours or drop-in for their children's crafts activities. 17 April 2022, 13:00-17:00. £2 suggested donation for egg trail, drop-in. £5 windmill tours, pre-booking required. Minimum height 1.2m for windmill tours.
National Trust Easter Egg Adventure Trails 2022
Make your way along the National Trust Easter Egg adventure trail in one of the many gardens they care for. Pick up your trail activity sheet and pencil, complete the 10 nature-inspired activities and collect your Rainforest Alliance chocolate egg.
Trails cost £3 per child and include a trail map, pencil and a chocolate egg at the end. Whilst stocks last. Normal admission fees apply, and booking is recommended. Best ages 4-10.
Note that many sites require you to book your car parking in advance, so go quick to secure your preferred date.
Here's a handy summary of the National Trust Easter trails in London and the South East:
London
Ham House, TW10 7RS. 2-18 April 2022.
Morden Hall Park, SM4 5JD. 6-18 April 2022.
Osterley Park, TW7 4RB. 14-18 April 2022.
Rainham Hall and Community Garden, RM13 9YN. 7-9 and 14-18 April 2022.
Berkshire and Buckinghamshire
Basildon Park, RG8 9NR. 8 – 25 April 2022.
Cliveden, SL1 8NS. 9-24 April 2022.
Hughenden, HP14 4LA. 8-24 April 2022.
Stowe, MK18 5EQ. 15-24 April 2022
Waddesdon, HP18 0JH. 13-24 April 2022
Kent
Chartwell, TN16 1PS. 4-19 April 2022.
Emmetts Garden, TN14 6BA. 4-18 April 2022.
Igtham Mote, TN15 0NT. 2-18 April 2022.
Knole, TN15 0RP. 9-18 April 2022.
Scotney Castle, TN3 8JB. 2-18 April 2022.
Sissinghurst Castle, TN17 2AB. 2-18 April 2022.
Smallhythe Place, TN30 7NG. 2-18 April 2022.
Surrey
Claremont Landscape Garden, KT10 9JG. 2-18 April 2022.
Dapdune Wharf, GU1 4RR. 15-18 April 2022.
Hatchlands Park, GU4 7RT. 2-18 April 2022.
Hindhead Commons and the Devil's Punch Bowl, GU26 6AG. 9-18 April 2022.
Polesden Lacey, KT23 4PZ. 2-18 April 2022.
Runnymede and Anckerwycke, TW20 0AE. 15-18 April 2022.
Winkworth Arboretum, GU8 4AD. 2-18 April 2022.
Sussex
Bateman's, TN19 7DS. 2-18 April 2022.
Bodiam Castle, TN32 5UA. 2-18 April 2022.
Lamb House, TN31 7ES. 2-18 April 2022.
Nymans, RH17 6EB. 9-24 April 2022, but check dates as also listed as 2-18 April 2022.
Petworth House and Park, GU28 9LR. 9-24 April 2022.
Sheffield Park, TN22 3QX. 2-18 April 2022.
Standen House and Garden, RH19 4NE. 9-24 April 2022.



English Heritage Easter Adventure Quest 2022
Get out and about in history with an English Heritage Easter Adventure Quest. Hunt for clues and challenges and discover traditional Easter games like egg rolling and the egg and spoon race. Track down the Easter eggs and you'll be rewarded with a chocolate treat and an adventurer's certificate.
£1.50 per child. Usual entry fees apply.
London
Eltham Palace and Gardens, SE9 5NP. 2-24 April 2022.
Kenwood, NW3 7JR. 15-18 April 2022. No additional entry fees.
Marble Hill House, TW1 2NL. 15-18 April 2022. No additional entry fees.
Bedfordshire
Wrest Park, MK45 4HR. 2-21 April 2022.
Essex
Audley End House and Gardens, CB11 4JF. 2-24 April 2022.
Kent
Dover Castle, CT16 1HU. 2-24 April 2022.
Walmer Castle, CT14 7LJ. 2-24 April 2022.
Sussex
1066 Battle of Hastings, Abbey and Battlefield, TN33 0AE. 2-24 April 2022.



Celebrate Spring Arrivals
Be greeted by a sea of 120,000 tulips across Hampton Court Palace gardens, including breath-taking floating tulips vases in the fountains. This year's spectacular Tulip Festival will feature over 60 rare, historic and specialist varieties inspired by Mary ll's famous 17th century collection at the palace. Combine with the Lindt Gold Bunny hunt and the Magic Garden playground. 12 April-2 May 2022.
Each Spring, Wimpole's 280 rare breed ewes give birth to several hundred new additions. Come to Lambing at Wimpole to see the new lambs explore the world. Find out about rare breed sheep, including the teddy bear Oxford Down and the multi-horned Manx Loghtan. 24 April-8 May 2022. Paid, book ahead.
Watch our reel from last year's visit to Lambing at Wimpole.


Indoor Easter Egg Hunts and Trails 2022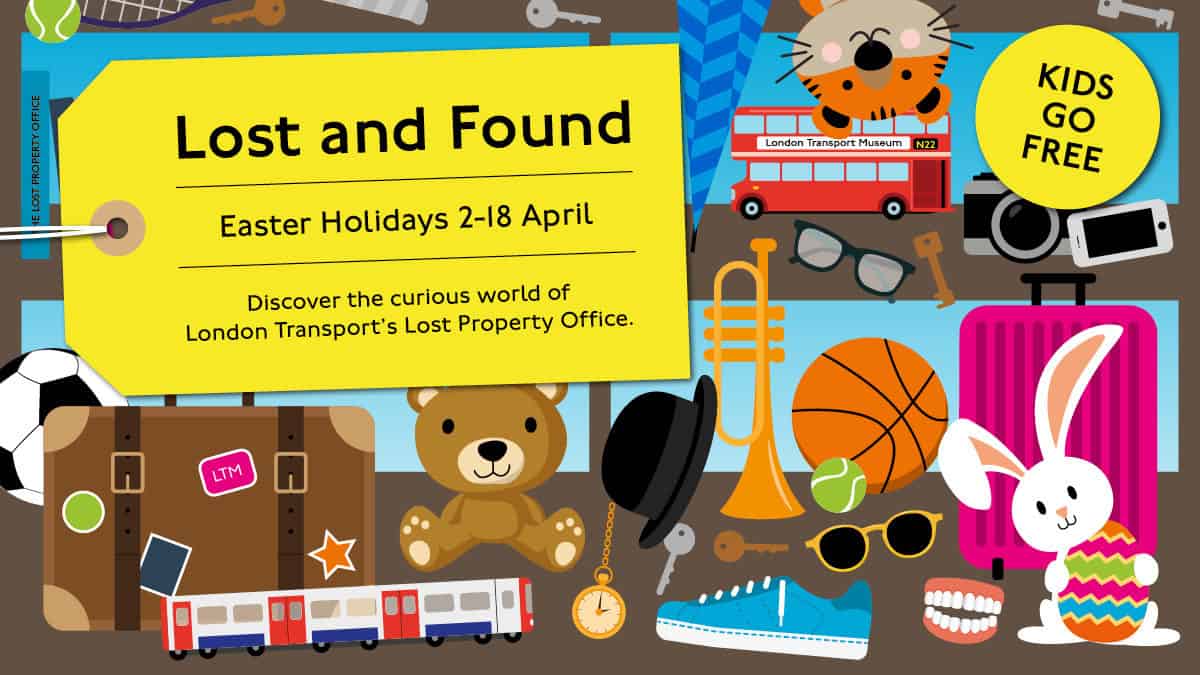 In case of Spring showers, here's some indoor children's trails to enjoy this Easter.
Enter Gunnersbury Park Museum's monthly competition to win a soft toy animal. Pick up your Gallery Passport at Gunnersbury Park Museum, follow the clues around the museum to collect a stamp and pop your completed passport in to the special postbox. From 1 April 2022. FREE, just turn up.
Discover the curious world of London Transport's Lost Property Office on the Lost and Found Trail at London Transport Museum. Follow a trail around the galleries to discover fun facts about objects past and present that have been lost and found on London's Tube trains and buses. On select dates, join children's authors Emily Rand and Kate Wilkinson as they read from their books inspired by these lost mementos. 2-18 April 2022. Paid, book ahead.
Find all six elephant teddies hiding in the Postal Museum in the Poco the Postcode Elephant Trail (2-18 April 2022). Time your visit with one an arts and crafts sessions, either elephant masks or hand puppets (6-7 and 13-14 April 2022, best ages 5-8) or marvellous maps (9-10 April 2022, best ages 5-11). Combine with a ride on Mail Rail and a Sorted! play session for a fab day out. Paid.
Read our review of the Postal Museum here.
Help Riley Ratcliffe spot members of her furry family and find out what life was like in the past for these little Londoners in Tail Trail at Museum of London and Museum of London Docklands. 2-18 April 2022. FREE, drop in. Ages 3+.
Find Bella the Tower Bridge Cat and characters from the award-winning books in the Tower Bridge Cat Trail. Find out how and when Tower Bridge lifts, stamp the answers in your Training Record, pass your Apprenticeship and become part of Bella's Tower Bridge Team. 2-30 April 2022. Paid, booking recommended.
What can the classic chocolate bar teach us about the Second World War? In Imperial War Museum Story Seekers: Chocolate Edition learn about the importance of chocolate as a morale booster and a taste of home for the troops, how rationing played such an important role during the war and unwrap your very own chocolate treat as a reward for taking part. 4-18 April 2022. FREE.
Traditional Easter events 2022
Remind the kids of the traditional side of Easter with one of these London events.
One hundred Wintershall players bring their electric and moving portrayal of the final days of Jesus to the iconic Trafalgar Square in the Passion of Jesus. This biblical play is a very popular event with 20,000 visitors pre-pandemic; live screens and speakers share the action. 5 April 2022, 12:00 and 15:15. FREE, just turn up. Parental guidance advised as it is a realistic interpretation of the crucifixion.
Make your very own phoenix to take home and find out more about how St Paul's Cathedral rose again from the ashes of the Great Fire of London in 1666. Explore the Cathedral from the Crypt all the way up the Dome for amazing views over London. 2, 5, 6, 9, 12, 13 and 16 April 2022. Paid.
Up to 3 children go free per adult – use code KGF2022 at online checkout for discount.
Psst: here's a link to St Paul's Cathedral Lent, Holy Week and Easter services. FREE, just turn up.
Explore hope, new beginnings and everything Easter through craft, stories and an interactive tour in Westminster Abbey's Easter Extravaganza. Decode the clues hidden in the eggs and reveal the Easter story and mould a special decoration. 5, 7, 19 and 21 April 2022. Paid, book ahead. Ages 5+.
Psst: Here's the Abbey's Holy Week and Easter services. FREE, just turn up.
Quirky April and Easter traditions 2022
And for something more silly, try one of these unusual child-friendly activities.
Race plastic ducks down the river in Quacky races at Morden Hall Park. 2 April 2022, 11:00-15:00. Paid, just turn up.
Roll Easter eggs from the top of Box Hill. Bring your decorated eggs – prizes are awarded to best decorated eggs at the start. Enjoy some of Surrey's finest viewpoints and explore the woods on a gentle spring walk round the family play trail. 15-18 April 2022, 11:00 and 15:00.
Family friendly exhibitions April 2022
Here's London's latest exhibitions aimed at families.
Track down the missing story at immersive playspace The 100 Story Hotel at Discover Story Centre. Created with bestselling, multi award-winning author and illustrator Rob Biddulph, there's Clive the polar bear concierge and all sorts of guests; lions, dinosaurs and sausage dogs. From 2 April 2022. Paid, book ahead. Ages 0-8.
See pre-historic creatures brought to life in Dino Kingdom. Taking place in the Grade II* listed Gunnersbury Park, the outdoor show combines animatronics, immersive 3D, Augmented Reality, and Projection Mapping technology. Combine with pedalo boats (from 9 April 2022) and Gunnersbury ParkPlay every Saturday. 1-18 April 2022. Paid.
From London childhood to Lake District saviour, find out more about the Peter Rabbit creator in Beatrix Potter: Drawn to Nature at the V&A Museum. Featuring Potter's exquisite drawings and her own possessions, this show tells the story of her life from a child obsessed with animals and drawing, to her much loved children's books, shrewd merch game, and her conservationist work. There's a few interactives for kids in this small, traditional exhibition. Until 8 Jan 2023. Paid, book ahead.
Read my full review here.
Combine with one of the V&A workshops, listed below, to make the most of your visit.
Enter into the world of superheroes at Foundling Museum. Superheroes, Orphans & Origins: 125 years in comics features Superman, Batman, Black Panther, early newspaper comic strips, Japanese Manga and contemporary graphic novel protagonists. The display mixes historical newspapers, original artwork and international comics rarely exhibited in the UK with new artist commissions. 1 April-28 August 2022. Paid.
Psst: Combine with one of its free Easter activity sessions, listed below.
Discover more about our fascinating furry friends in Cats and dogs at Horniman Museum. Go on an exciting, sensory journey with games and simulations, exploring what it's like to be a cat or a dog. Until 30 October 2022. Paid.
Game on with Power Up at Science Museum. 160 consoles feature the very best video games and consoles from the last five decades. Play against the kids in multiplayer showdowns, introduce your offspring to your childhood favourites and test out some of the latest virtual reality experiences at this ultimate gaming extravaganza. 2-19 April 2022. From £8, book ahead.
Family fun days April and Easter 2022
Enjoy special events with activities aimed at families. They're a great way of trying somewhere new, or a good reason to revisit old favourites.
Mark the launch of Tower Bridge's new family trail The Tower Bridge Cat and the third book in the award-winning Tower Bridge Cat series. Activities includes book readings and signings, character meet and greet, cat face-painting, special edition newspapers, balloons and stickers and special offers in the Tower Bridge shop. 2 April 2022. Paid, book ahead.
Celebrate the Caribbean with authors, artists, musicians and dancers through mask-making, storytelling and more in Story Space Fest at Tate Britain. Dance with Kinetika Bloco's troupe as they liven up the galleries through carnival sounds. Create your own jumbie, a mythological creature from the Caribbean 2 April 2022. FREE, book ahead.
Join a massive celebration of all things reading at Book Buzz at Arts Depot with anti-racist Superhero workshops, drag storytelling with Carrot Drag and puppet making. Enter the costume parade dressed as your favourite book character for the chance to win a prize. And bring a book to swap! 3 April 2022. FREE, drop-in.
There's still places left on some of RIBA London's Easter workshops. Discover the weird and wonderful creatures that live hidden in plain sight on our buildings, monuments and structures in Design Quest: Off the Wall (4 April 2022, 11:00. Ages 7-11). And design and create a lightweight structure around a tree that interacts with its environment in two-day course Design Time: Treehouse Dream (13-14 April 2022. Ages 11-14). All paid, booking required.
Head to LookOut Hyde Park for two sets of Discovery days, with natural crafts, trails and live storytellers. Try pond dipping at Spring Surprises (5-7 April 2022) and find out how they look after hedgehogs at Marvellous mammals (12-14 April 2022). FREE, just turn up.
Explore the world of Stonehenge in Prehistoric Europe: makers, bakers and star gazers at British Museum. Add a mini artwork to a prehistoric skyscape, listen to ancient music, meet archaeologists and make a mini pop-up Stonehenge memento. 6-8 April 2022. FREE, drop-in and timed activities, book entry ahead.
From free masterclasses to fabulous performances on the Great Map, Caribbean takeover at National Maritime Museum celebrates black history and culture in Britain. Print images of ships that have journeyed between Africa, the Caribbean and Britain, try African head dress, have a silhouette portrait, learn quadrille dancing and more. 9 April 2022. FREE, book ahead.
Note that National Maritime Museum family events are exceptionally busy.
Experiment with construction card, recycled material and string to create an exciting sculpture that makes sound. Family Art Day: Music String Sculptures at Esoterick Collection. 11 April 2022, 11:00-13:00. FREE, book ahead. Ages 5+.
Create robots to compete in various games using BBC Micro:Bit in Robot Olympics at Design Museum (6 April 2022). Or lino print a poster inspired by the vintage collection in the museum's football exhibition (12 April 2022). Both paid, book ahead. Ages 11-14.
Meet eyewitnesses and war veterans at the Family Day: We Were There on HMS Belfast. Hear their memories of life at sea and what it was like to grow up in the Second World War. 15 April 2002. Paid.
Combine with their interactive family activity Sea Legs and Family Mission: D-Day Edition. 14-18 April 2022. Paid, drop-in. Best ages 7+.
An other-worldly witch steals the Happy Endings to stories and fairytales from a magical girl in The Lost Happy Ending at Sadlers Wells Theatre. Jub needs to save the night, encountering many beloved fairytale characters and woodland creatures in her quest. Part of Family Weekend 2022 with family dance workshops and arts and crafts activities. 15 and 16 April 2022. Paid, book ahead.
Enjoy a day of live music and performances and march in the Spring eco-Bonnet parade at Horniman Spring Fair. Join in with seasonal fun and games, crafty workshops, garden tours, Spring trail, vegetarian cooking demonstrations, and lots more. Take on the bouncy helter-skelter and mini cars, or try your luck with hook a duck! 16 April 2022. £5 adult, FREE child, book ahead.
Explore Fulham Palace and gardens in a new spring light with their self-guided spring passport trail in Springtime at the Palace. 17 April 2022. FREE, just turn up.
Go behind the scenes at London Transport Museum's depot in Acton in their Depot Open Days: The Art of the Poster. Have a go at creating your own colourful transport poster, snuggle up in a transport inspired book corner, and learn lots about their collection. 23 -24 April 2022. Paid, book ahead. Ages 5-12.
Read about our pre-pandemic visit to the London Transport Museum depot.
Hidden gem Two Temple Place have a whole host of creative family workshops this Easter, inspired by their Body Vessel Clay exhibition: Story Dice (2 April 2022), Creative Coiling (6 April 2022), Scratchy Sgraffito (8 April 2022), Amazing Armour (9 April 2022), Nature Tiles (11 April 2022) and Story Pots (14 April 2022). Pay what you can, booking required.
Family-friendly art exhibitions April 2022
Marvel at a miniature botanic wonderland made from 17,000 tiny, painted steel plants at Natural Reserve. Internationally renowned artist Zadok Ben-David brings new and extended sculptures and video art to Kew Gardens including this stunning 360 degree installation with over 900 flora. Combine with The Very Hungry Caterpillar trail and Children's Garden play area. Until 24 April 2022, paid.
Read my full review here.
Rana Begum: Dappled Light at Pitzhanger is a joyful look at the beauty of light, colour and form. Whilst not aimed at children, it's colourful and compact enough to whizz round with little ones. Outside, No 184 is a multicoloured glass sculpture begging for a bit of toddler peekaboo which you can see for free. 25 March 2022 to September 2022. Paid.
Top tip: Visit on a family event day – Little Builders (28 April 2022, paid), Open Sundays (3 April 2022, paid) or Assemble Play pop-up (8-10 April 2022, FREE).
Play piano in the imagined Feeling Good Jazz Club at Now Gallery. Joy Yamusangie invites the visitor to interrogate constructs around identity and celebrate self-expression by conjuring up a series of intimate and evocative spaces which children are very welcome in. Until 5 June 2022. FREE, drop-in.
And don't miss Rana Begum's new public artwork. Catching Colour features 'clouds' of suspended coloured mesh, appearing to float above the central pathway of Botanic Square in London City Island. It's the latest addition to The Line, London's first permanent public art walk with works by 19 leading contemporary artists. FREE, drop-in.
Book now for the FREE opening event with performance by English National Ballet. 9 April 2022.
Almost a hundred figures form Hew Locke's carnivalesque installation The Procession at Tate Britain. From horses and drummer boys to carnival queens, this gathering of imagined masked figures feels both a celebration and a challenge to the imperial legacy of sugar magnate and gallery founder Henry Tate. One for looking, not touching. 23 March 2022-22 January 2023. FREE, book ahead.
Grab the family map and wander through Henry Moore Studios and Gardens 70 acres of lawned gardens, meadows, woodland and sheep fields to find 21 monumental sculptures in the glorious Hertfordshire countryside. Visit on Art That Made Us (10 April 2022) for interactive family tours. From 1 April 2022, Wednesdays to Sundays and bank holiday Mondays. Paid.
Docked in Somerset House's famous courtyard, The Arks of Gimokudan features a fleet of three ships made of reused and recycled materials and plastic waste. Leeroy New's major new commission marks the occasion of Earth Day 2022. Elevated up to three metres from the ground they invite visitors to imagine they are underwater themselves. 5-26 April 2022. FREE, just turn up.
Catch bubbles filled with scent falling in a mechanical forest, in Silent Fall, a site-specific installation by artist duo A.A.Murakami at Superblue art London. Booking until 8 May 2022. Paid.
Read my full review here.
Psst: During the last two half terms, Superblue offered £5 child tickets. I'll share their offers on my IG stories.
What if aliens were in love with us? Dominique Gonzalez-Foerster transforms the Serpentine Gallery into Alienarium 5, an immersive, supernatural and sensory environment with a 360 degree panorama, soundscape, smells and a new VR experience. 14 April-4 September 2022.
Storytelling events Easter 2022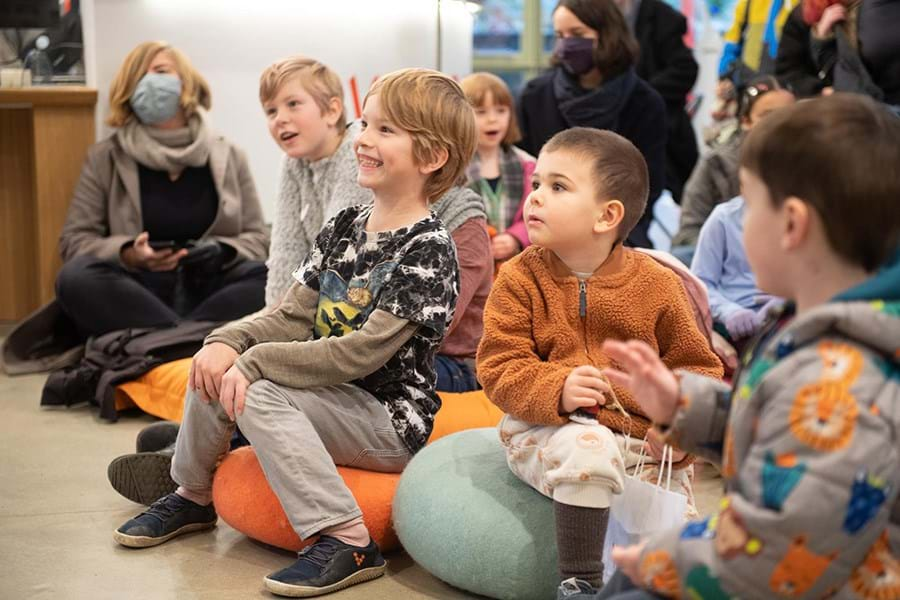 Join storyteller Olivia Armstrong on this exciting time travelling Stories in Stone family story walk from the Museum of London's current home to its new site in West Smithfield. Explore myths and tales of the city's magical beasts, everyday heroes and much more! 4, 6, 8 and 14 April 2022 at 11:00, 12:30 and 14:00. Lasts 40-45 minutes. FREE, book ahead. Ages 7+.
Journey through Tomorrowland with ArtBurst at Museum of the Home. Make your own Tower Block Shaker or Future Vehicle using springs, wheels, wings or whatever you like. Then sing and stomp your way through Hackney in 2050 through interactive storytelling. 5, 7, 12 and 14 April 2022. FREE, drop-in. Under 8s.
Take part in a unique performance inspired by the natural world in Pop-up Performance: Tales from the Forest at V&A Museum. Storyteller Wendy Shearer delves into the fascinating world of forests and explore the animals and landscapes within them. 14-15 April 2022 at 11:00, 13:00 and 15:00. FREE, pre-book museum entry.
Featuring a library of books by authors of colour from around the world, Story Space at Tate Britain aims for everyone to see themselves reflected in what they read. Discover new stories and tell your own through character-building and storyboard activities. Wednesdays and weekends in term time, Thursdays to Sundays in school holidays. FREE, drop-in but pre-book museum entry.
Psst: On Saturdays during school holidays there's storytelling and illustration events with special guests. Free, drop-in at 12.00
Kids workshops and activities Easter 2022
Use real hammers, saws and drills to build and transform your own wood city in Tate Modern Turbine Hall in Uniqlo Tate Play: Dream Buildings. Constructive play experts Woodland Tribe are on hand to help you dream big, inspired by Lubaina Himid's imagined spaces. 2-18 April 2022. FREE, pre-booking essential, some walk-ups available. Ages 5+.
Go football crazy with Goaall! at the Museum of Water and Steam. Visit on 10 April 2022 for football fun and activities with Brentford FC. Join Emma for storytime (Wednesdays and Thursdays, 14:00) and Musical Mark (Sundays, 14:00). Easter weekend sees the The Association of 16mm Narrow Gauge Modellers takeover the Steam Hall (2-18 April 2022).
Read my review of the Museum of Water and Steam here.
Kokedama is a plant that grows from a ball of mud, covered in moss. This practice comes from Japan and allows plants to grow without pots. Make your own in Family Kokedama workshop at Chelsea Physic Garden. 5 April 2022, 11:00, 12:00, 14:00 and 15:00. Paid, book ahead.
Be inspired at the National Gallery to create a mini masterpiece in Family make and create salon. Experiment with playful techniques and discover people and places within the collection. 5-6 and 12-13 April 2022, 11:00-16:00. FREE, drop-in. Book entry ahead.
Join a superhero themed Easter Holiday Workshop at Foundling Museum. Make a life-size costume and take part in the world's first superhero catwalk (5 April 2022). Draw your own manga style character in a one-page comic (6 April 2022). Step inside a giant comic strip to have your portrait taken with your handmade superhero prop (7 April 2022). And film short clay-mation movies on your phone (8 April 2022). FREE, book ahead. Ages 5+.
Investigate the secrets of Museum of London Dockland's sugar warehouse in hands-on, science based workshop Locks, lifting and loads. Explore the brilliant technologies used to unload and transport heavy cargoes from across the globe to London's docks, via the River Thames. 5, 7, 11 and 13 April 2022 at 11:00, 12:30 and 14:45. FREE, first come, first served. Pre-book museum entry. Ages 5+.
Step inside National Army Museum's life-size board game and battle it out to see who wins. Giant Game: Cold War edition (5-8 April 2022). Or take their Codebreaker Challenge to work out the safe combination to save the Cold War secrets (12-15 April 2022; 10:30). Both FREE, booking not required. Ages 7+.
Learn the art of drawing in the Cartoon Museum Easter Workshops. Create comic strip stories (5, 7 and 13 April 2022). Design your own Beano front cover (6 and 13 April 2022). Make a mini comic (7 and 15 April 2022). Draw faces, expressions, bodies and clothing in Manga beginners (8 and 14 April 2022). And more. Paid, book ahead. Ages 8-14.
Meet people from history of the Thames Tunnel in interactive trail Tunnel Trouble! at Brunel Museum. Succeed in solving a set of fiendish puzzles, one for each of the colourful characters, and you might just secure yourself an apprenticeship, 5-18 April 2022. Paid. Ages 7-11 (younger and older siblings welcome).
Pick from Sir John Soane's Museum family workshops. Paint colourful pattern designs onto craft eggs in Family drop-in: Easter egg crafts (6 April 2022). Mould colourful Easter-inspired sculptures out of silicon moulds and soap powder at Second Saturday Family Workshop: Magic Moulds (9 April 2022). FREE, drop-in. Ages 4+, younger siblings welcome.
Read my review of the last Second Saturday family workshop at Sir John Soane's Museum here.
Learn about female leaders and make Suffragette rosettes in Votes for Women! at Charlton House. Explore the history of the suffragettes and their fight for the right to vote, and uncover local stories. 12 April 2022, 10:30, 12:00 and 13:30. £3 per child, book ahead. Ages 5-12.
Use natural materials to create useful things to take home in Museum of the Order of St John Resourceful remedies events. Eggsplore the museum and help Gozon the dragon slayer find his missing eggs in their trail (13-16 April 2022. FREE, just turn up). Or make your very own dragon mask with storytelling (14 April 2022. FREE, book ahead).
Become a sound artist for the day at Discovering Foley Sound at Arts Depot. Find out how to recreate everyday sounds for film, such as breaking of glass, footsteps, horses trotting or squeaking doors. 13 April 2022. Paid, book ahead. Ages 6+.
Put the pedal to the metal as you cycle to power the party at Southbank Centre. In Pedal Power Disco, the fun can't go on without you! 16 April 2022, FREE.
Under 5s events and activities April 2022
It's never too early to introduce a child to culture. Here's some events just for the very smallest.
A ballerina and an octopus form a loving friendship underwater in multi-sensory show Underwater at Sadlers Wells Theatre. Part of Family Weekend 2022. 15 and 16 April 2022. Paid. Ages 0-24 months.
Dear Zoo Sensory Story readings at ZSL London Zoo feature lights, bubbles and jungle umbrellas. 5, 12 and 19 April 2022. Paid, book ahead. Ages 0-24 months.
Join English Heritage Ranger on a Welly Walk around Marble Hill. Learn about the history of the house and park whilst having fun and splashing in the puddles. Fun activities explore the natural elements of this historical landscape. 4 and 10 April 2002, 10:00-11:00. FREE, book ahead. Under 5s.
Props and music evoke all the elements of spring time in sensory storytelling Time travel tinies at National Archives. FREE, booking required. Ages 0-2.
Discover beautiful objects and interesting places at Gunnersbury Park Museum in Little Flamingos. Activities may include making music, playing games, doing crafts, interactive stories, and role play. 8 April 2022. Paid, book ahead. Under 5s.
Events for teens April 2022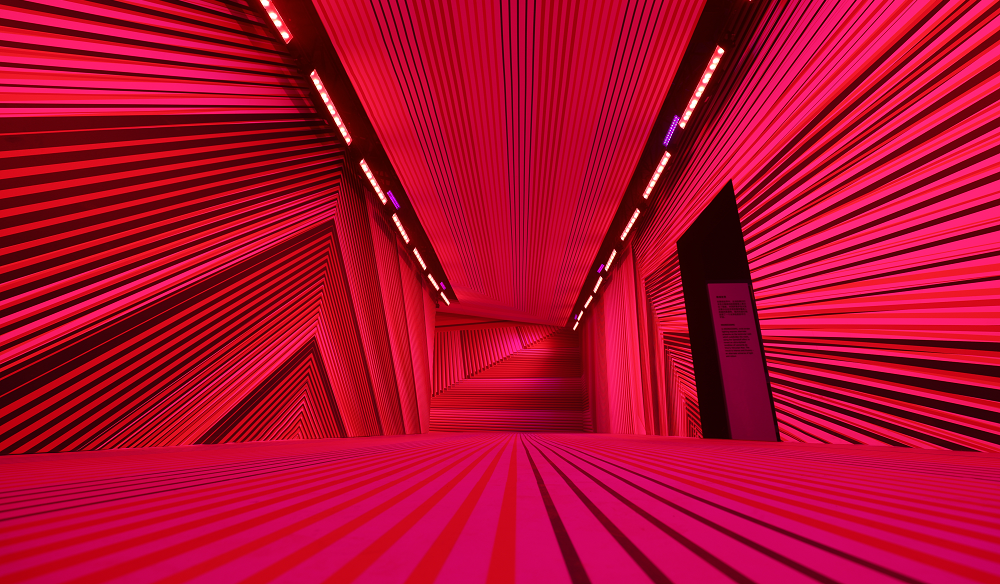 For the first time ever, visitors can climb Cutty Sark's masts in its brand new rig climb experience. Make your way up into the rigging, just as hundreds of sailors did during the ship's long and fabled career at sea. Enjoy views of the Thames and London and descend via a zip wire. From 2 April 2022. Paid, book ahead. Ages 12+.
Now Play This 2022 experimental games festival returns to Somerset House. Now in its eighth year, this year's festival explores the relationship between democracy and game design. View and play trailblazing projects inspired by gaming culture. 8-10 April 2022. Paid, book ahead.
Note: Although all ages are welcome, some games have written content warnings for explicit language and content which might make them unsuitable for younger children.
Want to learn about comedy? Come and join comedian and actor Moj Taylor at Arts Depot as he teaches you how to bring out your funny side in this stand-up comedy workshop. 11 April 2022 at 12:00. Paid, book ahead. Ages 12-16.
Young Barbican take over the Barbican Centre for a whole weekend! Make your own African inspired jewellery with Omolola, create candles and zines, customise your own clothing and try out gelli printing. With rollerskating rink and DJs playing everything from afrobeats, amapiano, soul, R&B and experimental music. 30 April-1 May 2022. £5. Ages 14-25.
The new world of space is imagined by pioneering artists in Future Shock. 180 Studios's subterranean spaces are transformed through mesmerising and immersive digital technology – from generative and interactive algorithms, AI and 3D digital mapping, to spellbinding laser work, holographic projections and groundbreaking electronic music. 28 April-28 August 2022. Paid, book ahead.
Develop your drawing skills and get some perspective using household items and interiors as inspiration in Skill Up: Architectural perspectives online workshop by RIBA London. 2 April 2022. Paid, booking required. Ages 15-18.
Theatre and shows April and Easter 2022
A selection of family friendly shows to introduce your child to the theatre (and circus!)
How to hide a lion at Polka Theatre. 30 March-24 April 2022. Paid. Ages 3-6.
The Singing Mermaid at Little Angel Theatre. 30 March-24 April 2022. Paid. Ages 3-8.
Handa's Surprise at Little Angel Theatre. 31 March-16 April 2022. Paid. Ages 2-5.
Bon Voyage! Zippos Circus at Blackheath. 31 March-18 April 2022. Paid.
Psst: Use code ZC88 to save 30% off tickets for all tour locations.
Little Red Riding Hood at Half Moon Theatre. 2 April 2022. Paid. Ages 3+.
Wolf! at Canada Water Theatre. 2 April 2022. Paid. Age 5 and under.
The Smartest Giant in Town at Arts Depot. 2-5 April 2022. Paid. Ages 2-8.
SLIME at the Albany (6-7 April 2022) and Arts Depot (10 April 2022). Paid. Ages 2-5.
Teddy Bear's Picnic at Sadlers Wells Theatre. 7 April 2022. Paid.
Plastic Drastic Fantastic at Polka Theatre. 7 April-8 May 2022. Paid. Ages 7+.
Zog and the Flying Doctors at Southbank Centre. 8-10 April 2022. Ages 3+.
Oi Frog and Friends at Arts Depot. 12-16 April 2022. Paid. Ages 3+.
Meal One at Southbank Centre. 14-15 April 2022. Paid. Ages 5-9.
JINA and the STEM SISTERS at Little Angel Theatre. 20 April-1 May 2022. Paid. Ages 7+.
At home Easter activities
And if you can't leave the house for any reason, here's some at home Easter inspired activities to join in with.
Easter crafts how to guides from National Trust. Make naturally dyed Easter eggs, an Easter basket and bean bag Easter chicks.
Easter activities for kids from English Heritage. Make your own clay dragon, a shield, a sword, decorate Easter eggs and cook saffron buns. Learn why we eat eggs at Easter, how we used to celebrate Easter, Saxon Easter traditions and dragons and their origins.
Make a chocolate painting with Tate Kids
Decorate Spring Eggs with Tate Kids
Cat themed Tower Bridge activities including colouring sheets
I hope this guide helps you enjoy your Easter holidays!
Please take a second to share this post. It helps parents find fun things to do, grows my community, and encourages more visits to cultural attractions. All mentions and shares make a difference, be that on Facebook, WhatsApp or in person.
If you do something I mention, I'd love to hear about it. Comment below, or tag me @museummum on Instagram or @museum_mum on Twitter. Follow me on Instagram for more days out ideas and to see what the Museum Family get up to this Easter. I've already posted our own holiday plans over in my stories.
And if this guide has been useful, why not buy me a coffee to say thanks?

Disclosure: Just like a journalist, I have been gifted free entry to many of these museums for review purposes. I work at the Museum of London, although I can't take any credit for their family activities, and this blog is not associated with them

PIN FOR LATER: