Looking for things to do with the kids this October half term 2023? London is bursting with fang-tastic activities this Halloween half term holiday. Whether you're trying to entertain tots or teens, here's my pick of the city's best family activities and events this October half term.
In 2023, the October half term falls between 21 to 29 October 2023. Most London schools will be closed between Monday 22 and Friday 27 October 2023. Check individual school and council websites for exact dates in your area.
Note: many 2023 Halloween events haven't yet been announced. Bookmark this page and keep checking back to hear about more!
Ghoulish Halloween fun, immersive art, diwali celebrations, family exhibitions, storytelling, hands-on workshops and spellbinding theatre – there's so many family-friendly events this half term that you'll (almost) wish they had more time off school!
Whether you're in the capital for a day or a lifetime there's bound to be something on this list that they'll love. I've included plenty of free London events, leaving more cash for Christmas.
To make it even easier, I've added links to every event page, so you can book in a click of a button. I've only included places which at the time of writing still have spaces left. Be quick though – many events I share sell out quickly. Although there's plenty of drop in activities listed here too.
Without further ado, here's the best cultural things to do in or near London with kids this October 2023 half term.
Last updated: 15 September 2023. More events coming soon.
Psst: Like what I do? Show your support by buying me a coffee.
CONTENTS

London Halloween events for families
Ghoulishly good Halloween events in London, designed for families.
Halloween half term at English Heritage
Grab your broomsticks and get ready for a bewitchingly brilliant day out at over 20 English Heritage sites. Join ghost-hutning storytellers and solve creepy clues in their Halloween Quest. Sites participating in or near London include Eltham Palace, Audley End, Battle Abbey, Dover Castle and Wrest Park. 21-29 October 2023, included with paid entry.
Eek!Week at WWT London
Make your way around the wetlands for a truly eek!citing interactive trail. Will you dare to put your hand in a snake box, grab a photo op with a bat or get up close and personal with a toad? Activities include pond dipping, potion making and rainbow nature art workshop. 21-29 October 2023, included with paid entry. More info and booking here.
Mini monsters at London Museum of Water and Steam
Discover the monster bacteria that lurked in the River Thames. Find out where our water comes from and see the science that cleans the mini monsters from London's water in a Soggy Science Show. Plus, with storytelling, crafts, and community art project. 21-29 October 2023, paid. More info here.
Pumpkin trail at Headstone Manor Museum
Pesky pumpkins have invaded Headstone Manor Museum. Can you find them all, spell out the mystery spooky word and earn a t̵r̵i̵c̵k̵ treat? 21-29 October 2023. FREE, drop in. More info here.
Boo at the Zoo at London Zoo
Trick-or-treat yourselves to a trip to London Zoo for traditional Halloween crafts, hair-raising animal facts, or a session in sorcery. Navigate through the extinct species graveyard, head to Ghoul School to learn some spells, party away in their bubble boogie or craft a menacing mask to take home with you. 21-31 October 2023. Included with paid entry, book.
Halloween at Hampton Court Palace
Explore Henry VIII's notoriously haunted palace with atmospheric projections and creepy sound effects.Feel the chilling presence of infamous ghosts, spot intricately carved pumpkins and hear spooky stories. See eerie portraits come to life or take part in a spine-tingling séance. Whose voice will echo from beyond the grave? Designed to put you on edge, rather than push you over it. 21-29 October 2023. Included with entry, book here.
Halloween at the Tower of London
With a thousand years of history housed within the Tower's walls, can you find spirits of the past this Halloween? Take the Halloween trail to catch sight of a medieval queen upon a crooked throne, spot a Roman soldier near the remnants of the London Wall, or glimpse the Wizard Earl concocting potions in his apothecary. A family-friendly adventure designed to spook, but not to terrify. 21-29 October 2023. Included with paid entry. More info and booking here.
Halloween broomstick at Chelsea Physic Garden
Craft your own broomstick using plant materials foraged at the Chelsea Physic Garden. Learn about the craft of broomstick-making from around the world and customise your broomstick to suit your personality. 23 and 25 October 2023, 11:00-12:30. Paid, book. Ages 4+.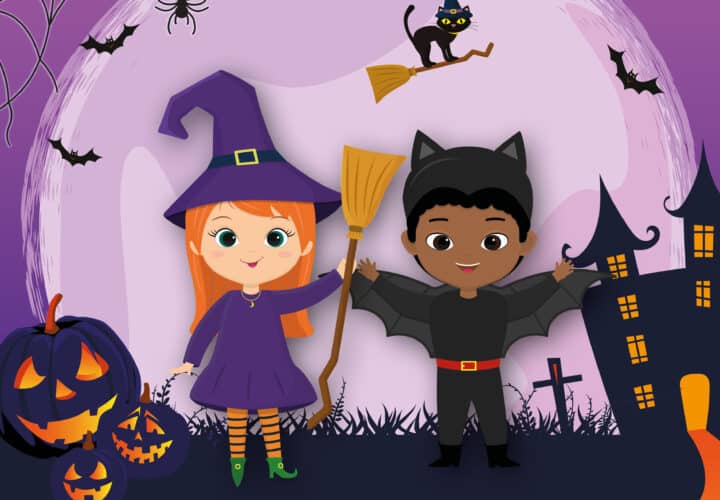 Halloween at Capel Manor Gardens
Dress up and be prepared for spooks and scares! Take a bewitching trail through the Gardens, with surprises and characters to meet. Plus Halloween disco and creepy crafts. 23-29 October 2023. Paid, book.
Halloween Pumpkin Trail in Belgravia
Find spooky Halloween displays on this family-friendly pumpkin trail to see showstopping pumpkin displays and smaller eye-catching displays. 23-31 October 2023. Free, drop in. Find more details here soon.
Halloween trail at Marble Hill House
Experience the spookier side of Marble Hill with a Halloween Trail made with decorations by their local nursery. 23-31 October 2023. FREE, just turn up. More info here.
Halloween pumpkin carving at Chelsea Physic Garden
Learn about pumpkin plants and explore the Garden through autumn. Then enter the spooky garden shed to transform pumpkins into Halloween friends. All materials and tools will be provided, and each participant will get one pumpkin to take home. 24 and 26 October 2023, 13:00-15:00. Paid, book. Ages 6+.
Discovery day: Hair-Raising Halloween at the LookOut Centre in Hyde Park
Explore an eerie nature trail, discovering fascinating facts along the way. Guess the gruesome contents of feely boxes. Listen to a spooky interactive story or learn about the brilliant bats in the Royal Parks. Dressing-up encouraged! 24-26 October 2023, 11:00-15:30. FREE, drop in. Here's more information.
Beastly Board Games at Soane Museum
Inspired by the magical monsters and curious creatures among Sir John Soane's Museum collection, design and make your own beastly board game to play this Halloween. 26 October 2023, 11:00-15:00. Free, drop in. Here's more details.
Covent Garden Mum Halloween trail
Take Covent Garden Mum's FREE family friendly 'Halloween Trick or Treat Trail' around Covent Garden. Along the way, explore parts you may never have been to before, as well as testing your observation skills and learning some fun facts. Best of all, bag yourself some awesome treats from some fang-tastic contributors! Register here to bag the trail when it's released – only trail holders can claim the goodies! 27 October 2023, 12:00-17:00. FREE.
Halloween day trips
Escape the city for a day with one of these really wizard out Halloween events in the South East.
Dark arts at Warner Bros Studio
Marvel at 100 floating pumpkins in the magnificent Great Hall, as seen in Harry Potter and the Philosopher's Stone. Look out for the Death Eaters' procession through the Studio Tour in a menacing display. Hunt for the dark mark and learn wand comabt. 15 September-5 November 2023. Paid, book.
Halloween at Tumblestone Hollow
Find hidden riddles in the mysterious world of Tumblestone Hollow and the Gardens at Stonor to win a special chocolate prize (or an alternative treat). Folk of Tumblestone Hollow read stories and give away spooky temporary transfers. There's pumpkins galore and ghoulish surprises. Afterwards, enjoy the epic playground. 18-29 October 2023. Paid, book here.
Read about our visit to Tumblestone Hollow here.
Boo at the Zoo at Whipsnade Zoo
Delve into the world of unseen animals at Whipsnade Zoo. Listen to terrifying talks about animals who prefer nighttime, bust a move a Halloween disco and enjoy a monstrous magic show. Plus spooky storytelling, creepy crafts, and a costume contest. 21-29 October 2023. Included with paid entry. More info here.
Halloween at Mountfitchet Castle
Last year, Mountfitchet Castle built a Halloween tunnel of terror, with a prize for all who wandered through the spooky village and dark tunnels to collect the stamps. Let's see what they do this year! 21-29 October 2023. Paid, drop in. Read more here.
Halloween at Hatchlands Park
Find spooky spirits in Hatchlands Houe, thanks to award-winning projection artist Luke Pendrel (22-23 October 2023, 12:00-16:00). This one really captured Museum Girl's imagination last year. Outside, find the pumpkins with the painted face on the front lawn, and tick them off the spotting sheet (21-31 October 2023). Both included with paid entry. Read more about the house trail and the Pumpkin Hunt.
Halloween spectacular at Chiltern Open Air Museum
An evening of spooky fun for all ages in the unique and atmospheric setting of the Museum's historic buildings and woods. The very brave can explore the scary woodland walk – but beware of the monsters that might lurk in the dark! Younger children will enjoy the not-so-spooky walk and storytelling. Plus fire-breathing, crafts, bonfire, marshmallow toasting, and frightening fancy dress competition. 27 October 2023, 17:00-21:00. Paid, book.
Spooky woodland walks at Audley End
Join ghost-hunting storytellers on a family friendly walk through the shadows of Audley End. With well-told tales full of spooky and strange goings-on, it's a more light hearted event this Halloween for families with children aged 5-12. 27-29 October 2023 at 17:30, 18:30 and 19:30. Paid, book. Duration: 45 minutes.
Halloween half term fun at Hever Castle
Don your scariest costume to meet the Vampire, Vampire Hunter and Ghost roaming the grounds of Hever Castle. Listen closely and they will tell you a ghostly story. Find letters spelling out a mystery word in return for a small gift. Plus spooky pebble painting. 21-29 October 2023. Paid, book.
Halloween adventure at Knebworth Gardens
Complete Halloween games like 'Hungry Ghosts, 'Hook a Pumpkin' and 'What's in the Box', fill your Pumpkin Passport and claim a prize. Play Crazy Golf, find Halloween sculptures in the Wilderness Gardens and brave the Terror Tunnel. Enter your pre-made pumpkin into the Decorated Pumpkin Competition. Fancy dress encouraged for all ages! Includes access to Knebworth gardens and dinosaur trail (the playground is closed). 24-26 October 2023, 09:30-12:30 or 12:30-16:00. Paid, book. Ages 3-10.
Halloween for big ones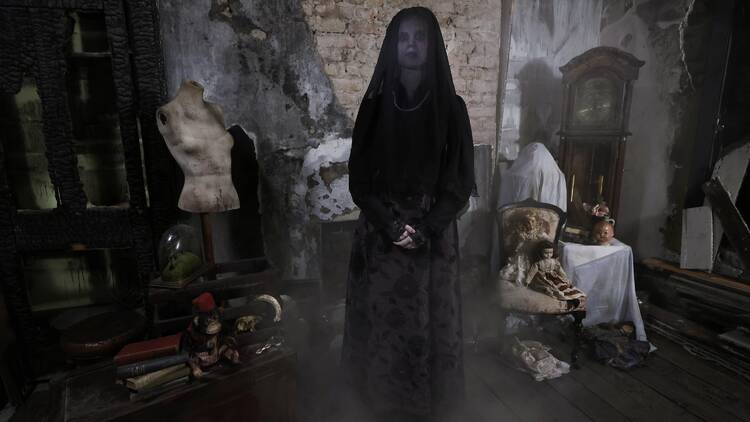 Halloween activities terrifying enough for teens – and adults!
London Dungeons
Face your demons, 1815 style. More information coming soon… From 13 October 2023. Paid, book.
The Gunpowder Plot at Tower of London
Be transported to the heart of the Gunpowder plot with this new immersive experience combining motion simulators, physical sensations, stunning special effects, live actors, and a digital cast featuring Tom Felton. Paid, booking recommended. Ages 10+
Eltham Palace ghost tours
Be guided on a bone-chilling journey through the past in Ghost tours at Eltham Palace. With tales of ghosts, supernatural sightings and horrors from history, this is not a night for the faint-hearted. Bring a torch – things are going to get dark… 27, 28 and 31 October 2023 at 18:00, 19:15, 20:30 and 21:45. Paid, book. Age 16+.
Family exhibitions and favourite places
With interactive displays, hands-on exhibits, and child-friendly explanations, here's the current must-see temporary exhibitions in London aimed specifically at families.

Japan – Myth to Manga at Young V&A
Take an exciting and atmospheric trip through Japanese history – and explore how landscape and folklore have influenced Japan's culture, technology and design. Opens 14 October 2023. Paid, book.
Turn it up at Science Museum
Explore the science of how music shapes our lives in this interactive, family-friendly exhibition. Play with beat, melody and harmonies in a musical playground, make musical patterns with Duplo, and discover weird instruments. Learn how music can become more accessible with technology and the ways in which music unlocks emotions and memories. 19 October 2023-6 May 2024. Paid, book.
Make a day of it at the Science Museum: visit retro gaming paradise Power Up! and hands-on science centre Wonderlab, two of the Museum Kids' favourite things to do in London. Both paid, book.
We're going on a bear hunt at Kew Gardens
Take a sensory adventure through Kew Garden's Lake and into the Arboretum, inspired by much loved picture book and animation We're Going on a Bear Hunt. 'Swishy swashy' through grass, 'squelch squelch' through mud and 'splash splosh' through rivers as you set off on an expedition in search of bears. 21-29 October 2023. Included with paid entry. More info and booking.
The Box Rocket at Discover Story Centre
Travel on an intergalactic adventure in one of our favourite play spaces for young kids. In this immersive exhibition, arrive on a peculiar planet where you must complete an important mission to help relight the planet's magic Story Stone. Afterwards, enjoy their other indoor and outdoor literacy-themed play galleries. Paid, book. Ages 0-8 and their families.
Brick Dinos at Horniman Museum
Discover more about the Jurassic and Cretaceous Periods with Brick Dinos at Horniman Museum. Wonder at dinosaurs and other prehistoric giants built using LEGO bricks. There's plenty of hands-on activities for under 5s, less so for older children. Until 29 October 2023. Paid, book.
Family friendly art
Art exhibitions and trails which will appeal to children.
Frieze sculpture at The Regents Park
Frieze Sculpture returns to The Regent's Park with a new curator and new works from well known artists to young practitioners pushing boundaries. 20 September–29 October 2023. Free, drop in. More info here.
Museum of the Moon in Southwark Cathedral
Marvel at the Moon as it lands at Southwark Cathedral this October. See Luke Jerram's iconic artwork which uses detailed NASA imagery of the moon's surface and is accompanied by a surround sound composition by BAFTA award-winning composer Dan Jones. 10-28 October 2023. Paid, book.
Frameless
The largest immersive art experience in the UK opens just a hop away from Oxford Street. Wander through a maze where art appears to float in space, use your own gestures and movements to paint and be enveloped by art. Features 40 works by famous artists including Monet, Dalí, Klimt, Munch, Rousseau, Rembrandt, Turner, Kandinsky and Mondrian. Paid, book.
Sculpture in the City 12th edition
This annual sculpture trail is one of my favourites, especially on a weekend when the City is so quiet. Explore the 18 artworks on display in the City of London's financial district until spring 2024. FREE, just turn up. More info here.
Henry Moore studios and gardens
Spend a few hours in the glorious Hertfordshire countryside exploring the work of sculptor Henry Moore in his former gardens and studios. Grab a map and wander through 70 acres of lawned gardens, meadows, woodland and sheep fields to find 20 monumental sculptures. In autumns past they've allowed us to pick apples from the trees. Wednesdays to Sundays until 29 October 2023. Paid, more information here.
Read about our visit to Henry Moore Studios here.
Workshops and activities
Let someone else come up with the creative sessions– all you need to bring is the kids!
Telling Your Story at Southbank Centre
A family-friendly day of live readings, performances, storytelling, music and workshops celebrating diversity in children's literature. Part of London Literature Festival. 21 October 2023, free. More information here. Ages 5+.
Half term at the Postal Museum
Crafts, making and storytelling inspired by the postal uniforms in their brand new special exhibition, Dressed to Deliver. Design your own iconic postal uniform for a hand puppet (21-22 October 2023). Design or embroider your own good deed patch to celebrate your kind acts (24 & 26 October 2023). And meet some extraordinary postal characters in storytelling with Olivia Armstrong (25 & 27 October 2023). All included with paid entry. More info here.
Jet and Space Week 2023 at RAF Museum
Race robots with code, build a LEGO rocket, visit an out-of-this-world planetarium, join an interactive space science show and take part in an extremely competitive paper jet designing contest. 21-29 October 2023. Plus free drop-in daily crafts. Paid, book. More details here.
Military Nursing in Focus at Florence Nightingale Museum
Meet Miss Nightingale, one of the best historical character meet and greet experiences we've had – Museum Girl was so inspired! Plus 'Make a Medal' and more military history related activities. 21-29 October 2023. Included with paid entry. More info here.
October half term at Museum of London Docklands
Strut your stuff down to Docklands for free family activities in celebration of fashion and Jewish culture. Make a hand-sewn fabric pouch to keep your trinkets safe, learn how to cross stitch, and decorate your own 'fashionista' paper figure. Create paper fruit and vegetables to celebrate Succot, the Jewish harvest festival. Join in with a Yiddish family sing-along, and make your own clay charity pot making. Plus storytelling, art installation, performances and more. 22-27 October 2023. Free, first come first served. More info here.
Army Animal Crafts at National Army Museum
Take to the skies and make your own messenger pigeon or charge into battle with your own horse and accompanying soldier. 24-26 October 2023 at 10:30-12:30 and 13:45-15:30. FREE, drop in on a first come, first served basis. Ages 5+. More information here.
Big Tree climbing at Wimpole Estate
One of Museum Girl and Dad's highlights of last October half term. Explore Wimpole Estate from the tree tops with The Big Tree Climbing Company. Alongside two skilled and friendly instructors, scale some of Wimpole's giant trees all the way to the top using ropes and harnesses. If you're feeling brave, try some branch walking before returning safely to the ground. The whole family is encouraged to join in. 24-27 October 2023. £25 per person, book. Ages 6+.
Read about our Big Tree climb experience here.
Gleaming Georgians: Holiday workshop for 7-10yrs at Soane Museum
Try linen painting, lantern making and Georgian sugar sculpting in this activity packed workshop. Discover how Sir John Soane became a master of theatrical light displays and how the Georgians enjoyed spectacular fireworks across the River Thames and London parks. 25 October 2023, 11:00-15:00. Paid, book. Strictly ages 7-11, drop off only.
Art Sundays at Dulwich Picture Gallery
Experiment with colour and make different artworks together as a family inspired by their Rubens & Women exhibition and the gallery's collection. 29 October 2023 at 13:00, 14:00 and 15:00. Duration: 45 minutes. FREE, book. Ages 7-12 and their families.
Play studio at Tate Britain
Dress-up and place yourself in a Tate collection artwork thanks to green screen technology. Explore a range of soundscapes, and play with sound and vision. Make something together inspired by the stories you've encountered in the galleries, or relax with under 5s next to the sand trays, collections of objects and books. Every Friday–Sunday during term time and weekdays during holidays, 10.00-17.00. Free, just turn up. More details here.
Under 5s
It's never too early to introduce a child to culture! Here's some activities suited to the very youngest.
Hop, skip, Hackney at Hackney Museum
Runs Tuesdays and Saturdays, including 24 October 2023. Free, drop in. Under 5s, older siblings welcome. Link currently flagged as unsecure – will add soon.
Tots at the Docks at Museum of London Docklands
A regular play session inspired by the history of the Docklands – dive deep in the river, stack and sort cargo or build the tallest tower! 25 October 2023, 11:00-13:00 and 14:00-16:00. FREE, drop in. Ages 1-4. More info here.
Psst: Don't forget to pre-book your Mudlarks Children's Gallery play session, paid.
Storytelling and Music Sessions at Royal Albert Hall
Select Wednesdays and Thursdays, including 25 and 26 October 2023. Paid, book. Under 5s.
Holiday to space at Royal Observatory
Join Ted and Plant as they explore the Solar System in search of the best place to take a holiday in a morning of fun including a planetarium show and interactive workshop. 26 October 2023, 10:30-12:00. Paid, book. Ages 3-6.
Palace Explorers: A Banquet for Queen Elizabeth at Fulham Palace
25 October 2023, 09:30-10:30. Paid, book.
Toddler Group at Boston Manor
Dance, sing and play your way around Boston Manor historic house. Dress for adventurous play! Every Thursdays, including 26 October 2023, 10:00-11:00. Free, book. Suggested ages 2-4 years.
Under 5s Explore: Mini Masterpieces at Dulwich Picture Gallery
Last Thursday of the month, including 26 October 2023. Paid, book.
Mini makers at Pitzhanger
Join artist and teacher Antoine Genevier in an exploratory play session inspired by the season. Child-led activities and art-making, including building and painting with cardboard and other materials, sensory play, drawing, and more. 27 October 2023, 10:00-12:00 and 12:00-14:00. Paid, book. Ages 6 months-8 years.
Children's Theatre
Big Bad Me at Little Angel Theatre
There are two sides to every story – let's hear from the wolf himself in this alternative spin on Little Red Riding Hood. 23 September-19 November 2023. Paid, book here. Ages 6+.
Plus Big Bad Me family workshops on 21 and 22 October 2023.
Stick man live at Leicester Square Theatre
Freckle Productions' delightful adaptation of Julia Donaldson and Axel Scheffler's favourite children's book. 21 October 2023-2 January 2024. Paid, book here.
The Girl and the Dragon at Greenwich Theatre
Join hero Toral on the adventure of a lifetime as she swims uncrossable rivers, braves impassable forests and scales unclimbable mountains, all to fight a great and terrible dragon. Folk tale-style stories with diverse characters and progressive narratives. Winner of the Derek Award for 'Best Children's Show' at Edinburgh Fringe Festival, 2022. 22 October 2023. Paid, book. Ages 5-12.
Alberts Band Presents: Myths and Magic at Royal Albert Hall
A musical journey through the mysterious world of Myths & Legends. Buggies, babies and budding musicians all welcome! 23 October 2023. Paid, book here. Best ages 4-11.
Little Angel Theatre's Miniature Travelling Circus at Greenwich Theatre
Be delighted by beautiful puppets, nostalgic magic tricks and acts so tiny you may wonder how you can possibly see them! From performing mice to acrobatic fleas – this circus has stars you won't see anywhere else! 25-28 October 2023. Paid, book here. Ages 3-6.
SEN-friendly activities
Holidays can be challenging for families with autistic and neurodivergent children and adults. Here's a selection of special events designed to help create a relaxed environment.
Post Early at the Postal Museum
Ride Mail Rail, access Sorted! postal play space, explore the exhibitions with lowered volume levels and take part in a facilitated open-ended arts and crafts activity. With quiet space. A relaxed event co-produced with Ambitious about Autism and their autistic Youth Patrons. 23 October 2023. Paid, book.
Morning stars at the Royal Observatory
Developed for children with autism spectrum disorder (ASD), learn about topics from the planets to the constellations in a more relaxed environment. The planetarium show is presented live by an astronomer with a slower pace and reduced narration. With reduced numbers and brighter lights to avoid pitch black. 23 and 27 October 2023 at 10:15-11:00. Paid, book. Includes free entry to the Royal Observatory.
Slimy Dragons at the Museum of the Order of St John
Create sticky Dragon's slime and uncover the story of Gozon the Dragon Slayer, with storytelling by Olivia Armstrong. Part of Seacole Sessions sensory-friendly events for families with children who need a quieter environment. 24 October 2023, 11:00-12:30 and 13:30-15:00. FREE, book.
Relaxed early opening tours at ZSL London Zoo
Be guided by the Community Engagement team on a set route through London Zoo whilst it is quiet and calm enough to be a comfortable experience for autistic and neurodivergent people. 25 October 2023, 08:30-10:00. Paid, book.
SEN Autumn Tales workshop at Harrow Arts Centre
Join Harrow Arts Centre on a sensory and interactive storytelling adventure to celebrate the turning of the seasons. 25 October 2023 at 10:00. Book. Ages 4+.
Early birds at Science Museum
For those who benefit from visiting the museum free from the hustle and bustle of the general public (for example, individuals with autism spectrum conditions or sensory processing differences). Explore select galleries and enjoy fun workshops, with quiet areas to take a break. Plus Wonderlab: The Equinor Gallery and Power-Up tickets available at reduced prices. 28 October 2023 08:00-10:00. FREE, book. For families with children aged 4-15.
Early explorer event at London Transport Museum
Enjoy the Museum at a quieter time, free from the general public, and with many of the gallery sounds turned off. Explore the All Aboard family spaces in peace, have a go at their holiday activities, get hands-on with genuine parts of transport history, or make use of their sensory bags. For families with Special Educational Needs, including Autistic Spectrum Disorder. 28 October 2023, 18:30-20:00. FREE, book.
Children's Garden Quiet Session at Kew Gardens
Explore all the things plants need to grow and enjoy the sensory elements of the Children's Garden.
Fewer people will be admitted and easy access will be ensured to avoid potentially stressful queues. With gentle sensory activities. 29 October 2023, 08:30-10:00. Free, book. Aimed at children aged 2 to 12 years with special educational needs and disabilities.
I hope this guide helps you have a fantastic Halloween and October half term in London with the kids.
Please take a second to share this post. It helps others find half-term activities, grows my community, and encourages more visits to cultural attractions. Everybody wins! Use whichever platforms you feel most comfortable on – from WhatsApp parenting groups to in person, all mentions and shares make a difference.
And if this guide has been useful, why not buy me a coffee to say thanks?
I love seeing what you get up to, so please do let me know if you make it to a museum this October half term. Either comment below or tag me @museummum on Instagram. I'll be posting our own half term adventures over on my Instagram Stories.
Disclosure: Just like a journalist, I have been gifted free entry to many of these museums for review purposes. I work at the Museum of London, although I can't take any credit for their half-term activities, and this blog is not associated with them.