Don't worry about finding things to do with the kids this October half term. After 18 months of pandemic weirdness, London is back with a bang. Immersive art, ghoulish Halloween fun, giant puppetry, family exhibitions, storytelling, hands-on workshops and even the first winter light trails – there's so many fang-tastic family-friendly events this half term that you'll (almost) wish they had more time off school!
I've included plenty of free events, leaving more cash for Christmas. And just in case that threatened snow does fall, there's indoor activities too. Whatever their age or interest, there's bound to be something on this list that they'll love. To make it even easier, I've added links to every event page, so you can book in a click of a button. Be quick – many events I share sell out quickly.
Without further ado, here's the best cultural things to do in or near London with kids this October 2021 half term.
Psst: Like what I do? Show your support by buying me a coffee.
Family exhibitions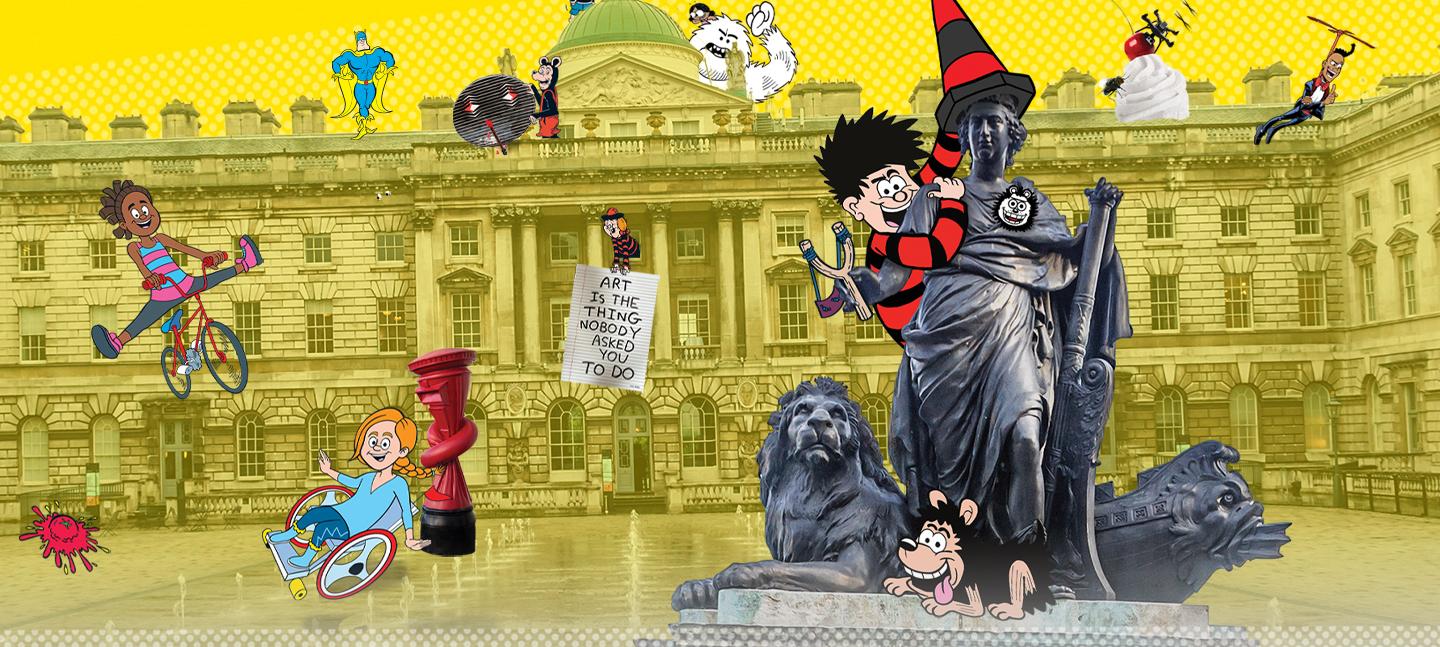 London's current must-see family exhibitions.
Explore the history of one of the UK's most beloved characters in Paddington: The story of a bear at British Library. This small but very sweet exhibition includes a children's trail, film and tv clips and props, drawings, books and more. Until 31 October 2021. paid.
See our Instagram Reel from Paddington: The Story of at bear here.
Learn how nature is just as marvellous as mythical creatures at Fantastic Beasts: The Wonder of Nature at the Natural History Museum. Explore the likely origins of legends like sirens, dragons, unicorns and kraken in an atmospheric exhibition with imaginative interactives, like tempting a Niffler with gold. Until 3 January 2022, paid.
Read my review of Fantastic Beasts at NHM London here.
Take a tumble down the rabbit hole Alice: Curiouser and Curiouser at the V&A Museum. This theatrical show looks at the origins and cultural impact of the infamous children's book. There's fun VR hedgehog croquet, a disappearing Cheshire Cat and a psychedelic Mad Hatter's tea party. Until 31 December 2021, paid.
Psst: More Alice tickets are released every Tuesday at 12.00.
Watch my Instagram Reel of Alice: Curiouser and Curiouser.
Step into the comic in Beano: The Art of Breaking the Rules at Somerset House. Explore how this beloved icon has inspired many to break the rules, whilst discovering artists who push boundaries. 21 October 2021-6 March 2022, paid.
Family fun days and festivals
Special days aimed
at kids, with extra activities.
Join RIBA London at Family Fun Day: Out of the House for a day of drawing, constructing and fun celebrating 100 years of Becontree estate. 23 October 2021, FREE.
Did you know there are Jewish communities in over a hundred countries around the world? Judaism Around the World Family Day at the Jewish Museum London celebrates Jewish communities from Yemen to Australia and Iran to Ethiopia. 26 October 2021, paid.
Visit Greenwich for Ice Worlds, a festival of polar science and exploration at National Maritime Museum. See Britain's newest polar research ship the RRS Sir David Attenborough up close before its first mission to the Antarctic. Meet real polar scientists and explorers, and discover how robots can help unravel the mysteries of the ocean. 28-30 October 2021. FREE, online booking recommended.
Go back ruffly 500 years in Family Day: Tudor treachery at Westminster Abbey. Hear the story of the 9-day Queen. Recreate a Tudor coronation in the very spot where crowning moments have happened for almost 1,000 years. Find out who has been plotting against Good Queen Bess in the spy trail. 29 October 2021, paid.
Trace the journeys of some Grant Museum's animal specimens to discover more about their origins and stories overseas. In Hidden Histories you can handle and investigate specimens that are usually behind glass. Take the museum trail to solve a mystery specimen challenge! 30 October 2021, FREE. Ages 5+.
Take part in activities for families of all ages at Reimagination Now! with Uniqlo Tate Play at Tate Modern. Part of Power to Change festival. 30-31 October 2021.
Live performances, a Saturday night concert, inspiring art and fun activities abound in Royal Docks Family Weekender. Highlights include workshops from the Institute of Imagination, storytelling adventures with Patchlarks, and a visit from YARA + DAVINA's Pet Balloon Service, who want to hear how your pets got their names. 30-31 October 2021, FREE.
Celebrate Diwali at the National Maritime Museum. Create your own lantern and decorations and watch a rangoli be created. Learn dance moves ready to join in with performances by Bhavan Gallery, Bollywood Co, and 4×4 Bhangra. End the day with a lantern parade. 31 October 2021, FREE.
Little Amal and The Walk
Little Amal is the giant puppet at the heart of The Walk, travelling 8,000km in support of refugees. Special events and performances welcome her to London, just in time for October half term.
22 October 2021 at 10:00
Amal and the giant fairground wheel at Deptford Broadway. A giant fairground wheel will be erected in Amal's honour in the first borough in the UK to be recognised as a borough of sanctuary. FREE.
23 October 2021 at 10:00
The great doors of St Pauls at St Pauls Cathedral. Weary Amal will be welcomed with the opening of the Great West Doors, the ceremonial doors of the Cathedral. Spoken word and music collide in a welcome directed by Phyllida Lloyd (Mamma Mia, Tina The Musical). FREE.
23 October 2021 at 13:00
What country, friends, is this? at Shakespeare's Globe Theatre. The company of Twelfth Night, audiences and passersby welcome Amal at the Groundling Gates.
23 October 2021 at 16:00
Welcome wishes at Southbank Centre. Through craft, singing and storytelling, be transported to the world of Swallow's Kiss, an uplifting tale helping young readers understand the lives of refugee children. FREE. Ages 5+.
23 October 2021 at 17:45
I am my own way home at National Theatre. Amal is surprised by a community chorus greeting her in song from the Terraces, with a solo by singer-songwriter Juliana Yazbeck. FREE.
23 October 2021 at 19:00
As night time dawns at Somerset House. After crossing Waterloo Bridge, Little Amal will be welcomed by a 20-minute dance in the courtyard. Specially choreographed by Ruby Portus, with dancers from the National Youth Dance Company. FREE.
23 October 2021 at 23:15
The night vigil at Royal Opera House. Singers, dancers and musicians gather to hold a night vigil to protect Amal and guard her from bad dreams as she sleeps. A private event.
24 October 2021 at 11:00
I'm 10 today at V&A Museum. Young people from Play for Progress who will join her in a participatory performance with a birthday cake made by Yotam Ottolenghi. FREE. Booking required at 11:00 or 13:00 slots, currently sold out.
24 October 2021 at 16:00
My birthday party at Trafalgar Square. Join Boy Blue for this spectacular celebration of Amal, dance and hip hop. FREE.
24 October 2021 at 19:00.
Farewell to London at the Roundhouse. With performances from Anoushka Shankar, Inua Ellams, Lowkey and Tawiah. Paid. Book tickets here.
25 October 2021 at 14:00
A special prayer at Westminster Cathedral. No further details given at time of publication.
Art
From smelly bubbles to drones and giant, life-like statues, here's my pick of art exhibitions and trails which will appeal to children.
In One Thousands Springs by Chiharu Shiota, five thousand haiku are suspended within red strings hung from the vaulted beams of Temperate House at Kew Gardens. Visit on weekends for a Japanese one-man band and live giant calligraphy performances. Part of the Japan Festival. 2-31 October 2021, paid.
Psst: Combine with the Gruffalo's Child exhibition at Kew Gardens, listed under Outdoor Activities. And don't forget to book your children's garden spot too!
A brand-new immersive art venue opens with Superblue Art London. In Silent Fall, a site-specific installation by artist duo A.A.Murakami, you can handle ephemeral scented bubbles released from tree-like automata. From 12 October 2021, paid.
Read my full review here.
The Turbine Hall at Tate Modern has been invaded by flying pod creatures for In Love With the World. Anicka Yi's squid-like aerobes emit smells and will alter their behaviour over time. 12 October 2021-16 January 2022, FREE. Included with any pre-booked Tate Modern collections route.
Contemplate fixing the world, one broken cup at a time at Yoko Ono's MEND piece for London at Whitechapel Gallery. Take a seat at a table and 'mend; fragments of ceramic cups and saucers with only scissors, glue, twine and tape. Afterwards, display your efforts along the shelves on the walls. Until 2 January 2022, FREE. Pre-booking recommended.
Click here to watch my Reel of our visit.
Take a multi-sensory exploration of the forest in Tranquility at Wellcome Collection. Sit amongst a series of monumental colour photographs of primeval ancient forests from America and Japan. Hear birds cheep, macaques chatter, deers call and water flow in sounds recorded in these remote forests. Smell petrichor, evoking wet soil after the rain. Until 9 January 2022, FREE.
Read our review here.
Step inside an alternate universe in RUPTURE NO 1: blowtorching the bitten peach at Tate Britain. This audacious, disconcerting and unforgettable installation by Heather Phillipson is filled with mutant creatures made from technological waste. Until 23 January 2022, FREE. Included with any pre-booked Tate Britain collections route.
Watch my Reel here.
Hyper-realist works chart the circle of life with unsettling power in Ron Mueck: 25 Years Of Sculpture 1996—2021 at Thaddaeus Ropac. We loved Mueck's giant crouching Boy in ARoS gallery in Aarhus, so I'm excited to see the most comprehenstive gallery survey of the internationally acclaimed sculptor to date. 13 October-13 November 2021, FREE.
Follow a powerful laser beam carrying music across the Thames. Sonic Ray encodes the sound of 1,000 year-long musical composition Longplayer into light and transmits it from the Faraday lighthouse on Trinity Bay Wharf to a temporary listening post aboard Richard Wilson's nautical sculpture Slice of Reality, on the Greenwich peninsula. A short ferry ride connects the two locations. Until 21 November 2021. Paid.
Outdoor activities
Enjoy the changing seasons with these outdoor trails and activities.
Join the Gruffalo's Child on a magical adventure through the deep dark wood at Kew Gardens. Collect clues in your search for the Gruffalo's Child and other characters, and look out for fun surprises. The trail will also run at Wakehurst with additional paid for activities. 16-31 August 2021, included with paid entrance.
Experience life-like, animatronic dinosaurs at Zoorassic Park at ZSL Whipsnade Zoo. Gruesome half term activities (23-31 October 2021) include learning about repulsive dinosaur diets, comparing your teeth to a T-rex on an interactive trail and daily talks on animal eating habits. Until 31 October 2021, included with paid entrance.
Take a short stroll through Regents Park and find 18 sculptures from international artists with Frieze Sculpture. This edition touches on themes of displacement, power and environmental concerns. Until 31 October 2021, FREE.
Read my full review here.
It's your last EVER chance to skate at the Natural History Museum ice rink. Skate surrounded by fairy lights nestled in frost-covered trees, against the backdrop of the iconic Waterhouse building. 12 October 2021-16 January 2022, paid.
Psst: Bring your toddler for a skate by 14.00 on select weekday sessions and you'll both enjoy a free mini hot chocolate, tea, coffee or soft drink for just £11.50, plus £1.75 transaction fee.
Explore 19 artworks by internationally-acclaimed and emerging artists in Sculpture in the City 10th edition. Until spring 2022. FREE, just turn up. Click here for the map.
Trails and tours
Discover how London's environment has been shaped by engineering innovations and new technology in From Steam to Green at London Transport Museum. As well as the self-guided trail, there's STEM activity workshops, storytelling and an artwork to contribute to. 23-31 October 2021, paid.
Visit Museum of London at either London Wall or Docklands to explore the stories of past Black Londoners with their digital Story Sleuths trail. Hear their words, see their faces and learn how their legacies have shaped this city and the lives of people who live here today. 23-31 October 2021, FREE. Ages 7+.
Join Dickens Museum at Exploring Oliver Twist for an interactive guided tour in the very home where the much-loved tale was written. There's games, objects to investigate and even some creative writing. Plus their family friendly exhibition, More! Dickens, Oliver Twist and Stories of the City includes a giant game of Snakes and Ladders, based on Dicken's characters. 27 and 28 October 2021, paid.
Read about our private family tour of Dickens Museum here.
Follow the Green Man or Little Red Hood around Two Temple Place on their Family Open Day. Scan the QR codes to hear stories about the building or use the paper trail with colouring in and drawing games. 28 October 2021, FREE.
Under 5s
It's never too early to introduce a child to culture! Here's some activities suited to the very youngest.
Choose a cuddly toy to join you in Pet Life at Museum of the Home. Press the toy's name tag against 3 touch points to hear digital stories by Bernadette Russell which capture the gentle charm of having a pet. The biggest hit is sifting fake animal poos out of a giant sandbox. Until 31 October 2021. Paid.Mus
Click here to read our review of Secret Life of Pets.
Calling all Bingsters! You can meet Bing and Flop at ZSL London Zoo. Help Bing and his friends complete the Zookeepers' daily checklist on the activity trail. Join interactive storytimes, pose for photos with your favourite characters (weekends only) and take home your own pair of Bing ears. Until 31 October 2021, paid.
Step inside a magical make-believe world. Fairy tales at Discover Story is filled with activities inspired by classic children's stories. Raid Huff and Puff builders merchant to build a throne from wolf-proof materials, play dress up in the Emperor's New Clothes Shop and find a golden egg in the Cave of Wonders. Until January 2022, paid. Ages 7 and under.
Click here to read our Fairy Tales review.
Recently refreshed Mudlarks Children's Gallery at Museum of London Docklands introduces the stories of London's docks through a hands-on, themed soft play. Daily through the school holidays. FREE, pre-booking essential. Ages 8 and under.
Psst: Mudlarks tickets are released at 10:00 the day before your visit.
Teens
From hard-hitting history to immersive art, these suggestions are cool and challenging enough for older kids. Scroll down for teen-friendly Halloween activities too.
The Ocean at the End of the Lane at the Duke of York's Theatre. From October 2021, Ages 12+.
After major development, the new Second World War and The Holocaust galleries open at IWM London. Spanning two floors, these vast new galleries bring together the stories of real people from diverse communities to examine the complex relationship between the Holocaust and the course and consequences of the Second World War. From 20 October 2021, FREE.
200 powerful black-and-white photographs that celebrate the indigenous peoples and varied landscapes of the Brazilian rainforest in Amazonia at Science Museum. Taken by Sebastião Salgado at a time when the forest is approaching a crucial tipping point in the fight against climate change. 13 October 2021-March 2022, paid.
Featuring 13 large-scale installations, LUX at 180 The Strand brings together 12 of the world's most celebrated media artists and collectives, creatives working with the latest audio-visual technologies to expand the boundaries of interactive, immersive art, blurring the lines between the physical and virtual worlds. 13 October-18 December 2021, paid.
Workshops and activities
Let someone else come up with the crafting ideas – all you need to bring is the kids!
Be inspired by Van de Velde's drawings at Queen's House. Create your own little viewfinder to spot paintings (23 October 2021). Make seascape collages which explore texture and pattern (25 October 2021). FREE, drop-in.
Investigate the future at Future Explorer at Science Museum. Meet future experts and find out their predictions for 2050 though games, interactive exhibits, and demos. 25-29 October 2021, FREE.
Foundling Museum have several artist-led workshops. Create your own light sculpture based off a ship's lantern. Make and fly your own flag. Design your own boat with illustrator Salvatore Rubbino. Or model a mythical clay sculpture to be your ships' figure head. 28-29 October 2021, FREE.
Visit British Museum for an array of engaging activities, including Samsung digital workshops, art and craft stations, storytelling sessions and re-enactments. Explore their galleries with an activity-filled backpack or family trail. See this flyer for all the details. 23-31 October 2021.
Choose from three RIBA design workshops. Design and create a brand new, sustainable and environmentally-friendly Ecovillage from scratch (25 October 2021, paid, ages 11-15). Explore different options for road shapes that allow better interaction with neighbours, communities, and promote wellbeing, as well as coming up with your own unique shapes (26 October 2021, paid, ages 6-10). And imagine Imagine a building made from biscuits, a city made out of soap, skyscrapers made from socks or wobbly houses of jelly in Extraordinary estates. (28 October 2021, paid, ages 6-10).
Learn with the Cartoon Museum how to design your own cartoon characters in Create a comic strip (26 and 28 October 2021); draw your funny comic ideas in Young Cartoonist of the Year (27 October 2021); draw faces, expressions, bodies and clothing in Manga beginners (28 October 2021); or how to design your own Beano front cover. All paid, ages 8-14.
Construct a mask and one other costume item in this mask-making workshop at Soane Museum, inspired by Pablo Bronstein's colourful Commedia dell'arte characters. 27 October 2021, paid. Children can be dropped off, please provide a packed lunch.
Build your own city in Imaginary Cities at V&A Museum. Create your very own modular building as part of a growing community of cardboard houses, and explore what home means to you. 27-30 October 2021, FREE. Drop-in. Ages 6+.
Make sugar sculptures at Soane Museum inspired by Regency banquets and Pablo Bronstein's magnificent cake and jelly skyscrapers. 28 October 2021, FREE. Drop-in.
Create funny characters in Family Illustration Workshops: Hard Stares and Funny Faces at British Library. With a professional illustrator on hand to guide you, your creation could be smiling one moment, in disguise the next, then give someone a good hard stare, just like Paddington! 29 October 2021. Paid, book ahead.
Head to Gunnersbury Park and Museum to create a beautiful stained glass effect Autumn leaf decoration to take home. 28 October 2021, FREE.
Venture deep underground in Brunel Museum's Tunnel Skills VR experience. Experience what life underground is really like in a state-of-the-art Virtual Reality experience. Meet real life tunnelling professionals who can tell you more about working underground today. There's also a museum trail which uncovers the dangers of the tunnel, from explosions to floods. 29 October 2021, paid.
Make your own Wilmot troll postmaster hat to wear on a magical ride on Mail Rail at the Postal Museum, inspired by the final book in the bestselling A Train to Impossible Places Adventures series. 30 and 31 October 2021, included with paid entry. Drop-in. Best ages 5+, all ages welcome.
Join Black Girl Knit Club and La Basketry and learn how to knit and weave at Crafts Council. Work with a range of yarns to make your own coaster using basic knitting and weaving techniques and help make a larger patchwork piece. 30 October 2021, FREE. Ages 7+.
Storytelling
Capture their imagination with this selection of story-telling events.
Journey from the end of the roots to the tips of the leaves in Tree-mendous Adventures interactive storytelling at Science Museum. 2 to 24 October 2021(Saturdays and Sundays), FREE. 40 places allocated on a first come, first served basis. Ages 3-7.
Best-selling children's author reads from her hugely popular books in a multimedia orchestral adventure at Jacqueline Wilson's Wonderful World at the Barbican. Expect sorcery, charm, rhythmic drive and hypnotic sounds from the BBC Symphony Orchestra, and of course, the theme from CBBC's beloved The Story of Tracy Beaker. 23 October 2021, paid.
Travel through time and meet Olaudah Equiano, Mary Seacole and London's first black bus driver at both Museum of London sites. 23-30 October 2021, FREE. See their full events programme here.
Meet P.G. Bell, author of Delivery to the Lost City in the underground train depot at the Postal Museum. Hear the story come to life in a short reading by Bell, have your copy of the book signed and make your own Delivery to the Lost City inspired Wilmot troll postmaster hat. 27 October 2021, paid.
Join storyteller Olivia Armstrong on a sensory, interactive journey at the Postal Museum, inspired by themes from by the best selling book A Train to Impossible Places Adventures. Discover tales of difficult deliveries and fabulous folktales about the amazing Travelling Post Office railway! 28-29 October 2021, paid. Best ages 8+, all welcome.
Hear what it was like for Black personnel to leave their home country and join the Royal Air Force during the Second World War in Black airmen storytelling at RAF Museum. 28-29 October 2021, FREE. Best ages 7-11.
Find out more about everyone's favourite literary bear in Family Storytelling Workshops: Adventures of Paddington at British Library. Explore his journey as an outsider to London, discover his kind heart with sensory storytelling and take part in a fun making activity. Includes a visit to the Paddington exhibition. 29 October 2021. Paid.
Halloween

Pick a really wizard day out with one of these Halloween events.
Hunt for the Dark Mark in the Dark Arts at Warner Bros Studios. Marvel at 100 floating pumpkins in the magnificent Great Hall, as seen in Harry Potter and the Philosopher's Stone. Learn wand combat moves in a live duel with Death Eaters. 24 September-7 November 2021, paid.
Gerald Moore Gallery has a range of spook-tacular crafts this October half term. Bend willow to create a spooky nightlight, model spooky 3D eyes, carve a pumpkin or a skull soap sculpture, create your own superhero capes, build a creepy clay castle, make magical mono-prints and put on a shadow puppet performance. 19-29 October 2021, paid.
Follow the clues around the mysterious world of Tumblestone Hollow and the Gardens at Stonor to win a special chocolate prize. Folk of Tumblestone Hollow read stories and give away spooky temporary transfers. There's pumpkins galore and ghoulish surprises. Afterwards, enjoy the epic playground. 20-31 October 2021, paid.
Read about our visit to Tumblestone Hollow here.
As dusk falls, Jubilee Park in Canary Wharf comes to life with ghoulish greenery, giant spiders and the odd surprise to delight children and adults of all ages. Smoke and Spiders is a colourful immersive trail, perfect for those selfie moments. 22-31 October 2021, FREE.
Stumble across ghosts and ghouls in a brand new self-guided Halloween trail through Hampton Court Palace. Uncover the tales of Catherine Howard in her chambers, a grey cloaked lady named Sybil Penn, haunted portraits of the damned, and many more… 22-31 October 2021, included with paid entry.
Hop on board the mini ghost train at Blenheim Palace for a trip through the 'Terrifying Tunnel', come face to face with spooky statues in the Palace and see if you can spot the Beasts of Blenheim lurking amongst the paintings and artefacts. For younger visitors there's also the chance to listen to a selection of scary stories. A bat trail takes you through the Walled Garden and Frightful Fire performances take place in the Great Court (26 and 27 October 2021 only). 22-31 October 2021, paid.
Solve a spooky mystery in Ghost Raiders at the Tower of London. Spirits have been accidentally released and are roaming the Tower of London. Among them, an unknown force is threatening the Realm itself. Who is it and can you stop them to protect the Tower of London? 23-31 October 2021, paid. Ages 8-14.
A brand-new adventure trail inspired by Cressida Cowell's bestselling Wizard at Once books takes place at selected English Heritage sites, including Eltham Palace and Audley End. Find the ingredients for the Spell to get rid of Witches and uncover the location of the Cup of Second Chances. Complete training with Dr Hyll to become a monster hunter. Includes a fancy dress competition. 23-31 October 2021, paid.
Discover the monster bacteria that lurked in the River Thames in the past in Monster Soup at London Museum of Water and Steam! Learn the science behind where our water comes from and how we clean our city's water in our very own Soggy Science Show! Plus music and craft. 23-31 October 2021, paid.
Come to Hever Castle in your spookiest outfit, find Halloween decorations around the grounds and learn how to become the perfect little monster with the Ghoul School Audio Trail. An array of teachers will be imparting their delights, frights – and a few vampire bites! Plant garlic bulbs to ward off any stray vampires. 23-31 October 2021, paid.
Morden Hall Park is at the centre of a mystery whodunnit trail. Travel back in time and reveal the mystery of Mr. Hatfeild's stolen birthday cake. Find the trees who hold the clues, scan the QR code to unlock hints and important information. Use your deduction and note findings to help you eliminate suspects. 23 October-21 November 2021. Paid.
Delve into the spooky history of Chelsea Physic Garden with Family theatre: Halloween Spooky Tours and Wild Immersive Theatre Co. Help the Professor, discover medical and poisonous plants and pick up some wizarding skills along the way. Halloween costumes encouraged. 24-31 October 2021, paid.
Follow Knebworth Halloween Trail round the gardens looking for all things Halloween by solving riddles, and taking part in fun-filled crafts to earn a prize. Fancy dress encouraged for all ages! Includes access to the dinosaur trail. 25-29 October 2021, paid.
Make your own broomstick using plant materials foraged at the Halloween Broomstick workshop at Chelsea Physic Garden Learn about the craft of broomstick-making from around the world and customise your broomstick to suit your personality and take a broomstick ride around the garden afterwards. 26 October 2021. Paid.
Discovery Day: Raising Halloween at Royal Parks is packed with creepy-crawly Halloween themed activities, including potion making, spooky interactive storyelling, crating creepy clay creates and making your own mask. 26-28 October 2021, FREE.
Craft your own whimsical woodland trail at Morden Hall Park. Create a colourful lantern and a head garland that will set the scene for your whimsical tale. Use leaves to create animal characters and pick up a story telling prompt to start your park story. 27-29 October 2021, paid.
Merchant Square Paddington is transformed into a spooky estate with a huge, family friendly pumpkin display Activities include pumpkin carving, photo competitions, pirate treasure hunts and a free cinema evening of Casper the Friendly Ghost. 27 October-1 November 2021, FREE.
Go on a gothic storytelling adventure in Pitzhanger Spooktacular. Create a monster mask inspired by the Monk's Dining Room, hunt for scary fruit and veg in their kitchen garden and discover the magical world of bats in a night-time walk. There will also be candle making and a chance to light a pumpkin! 28 October 2021, paid.
The Halloween Pumpkin Market returns to Covent Garden with over two hundred pumpkins, squashes and gourds available to purchase in various shapes and sizes and a stunning autumnal floral display created by luxury London florists Maison de Fleurs. 29-31 October 2021, FREE.
Venture on a safari into the woods and discover beasts rarely seen in this world in Waddesdon Twilight Cryptid Trail with Strange-Twig Theatre Company. On your adventure, Safari Rangers will be there to answer questions and if you're very lucky, you may even get a close encounter with one of the fantastical creatures themselves. 27-30 October 2021, paid. Ages 6+.
Meet 19th Century Captain Sir John Franklin in Icy mystery: Halloween voyage into the unknown at Old Royal Naval College. Follow spooky clues left by missing crew members of a long-lost expedition through the Arctic. Finish by receiving your prizes and creating a piece of Art about life in the Arctic, or writing about what you think happened to the missing sailors. 29 and 30 October 2021, paid. Age 6+.
Get dressed up in your scariest outfits and head over to Valentine's Mansion for spooky stories to get you in the mood for Halloween. There'll be a treat for the most impressive costumes! 31 October 2021, FREE. Ages 3+.

Halloween for big ones
Halloween activities terrifying enough for teens.
Do you have what it takes to brave the surgeon's knife? Meet the surgeon at London Dungeon is a brand-new, truly terrifying experience that deep dives into the devilish practice of surgery in the Victorian era. 9-31 October 2021, paid.
Halloween Scream at Hever Castle is an immersive scare action intended to frighten. Featuring two mazes – The 13th Frame in the castle and SUBstratum in the dark cellars. 25-31 October 2021, paid. For thrill-seekers age 14+.
Prepare to be spooked this Halloween at London's oldest botanic garden in The Haunting of Chelsea Physic Garden. Take a ghostly Halloween evening tour by Wild Immersive Theatre, and experience the Garden like never before. 24-31 October 2021, paid. Age 16+.
Be guided on a bone-chilling journey through the past in Ghost tours at Eltham Palace. With tales of ghosts, supernatural sightings and horrors from history, this is not a night for the faint-hearted. Bring a torch – things are going to get dark… 28-31 October 2021. Age 16+.
Light Trails
Make the most of the dark evenings, with one of these magical light trails.
Explore the after-dark lluminature trail through habitats of owls, geese and otters at WWT London. Walk past reed beds, lagoons and the grazing marsh and see larger-than-life illuminations of iconic wetland wildlife. 22 October 2021-9 January 2022, paid.
Glimpse fleeting fairies, spot fiery fish and dragons ablaze in Ignite at Polesden Lacey. Lit by lanterns, wander between flickering flames and majestic trees with this fiery interpretation of stars and spheres, illuminated flora and fantasy. 22 October-7 November 2021, paid.
Light beams paint the route of the new Northern Line extension in the sky in Line of Light. Selected buildings will be lit with visual projections. Outdoor festival hubs host free activities and entertainment through the afternoons. 29 and 30 October 2021, FREE.

Children's theatre
RED at Polka Theatre. Until 31 October 2021, paid. Ages 6+.
Percy the Park Keeper at Chiswick House. 14 October-14 November 2021, paid.
Stick Man Live at Leicester Square Theatre. 21 October 2021-3 January 2022, paid.
Dance Umbrella: Club Origami at Arts Depot London. 24 October 2021, paid. Ages 0-5.
Online
For when you can't or won't leave the house, here's some virtual ways to get your culture fix from the comfort of your own home. I'll add more as I find them.
Troublesome Tudors: Virtual Tour from Westminster Abbey. 27 October 2021, FREE.
Create a Comic Strip online from Cartoon Museum. 28 October 2021, paid.
Anansi the spider re-spun from Unicorn Theatre. 1-31 October 2021, FREE.
I hope this guide helps you have a fantastic Halloween half term in London with the kids.
Please take a second to share this post. It makes you seem savvy, helps others find half-term activities, grows my community, and encourages more visits to cultural attractions. Everybody wins! Use whichever platforms you feel most comfortable on – from WhatsApp parenting groups to the park bench, all mentions and shares make a difference.
And if this guide has been useful, why not buy me a coffee to say thanks?
I love seeing what you get up to, so please do let me know if you make it to a museum this October half term. Either comment below, or tag me @museummum on Instagram or @museum_mum on Twitter. I'll be posting our own half term adventures over on my Instagram Stories.
Disclosure: Just like a journalist, I have been gifted free entry to many of these museums for review purposes. I work at the Museum of London, although can't take any credit for their half-term activities, and this blog is not associated with them.