The 2021 summer holidays are nearly here! Whilst I'm THRILLED the worst school year (probably) in history is over, now we need to keep the kids entertained in London for six. whole. weeks.
Fact: London is one of the greatest cities in the world – and with the huge drop in international visitors, we have it almost to ourselves this summer. But sometimes it's hard to know what's on for kids, and more importantly, what they're likely to enjoy – especially since the pandemic hit.
So I've used my personal experience taking kids to museums in and around London to bring you the best activities and days out during the 2021 school summer holidays. Since the pandemic began, we've visited over 100 cultural places – and I've 18 years experience of taking my kids to museums to fall back on.
From tots to teens, this list will help keep your kids entertained, whatever their age. All interests are catered for, with blockbuster shows, London icons and free festivals to art, children's trails, animal themed events, and making workshops. On a budget? I've included FREE summer holiday activities too.
Most are in London, but I've included day trips worth travelling for – including my favourite beach days. We live in hope the sun returns, right? But, just in case it doesn't, or you need to escape the heat <hopeful>, there's indoor suggestions too.
Some you really need to book NOW, others will have availability for longer, and a few you can just turn up. Spontaneity – how 2019!
Each listings has a clickable link to take you straight to all the info you need, from opening hours to booking pages. So grab a cuppa, your calendar, and your payment card – here's your summer holidays 2021 sorted!
Psst: Like what I do? Show your support by buying me a coffee.
London icons
This summer, tick London's must-see sights off the kids' bucket list – before the hoardes return.
1. The Tower of London
Royal prison, torture chamber and execution site – the Tower of London grisly history is brought to life with simple displays and the iconic Beefeaters' gift of the gab. Meet the legendary ravens, be wowed by the opulent Crown Jewels and see famous kings' suits of armour. £29.90 adult, FREE under 5s, £14.90 ages 5-15. Book here.
2. Tower Bridge
Scale the Victorian gothic tower to see inside London's most iconic river crossing. Learn more about the bridge's design and enjoy panoramic views of the London skyline. Brave the Glass Floor to watch the city move below. £10.60 adult, FREE under 5s, £5.30 ages 5-15. Book here.
Psst: Visit on a Boat builders family day to make an origami boat for their glass floor flotilla and get free returns to family days for 6 months. 17 and 17 July; 3, 10, 17, 21 and 24 August 2021. Included with entry.
Read about out pandemic visit to Tower Bridge here.
3. Natural History Museum
Kids adore the museum's fearsome T rex, shuddering earthquake simulator, glittering gems, fossilised giants and preserved animals. Without the crowds you can really take in the stunning 'cathedral to nature', Hintz Hall. Open daily, FREE. Book your visit up to 5 September 2021 here.
Click to read my ultimate guide to visiting the Natural History Museum with kids.
4. HMS Belfast
Clamber onboard London's Second World War warship for the first time in almost 18 months. The creepy mannequins have been ditched for new displays and exhibition spaces. Climb ladders, duck through hatches, sit in the captain's chair, steer the ship to the D-Day beaches, play World of Warships and enjoy amazing views up the River Thames. Daily from 8 July 2021. £25 adult, FREE under 5s, £12.50 ages 5-15. Click here for more info on HMS Belfast.
5. Cutty Sark
This famous tea clipper was once the world's fastest sailing ship. Follow the family trail, explore the decks and walk under the copper clad hull. And, every day during the school holidays, meet a colourful character from Cutty Sark's past. Maybe you'll take a hear a story from Nannie the Witch, play games with cook James Robson, or meet Captain Woodget. £15 adult, £7.50 child, FREE under 4s. Ages 3+. More info here.
Psst: Call ahead to find out which character you'll meet on your visit.
Summer 2021 must-see family exhibitions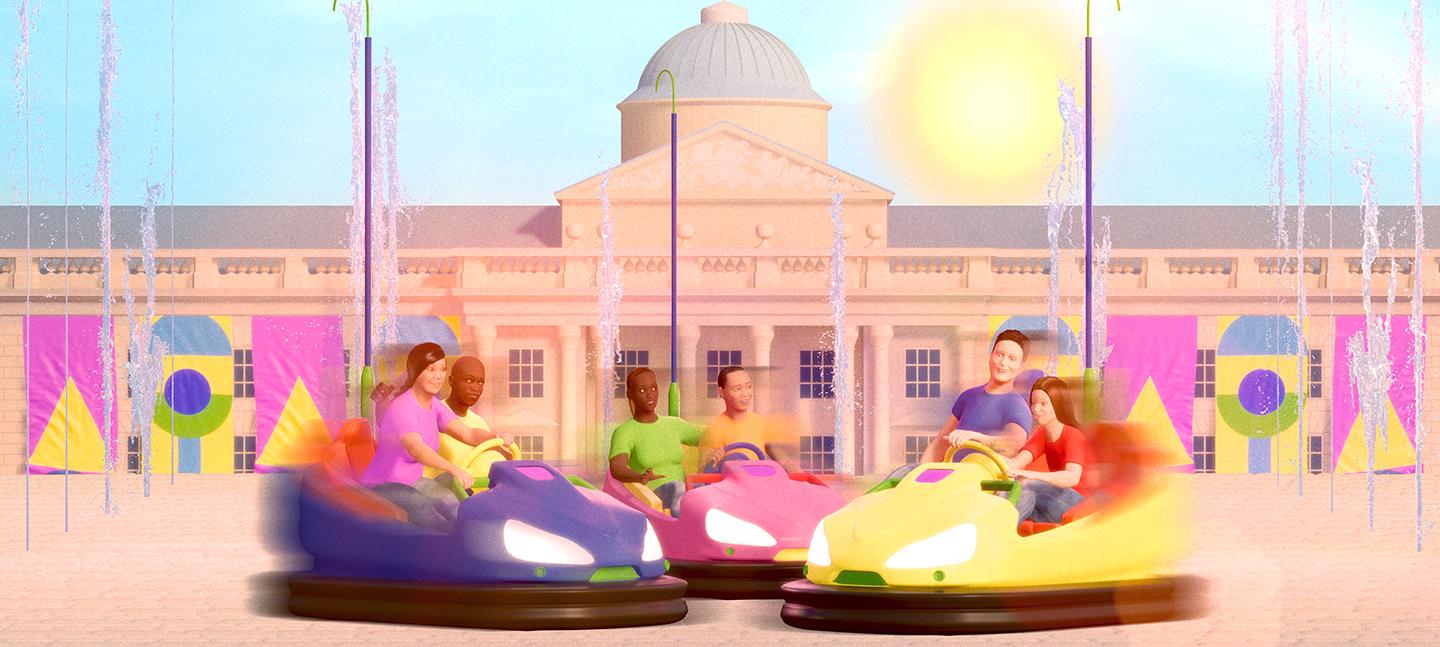 London's must-see family exhibitions and fun experiences, big and small.
7. Alice: Curiouser and curiouser at Victoria & Albert Museum
A theatrical look at the origins and cultural impact of Alice in Wonderland. Play VR hedgehog croquet, enjoy a psychedelic Mad Hatter's tea party and stumble your way out of the mirrored exit. Until 31 December 2021, closed Mondays and Tuesdays. £20 adults, FREE under 12s, £15 ages 12-17s. Here's the exhibition page.
Psst: More tickets for Alice: Curiouser and Curiouser are released every Tuesday at 12.00
Watch my Instagram Reel of Alice: Curiouser and Curiouser.
8. Fantastic Beasts: The wonder of nature at Natural History Museum
Learn how nature is just as marvellous as mythical creatures and the likely origins of legends like sirens, dragons, unicorns and kraken. Imaginative interactives include tempting a Niffler with gold and dancing to anger the bowtruckles. Dramatic lighting and atmospheric spaces make a magical exhibition. Until 3 January 2022, £24.25 adult, £14.95 child, family from £42.50. FREE under 4s and members. Pre-book here.
Read my review of Fantastic Beasts at NHM London here.
9. Paddington: The story of a bear at British Library
Explore the history of one of the UK's most beloved characters from when he first appeared in A Bear Called Paddington more than 60 years ago. Follow the trail of marmalade splats to explore Paddington's tales of muddles and mishaps from his arrival in London, to home life with the Browns – but be careful to avoid toppling pots of paint! Until 31 October 2021. £8 adult, FREE under 12s, £4 ages 12-17. Families of at least one adult and one paying child receive a 20% discount. Here's the exhibition page.
Psst: There's also a Paddington Family Day on 7 August 2021 at 11:00, pre-booking essential. £10 over 12s, FREE under 12s.
10. Van Gogh Alive
Art meets entertainment in this 45 minute sound and light show. Vast projections on floors and walls, animated art and emotive classical soundtrack make the work accessible to all, regardless of age. The Sunflower infinity-room is a fun photo opportunity. Until 26 September 2021. £29 adult, FREE under 5s, £16.50 ages 5-15. Click here to book.
11. DODGE at Somerset House
Fairground ride meets artist installation with a joyful spectacle of colour, sound and energy by Yinka Ilori. Ride a dodgem to generate an interactive musical composition, enjoy food and drinks and even live DJs at Dodge Lates. 15 July – 22 August 2021, closed Mondays. Pre-booking recommended, packages for 4 start at £40. Walk-ups accepted depending on availability, dodgem rides £5 per person.
Note: Children must be at least 1.1m tall to ride the dodgems, and children between 1.1m and 1.3m must be accompanied by an adult in the dodgem.
Psst: On Tuesdays and Wednesdays between 12.00 and 15.00 under 13s can ride the dodgems for free!
Outdoor Art
Summer days are made for wandering – and add some wonder to your walk with these outdoor artworks.
12. Summer Lights at Canary Wharf
A free trail of 11 installations designed to dazzle in the sunlight. Our highlights are Liz West's walk through kaleidoscope Hymn to the Big Wheel and the shimmering butterfly Out of the Cocoon by Amber Lights. There's a mini musical playground at Wood Wharf with plenty of benches to take in its dockside views. Until 21 August 2021. FREE, just turn up. Find the map and more details here.
See all 11 Summer Lights artworks in our Instagram Reel.
13. Sculpture in the City 10th edition
Explore 19 artworks by internationally-acclaimed and emerging artists in the City's financial district. Visit on a weekend and you'll probably have the City (mostly) to yourselves. Until spring 2022. FREE, just turn up. Click here for the map.
14. Colourscape at Waddesdon
Immerse yourself in a labyrinth of intense light, colour, space and encounter unusual musical experiences as you journey through its 56 interlinked chambers. 28 July – 8 August 2021, closed Mondays and Tuesdays. £6 adult, £4 child + normal admission charges apply. More info here.
Psst: Michael Ormiston creates family-friendly free-flowing workshops on weekdays (Wednesdays to Fridays).
15. Proud Little Pyramid, Granary Square
The flouro-coloured 9.5 metre high pyramid is bringing joy to Kings Cross, and references the area's queer history and industrial heritage. Kids can sit and clamber on its in-built mirrored benches. Bring a change of clothes – after last year's hiatus, Granary Square's popular play fountains are back on, albeit with intermittent low-level display and pooling settings. FREE, just turn up.
16. Arcadia at Bold Tendencies
An intergalactic spaceship broadcasts the public's predictions for the future – and it's also a fully working slide! Hail the New Prophets by Harold Offeh is one of six new visual-art commissions exhibited on this Peckham rooftop. Until 18 September 2021. FREE. Here's Bold Tendencies' programme.
17. Henry Moore Studios and Gardens
Spend a few hours in the glorious Hertfordshire countryside exploring the work of sculptor Henry Moore in his former gardens and studios. Grab a map and wander through 70 acres of lawned gardens, meadows, woodland and sheep fields to find 21 monumental sculptures. Wednesdays to Sundays and Bank Holidays, until 31 October 2021. £6.35 adult, £3.25 child, £16.25 family, Under 5s FREE. Pre-booking recommended, some tickets available on the day after 12:30.
https://www.instagram.com/p/CD0vA0rnU27/?utm_source=ig_web_copy_link
18. Afterness by Artangel at Orford Ness National Nature Reserve
Sculpture, drawing and sound installation respond to the landscape and history of this 'island of secrets', formerly a military testing site. The 6 mile walk is best suited for older children and adults. Until 30 October 2021. £12 adult, £6 child, £30 family (2+3), £18 family (1+3). Discounts for National Trust members. Booking required. Read more about Afterness here.
Family fun days
Special days filled with activities aimed at families and children are a great time to try somewhere new, as you know there's more than likely to be things they'll enjoy.
19. A grand family day out at Audley End
A jam-packed weekend of family events and the chance to experience history first hand. We loved meeting their grumpy servants in the garden last summer, and hearing about the work they did. 24 and 25 July 2021. From £19 adult, £11.40 child, FREE under 5s and English Heritage members, £49.50 family (2+3) / £30.40 family (1+3). Click here to read more.

20. Summer family festival: The Greenhouse Theatre
Storytime, a scavenger hunt, and upcyling sessions help teach even the youngest about climate change. Saturdays 31 July, 7 and 14 August, various times. FREE, pre-booking required. Click here for more details and to book.

21. Spies and disguise at IWM London
Get a crash course in camouflage, learn top tips for coding, meet the best secret agents for coded missions and more . 7 and 8 August 2021. FREE, pre-booking required. Here's the event page.
22. Flying Days: Showtime at IWM Duxford
Aerial displays with drama, storytelling, arts and crafts activities and 'showtime' inspired entertainment, celebrating aviation muses including the Spitfire and the Tiger Moth. 11 August 2021. £28.50 adult, £14.25 child, FREE under 5s. Book here.

23. Marble Hill family heritage morning
Discover Marble Hill's fascinating history, get creative with hands-on activities and learn how to question the past through play and exploration. Ages 4 – 11 year olds. 15 August 2021, 10:00-13:00. FREE, booking required.

24. The Garden Museum festival of fairytales
Enjoy performances by contemporary Malawian folk band Nkomba, circus street performer Logy on Fire, and storyteller Lauren and the Storybox. Originary Arts hosts a paper theatre for children to recreate the fairytale of the Golden Fish. There's a BBQ in the gardens and kids can take home a wishing tree seed. Optional dress code: Woodland creatures! 15 August 2021 at 10:00 and 14:30. £15 per person, under 2s FREE. Best ages 4-10. Purchase tickets here.
25. Buckingham Palace Garden Family Festivals
Make a zebra hobby horse and create a beautiful nature crown. Take a family trail around the 36 acre gardens or join a family tour around normally restricted parts of the royal back garden. Finish with a once-in-a-lifetime picnic on the lawn with Buckingham Palace as your backdrop. £16.50 adult, £9 child (5-15), FREE under 5s. 26 and 30 August 2021. Book Buckingham Palace Garden Family Festival tickets here.
Psst: Family Mondays from 19 July-30 August 2021 feature themed art and craft activities in the garden.
26. 1940s day out at Eltham Palace and Gardens
Join Stephen and Virginia Courtauld as they make the most of life on the home front with fun-filled activities. 28-30 August 2021. £17.30 adult, £10.40 child, FREE under 5s and English Heritage members, £45 family (2+2). Booking required. Here's the event page.
Free family festivals in London
Who needs to camp when your oyster card can get you to all these free London family-friendly festivals?
27. Fellowship Square Summer Season
Five weekends of FREE events in Walthamstow to launch Fellowship Square. Open air cinema, fashion and craft markets, Soho Theatre comedy shows, and a community picnic. Expect workshops, live world music, dance and comedy performances, art installations, family film screenings, and food, drink, fashion and craft stalls from local producers. 7-14 August 2021, FREE. Just turn up, except film screenings require pre-booking. Here's the full line-up.
28. Summer sessions at Greenwich Peninsula
Set in a colourful festival quarter designed by artist Yinka Ilori, you'll find live music and DJ residencies, weekend film screenings, artist made mini-golf, and a food market. Weekends until 19 September 2021, FREE. See website for details.
29. Southbank Centre's Summer reunion
Find open-air artworks, and free guest-curated weekends of music, performance and more on the Southbank's Riverside Terrace. Events include the Party of Possibilities (31 July 2021), hip-hip ZooNation presents the Class of 2021 (21 August and 22 August 2021) and circus fun Shingai's Afterglow (31 August 2021). Play reimagined Street Games and find colourful and thought-provoking remixed flags with Black Jack. Until 31 August 2021. FREE.
30. Arts in the park at Marble Hill House
Bring a picnic and a blanket and enjoy a relaxed riverside performance with local performers including Bollywood dancing, jazz, tango and Shakespeare. Sundays from 1 – 29 August 2021. FREE, just turn up. Here's the full Arts in the Park programme.
31. Cubbitt Sessions in Coals Drop Yard, Kings Cross
Enjoy performances from world-leading musicians including VOŁOSI, Paco Pena & Friends and artists from the English National Opera. 11 – 22 August 2021, FREE. Full programme to be announced.

Tours and trails
A children's trail is always a good way to get the Museum Kids enthusiastic to search through museums.
32. Mr. Men and Little Miss trail in Museum of Brands
Spot the Mr. Men and Little Miss characters hidden in the displays, make a Mr. Bump paper hat to take home and colour your favourite characters. Original sketches by Hargreaves' son Adam are on show alongside commemorative stamps and coins to mark the books' 50th anniversary. From 23 July 2021. £9 adults, £5 child, £24 family. https://museumofbrands.com/exhibition-mr-men-50/
33. The curious family trail at V&A Museum
The creatures of Wonderland are spreading nonsense around the museum. Follow the clues around the galleries and help restore logic. Pick up paper copies of the trail under the Dome near the Cromwell Road exit. FREE, pre-booking required. More trail info here.
34.Teddy bear codebreaking trail at Bletchley Park
Inspired by Alan Turing's teddy bear Porgy, find all the codebreaking teddy bears hidden in secret locations and learn more about famous Bletchley Park bears and their owners. 24 July – 5 September 2021. £21 adult, FREE under 12s, £12.50 child 12-17, discounts local residents and English Heritage. Time with their live concert series. More on Bletchley Park's teddy bear trail here.
Indoor art and private galleries
Art exhibitions to capture their imagination.
35. RUPTURE NO 1: blowtorching the bitten peach by Heather Phillipson at Tate Britain
Step inside an alternate universe filled with mutant creatures made from technological waste commission in an audacious, disconcerting and unforgettable installation. FREE, booking required. Included with any pre-booked Tate Britain collections route.
Watch my Instagram Reel here.
36. UNIQLO Tate Play: Mega please draw freely at Tate Modern
Scribble, doodle and sketch to transform on huge banners on the floor to transform the Turbine Hall into a giant artwork. They'll hang from the ceiling with more added each week to create a living mega artwork. Live performances at 11.00 and 14.00 daily. 24 July – 29 August 2021. FREE with any pre-booked Tate Modern collections route.
37. Julian Opie at Pitzhanger
A murder of digital crows on the lawn, and a miniature French town in his signature graphic style are highlights. August family events to be confirmed. Head to the park's playgrounds after. Until 24 October 2021. £7.70 adult, FREE under 18s, discounts and free entry at set times for local residents. Click here for more info.
Click here to watch my Opie at Pitzhanger Instagram Reel.
38. The smell of Calpol on a warm summer's night by Scarlett Carlos Clarke at Cob Gallery
If you're starting to remember lockdown with kids with nostalgia, this show will set you right. With its thick brown carpet, sickly smell of children's medicine, photography and sculpture, it's a claustrophobic look at the new intensities of domesticity, motherhood and isolation. Until 31 July 2021. FREE, just turn up.
39. Peter Blake: Time Traveller at Waddington Custot
Chart the development of the iconic British artist's approach to collage-making, from the 1950s to his most recent digital print photo-collages. The artist's largest canvas work to date, Late Period: Battle, is seen on view for the first time – Blake started it in 1963, and abandoned it unfinished until he completed it with collage in 2018. Until 13 August 2021, FREE. Best for older children and adults. Book here: https://artsvp.co/59ff30
40. Zabludowicz Collection Invites: Rosie Gibbens.
Walk through a modern Frankenstein's laboratory. Fabric body parts are scrambled into new configurations and combined with domestic appliances and exercise equipment to create moveable humanoid sculptures. Inspired by 18th century Anatomical Venus and cult horror movies, it's an absurd and humorous look at gender politics. Until 15 August 2021. FREE, just turn up. More info here.
Psst: Don't miss Gibben's 'deadpan burlesque' durational performance, 17 August 2021 15:00-18:00. FREE, just turn up.
41. In my head is a jungle at Now Gallery
British illustrator Manjit Thapp transforms the gallery with a three-dimensional maze-like structure adorned with large-scale murals and sculptures for visitors to explore, with a large fluorescent red sun hanging above. 23 July – 15 September 2021. FREE. https://nowgallery.co.uk/exhibitions/manjit-thapp
Glorious gardens and pretty parks
Enjoy more time in the great outdoors with these cultural activities.
42. Wonderland at RHS Wisley
A fun family trail across the garden features illustrations by Chris Riddell from the brand new edition of Through the Looking Glass. Discover the Cheshire Cat among the trees, or spot a table set up for a mad tea party. Enjoy performances, storytelling, planting workshops, crafts, giant games and more – check with the venue to find out which activities are planned for the day of your visit. 22 July – 31 August 2021. Included with admission, pre-book here.
Psst: Wonderland takes place at all five RHS Gardens, including RHS Hyde Hall in Chelmsford.
43. Summer of sounds at Wakehurst
Listen to six large-scale sound installations from award-winning artists to offer immersive and mindful moments across this wild botanic garden. Find giant megaphones amongst meadow flowers. Activate The Woodpeckers with your mobile phone to create striking soundscapes. And hear voices from deep inside Wakehurst's waterways. 9 July – 12 September 2021. More info here.
Psst: Book a child onto a Summer of Sounds workshop (£15-20 per child), and get FREE entry to Wakehurst for accompanying adult, plus free parking. Workshops include world drumming, songwriting, and talking to birds.
44. Ecology kids! at Southwark Park Galleries
Explore nature in Southwark Park, make eco-friendly artwork and become ecology buffs. Monoprint nature, hunt for textures, make shadows and natural sculptures, paint with water and build your own tree. Wednesdays from 28 July – 1 September 2021, 10:00-12:00 (best under 5s), 13:00-15:00 (best ages 6-11). FREE, pre-booking required.
45. Saturday science family learning workshop at Kew Gardens
Drop-in to explore plant adaptations and take an up-close look at some unusual plants. Head into the Gardens with an activity sheet to learn more about the ways plants have learnt to adapt to their environment. Every Saturday throughout the summer holidays until 4 September 2021, 11:00-16:00. Included with entry, £15 adult, £5 child (4-15), FREE under 4s.
Psst: Take their family trail around Secret Life of Plants at the same time – watch my Instagram Reel featuring it here.
46. Bug hunters at Gunnersbury Park Museum
Go on bug-hunting adventures in the spectacular grounds of Gunnersbury Park, with wildlife-inspired themes and activities and pond dipping. 5, 12, 19 and 26 August 2021, 11:00-12:30. £7 child, FREE adults. Here's the details.
Active kids
For when they're in need of some physical exertion.
47. Hercules at RAF Museum
Tackle this brand new 1km outdoor obstacle course for families with 18 obstacles including rope swings over water, ninja walls, monkey bars and cargo nets. Race against the kids, friends, or compete in groups of up to 6 for a spot on the leader board. 24 July – 15 August 2021. Ages 8+. Hercules £7 adult, £5 child, group of 6 £28. Museum entry FREE, pre-booking required.
Psst: There's family yoga, zumba and dance classes too – see schedule for more details.
48. Discover Story playground
Incoming: new slides, climbing frames, treehouses and spaceships in this playground design by Made From Scratch. It's inspired by Howl's Moving Castle, with a friendly Baba Yaga house, Sputnik and spaceship, and fairy houses hidden along the garden pathway. There's indoor story-inspired play areas too. From 26 July 2021. £7.50 ages 2+, FREE under 2s. Book your visit here.
Psst: See Under Fives below for another reason to visit Discover.
49. DanceWest in Gunnersbury Park & Museum
Take centre stage in a musical theatre workshop, get funky at the Disco Boogie, throw some shapes to your favourite chart hits at Pop Dance and join in the magic of the Disney Dance spectacular! 2, 9, 16 and 23 August 2021, 11:00-12:00. £10. Here's the booking page.
50. Cardboard box racing at the Crystal Palace Museum
Decorate and race a cardboard racing car, and learn more about the history of motorsport in the area. 8 August 2021. FREE, booking required. Ages 6+.
51.Summer of play: Garden games at the National Maritime Museum
Beat boredom like the sailors did! Try your hand at giant dominoes, quoits and more in the museum's grounds. 9-15 August 2021. FREE, just turn up. More information here.
52. Summer cycle at Kew Gardens
For once, you can bring your bike inside Kew Gardens. Take an evening ride through their enchanted woodlands and beautiful blooms, stop for their food stalls and listen to live music. 10 and 11 August 2021, 17:00-20:30. £20 adult, £10 child. Under 4s must ride in a bike seat or trailer. Book here.
53. Tumblestone Hollow at Stonor Park
An epic new adventure playground inspired by the magical history of one of Britain's oldest family-owned stately homes. Nestled in the woods with stunning views of the surrounding Chilterns countryside, it's a very special place to play. We even saw red kites swooping overhead! £8.50 adult and child over 105cm+, £6.50 child 92cm-105cm, FREE child under 92cm. Book here.
Read about our visit to Tumblestone Hollow here.
54. Knockhatch Adventure Park
Those brave enough to step inside Dragon Castle will be met with quite a surprise – a roaring, moving, life-sized dragon! The compact and friendly adventure park also has rides, bird displays, indoor play, mini-golf and a rowing lake – all included in your ticket price. The dizzying 32 Wave Runner Water Slide was a huge hit with the kids. £14.99 adults and over 2s, 20% discount for online bookings. Buy tickets here.
Read more about our visit to Knockhatch.


Make and take
It's our holiday too! Let someone else think up and see through the crafting – and do the tidying up after!
55. Chelsea Physic Garden family activity days
One Chocolate Tuesday (27 July and 17 August 2021, ages 6-11), learn about the history, geography and science of chocolate with craft activities, a Garden tour, chocolate tasting and the chance to create your own mixtures to take away. In Lotions and Potions (4 and 25 August 2021, ages 7+), explore a brief history of medicine and find out about the amazing power of plants to heal and soothe and make herb bags, ointment, a lip balm, and a bath bomb. £35 per person, booking required.
56. Make a concertina travel sketchbook with Gunnersbury Park Museum
Learn about what sorts of things artists of the past drew and wrote in their sketchbooks and draw one of the many interesting things around the park. 6 August 2021, 10.30, 12.30 and 14:30. £5 child. Book here.
57. Make a clay dinosaur with Crystal Palace Museum
Inspired by the famous Victorian models in the Crystal Palace Park, make your own 'terrible lizard' to take home. (25 July 2021, FREE. Booking required. Ages 3+).
58. Family workshops at the Foundling Museum
Invent a shadow monster to look after you (27 July 2021), create a creature with an animated story (26 July 2021, ages 5-13) and fill a concertina book with expressive characters (29 July 2021). 11:00-13:00 & 14:00-16:00. FREE, pre-booking required. Ages 5-13. Here's their family events page.
Psst: There's BSL sun print workshops on 30 July 2021 too.
59. Art and craft workshops at Old Royal Naval College
Join award-winning illustrator Nick Ellwood at Old Royal Naval College to draw Gods & Goddesses (3 and 4 August 2021) or Life at Sea (17 and 18 August 2021). Afterwards, visit 500 Years of Mischief and Mayhem in Greenwich (until October 2021) to see Ellwood's original artworks and illustrations inspired by the art in the Painted Hall. FREE, first come, first served basis. Workshops ages 5-12, and take place at 11:00-13:00 and 14:00-16:00. Here's all the details.
60. Sir John Soane's Museum family activities
Recreate a Regency town house with junk modelling to add to a mini-street (12 August 2021, 11:00-15:00). Help build a LEGO city to rival any architect's wildest imagination (5 August 2021, 11:00-15:00). Or create an architectural model of greek ruins using cork (19 August 2021, 11:00-15:00, ages 6+). FREE, first come, first served basis.
Under fives
It's never too early to introduce a child to culture! Here's some activities suited to the very youngest.

61. Fairy tales at Discover Story
Step inside a magical make-believe world filled with activities inspired by classic children's stories. Raid Huff and Puff builders merchant to build a throne from wolf-proof materials, play dress up in the Emperor's New Clothes Shop and find a golden egg in the Cave of Wonders. Until 5 September 2021. £2 per person plus entry costs: £7.50 ages 2+, FREE under 2s. Ages 7 and under. Here's the exhibition page.
Psst: Click here to read our Fairy Tales review. And look under Active Kids above for another reason to visit Discover this summer.
62. Museum of London Docklands Mudlarks
Newly refreshed Mudlarks Children's Gallery is a hands-on, themed soft play introducing the stories of London's docks. Daily through the school holidays. FREE, pre-booking essential. Mudlarks tickets are released at 10:00 the day before your visit, these now include general admission to the Museum of London Docklands. Ages 8 and under.
Psst: Afterwards, find the play stations throughout the museum.
63. The tiger who came to tea at North Hertfordshire Museum
Celebrate the life and work of one of Britain's best known author–illustrators for children, Judith Kerr. Find a friendly 5-foot tiger in a play version of Sophie's kitchen, tiger themed craft activities, a reading corner and story sessions. Until 4 September 2021, closed Mondays. FREE, just turn up.
Psst: Book onto a special Tiger themed afternoon tea, with stripy cakes and sandwiches. £14 adult, £8 child.
64. Splash! summer fun at the London Museum of Water and Steam
Get soaked in the splash zone and paddling pools and get creative with crafts, music (Thursdays and Sundays at 14:00), and storytelling (Fridays). Take a water challenge with Thames Water on Wednesdays in August too. 24 July – 29 August 2021, Wednesdays to Sundays plus Bank Holiday Monday. £17 adult annual pass, FREE children.
65. Under 5s: Explore nature with Creation Station at Dulwich Picture Gallery
Explore nature in the gallery's gardens with this sensory session filled with activities you can recreate at home. Explore the senses as a family through touch, taste and sight, create playful images together and discover new ideas to stimulate your child's development and curiosity. 11 August 2021 at 09.30, 11:00, 13:30 and 15:00. £12 per family. Pre-booking required.
66. Seeds, sounds and songs at Wakehurst
Create instruments from the natural surroundings, explore the sounds we hear in nature, and sing and dance to new and familiar songs. 2-5 August 2021 at 10:30, 11:30 and 15:30. £15 child, FREE accompanying adult. Includes entry into Wakehurst and parking. Pre-booking required. Ages 1-5.
67. Early explorers at Salter's Company
Sensory storytelling and musical activities explore the architecture and social histories of incredible buildings. Run by my favourite museum storyteller, Olivia Armstrong. Monthly from 12 August 2021, 09:30 and 10:30 (toddlers); 12:00 (non-walking babies only). £8 per family. Book here
Teens
Culture cool enough to interest even apathetic teens.
68. JR: Chronicles at Saatchi Gallery
A compassionate look at some of the world's most pressing social and political issues by French street artist JR. Thought provoking and highly-impactful photographic interventions in cities worldwide give voice to the most overlooked. There's also much-needed nuance on difficult topics, including an enormous video mural reflecting the differing stances on gun regulation in America. From £9 adults, FREE under 10s. Pre-book here.
69. Spill the tea at Cutty Sark
Cutty Crew youth collective take over Cutty Sark for NOT your ordinary tea party. Artists, performances, poets, and games open the stage for conversation on diversi-tea; uni-tea; communi-tea; audaci-tea; identi-tea and equali-tea. 16 July 2021 at 19:00, FREE. Ages 16-24, their adults/carers welcome. Pre-booking required.
70. No comply at Somerset House
Did you know skateboarding will debut at the Olympic Games in Tokyo? Hear the story of skateboarding's longstanding influence and its diverse community through film, sound, art, fashion, design, photography and archive material. 19 July – 19 September 2021. FREE, booking required.
71. John Akomfrah: The Unintended Beauty of Disaster at Lisson Gallery
Responses to the Black Lives Matter protests and subsequent toppling of imperialist monuments across Britain and the obliteration of the natural world – critical issues, tackled through powerful polyphonic films and photographs. Until 31 July 2021, FREE. Pre-book here.
72. RYOJI IKEDA at 180 Studio
Sensory overload incoming! A subterranean exploration of sound and light, there's a virtual experience akin to entering a black hole and a tunnel of strobe lighting. Until 18 September 2021, Thursdays to Sundays. £15 adults, FREE under 18s. Book here.
73. Tursic and Mille: Strange Days at Galerie Max Hetzler
Giant bichon frises, a painting of a burping robin, a cat vigorously cleaning itself, and deer being attacked by UFOs. Twelve paintings reflect the absurdity of time with an intoxicating mix of high and low culture references. Expect some nudity. FREE, just turn up. Until 7 August 2021. More info here.
74. Paul Pfeiffer: Incarnator at Thomas Dane Gallery
Inspired by Catholic 'encarnador' sculptures, composite parts of an almost life-size carving of the pop star Justin Bieber mix with film in a reflection on idolatory in the modern age. FREE, just turn up. Until 7 August 2021. More info here.
Family Theatre
75. The Tiger Who Came to Tea at Theatre Royal Haymarket. Daily, except Wednesdays. From £14.50. Ages 3+.
76. What the Ladybird Heard at the Palace Theatre. 15 July – 29 August 2021. From £12.50. Ages 3+
77. The Wind in the Willows at Kew Gardens. 24 July – 30 August 2021, Wednesdays to Sundays plus Bank Holiday Monday. £22.90 adult, £17.90 under 16s, group of 4 £70. Includes Kew Gardens entry. Discount Kew members.
78. Maanika and the Wolf at Polka Theatre in Wimbledon's Centre Court Shopping Centre. 29 July – 29 August 2021. £14, babes in arms £1. Ages 3-6.
79. The Wind in the Willows at Chelsea Physic Garden. 16 – 26 August 2021, Mondays to Thursdays. £22 per person.
80. The Very Hungry Caterpillar Show at the Lyric Theatre. 17 – 28 August 2021. £15-21.
Animal lovers
81. London Zoo
Take a world wildlife tour this summer at ZSL London Zoo. Collect stamps to complete your zoo passport, and celebrate world cultures with pop-up crafts and activities and food stalls. Pretend you're in the Galápagos in their brand-new giant tortoise house, or step in to the India-theme Land of the Lions. 24 July – 31 August 2021. From £32.50 adult, £21.12 child, FREE under 3s. More info here.
82. Pet Life at Museum of the Home
Choose a pet friend to unlock different stories of real-life pets and their owners as you wander through the rooms of the museum's home. Includes animations, projections, hands on activities and stories written by author and storyteller Bernadette Russell. From 24 July 2021. £7 adult, £5.25 child, £20 family (1+3/3+1/2+2). Book here.
Psst: Pet themed creative workshops, scavenger hunts, storytelling and games run across the Museum site on Sundays throughout August. Pre-booking required.
83. Monkey Business at Horniman Museum
Immerse yourself in the heart of the forest. Discover how primates live, move, eat, play and interact and explore their relationship with humans. Afterwards, go see the new alpaca in their mini-farm, or take them to the museum's aquarium (charges apply). Until 3 January 2022. £8 adult, £4.50 child, £18 family, FREE under 3s. Advance booking required.
Psst: Watch our Monkey Business at Horniman Museum Reel here.
84. Horses of Audley End
Witness graceful hawks, elegant owls and glorious falcons in flight as expert falconers demonstrate the art of training, exercising and hunting on horse back. Meet their Victorian groom, visit the horses in the historic stable yard and hear from experts on how to train your horse for an array of Victorian pursuits. 28-30 August 2021. £21.50 adult, £12.90 child, FREE under 5s. English Heritage members £2.50 adult, £1.50 child. Pre-booking essential.
Seaside Haunts
Sun, sea – and a good dose of culture – make for an excellent summer's day out.
85. Folkestone Triennial
27 newly commissioned site-specific artworks by internationally acclaimed artists, inviting you to explore the Kent coast town and its urban tales. Artists include Bob and Roberta Smith, Rana Begum, Morag Myerscough, Richard Deacon and more. This is in addition to Folkestone Artworks, the UK's largest urban outdoor exhibition of contemporary art. 22 July – 2 November 2021. FREE, just turn up. More info here.
86. Waterfront by England's Creative Coast
Seven new artworks by international contemporary artists along the coastline of Essex, Kent and East Sussex.​ We enjoyed FREE, just turn up. Here's more info.
Psst: Watch our Reel featuring the Sussex Waterfront artworks.

87. Hastings
Hastings is a heady mix of lively seaside attractions with a fisherman's quarter still hard at work, an old town crisscrossed with winding twittern lanes, and a thriving artistic community. We loved riding the historic funicular railway up to the Smuggler's Caves, Hastings Museum and Art Gallery – it's current automaton exhibition is really uplifting – and fish and chips at Maggies.
Here's our Hastings weekend break itinerary
88. Dungeness
Find otherworldly beauty in desolate Dungeness. Rotting carcasses of boats and concrete shelters, a nuclear power station shimmers the heat haze, and a lighthouse emits intermittent electronic mewls. There's no shade and violent, sudden drops into the sea, making it unsuitable for very hot days or very young children. But we left bewitched – Dungeness is like nowhere else in the UK. Don't miss Derek Jarman's garden, tended from the pebbles.
Read about our summer outing to Dungeness here.
Day trips and staycations
Fantastic family days out which are well worth the distance.
89. Zog and the quest for the golden star at Warwick Castle
Learn how to fly, take swordfighting lessons with Sir Gadabout and breathe fire. Collect stamps to earn a gold star and meet the adorable dragon himself. A fun trail at a stunning site with an enthusiastic cast of knights on horseback, archers and princesses. Included with entry, from £17 per person.
Read our review of the Zog trail at Warwick Castle.
90. Oxford Story Museum
Step inside Narnia with life-size recreations of eight children's stories, from the sublime snowy paradise to the ridiculous Horrid Henry's room with its farting mattress. Wave your wands in the Whispering Wood to hear how the stories were made, from oral inheritance to the written word. Under 5s will enjoy Small Worlds, a picture book inspired play space.
Read our Oxford Story Museum review here.
91. Imagining Fantastic Mr Fox at Roald Dahl Museum
50 years since the title's publication, find out how the character Fantastic Mr Fox has been brought to life by creators such as Sir Quentin Blake, Jill Bennett and Wes Anderson. Spot hidden objects in the miniature version of Dahl's writing hut and follow the footprint trail to help Mr Fox find his fantastic feast. Until mid-September 2021 (trail until 31 August 2021). Annual tickets £7.40 adults, £4.90 child 5-18, FREE under 5s. Booking essential.
Read about our post-lockdown visit to Roald Dahl Museum.
92. Summer at Hever Castle
Summer fun at Hever Castle this year includes live jousting tournaments, falconry, learning the tricks of the magic trade from their resident sorcerers, a mythical creature quest in the castle and a shield hunt in the garden. There's two excellent playgrounds, a water maze, a boating lake, stunning gardens, and last but not least, the 700 year old birthplace of Anne Boleyn. Annual ticket from £15.85 adult, £9.95 child, FREE under 5s. Check activity dates.
Read about our post-lockdown visit to Hever Castle here.
Online events
For when you can't or won't leave the house, here's some virtual ways to get your culture fix from the comfort of your own home. I'll add more as I find them.
93. Charles Dickens Museum private virtual explorer tour for families
Snuggle up on the sofa and let the Dickens Museum show your family around the former London home of this famous author. Includes mystery object identification challenges to a chance to play a Victorian parlour game. Dates mutually agreed, £30 per family device. Ages 5+. More info here.
94. Family virtual tour of Sir John Soane's Museum
Take a guided tour of architect Soane's house, focussing on the kitchens and finding out about the servants who worked there. Finish with a fun guided craft activity, using simple materials from around your house. 29 July 2021, 10:30-11:45. FREE. Ages 5-12. Event info and booking.
95. Family natural ink and dyes (online) with Dulwich Picture Gallery
Brew your own primary colour inks from vegetables and spices, create a unique batch of 'live' ink that evolves in colour and richness over time. Create botanical designs inspired by the Unearthed: Photography's Roots exhibition. 9 August 2021, 14:00-16:00. £20 per family. Ages 7-12, siblings welcome. Book here.
Share the summer
I hope this guide helps you enjoy a fantastic summer holidays in London with the kids.
Please take a second to share this post. It makes you seem savvy, helps a fellow parent find summer activities, grows my community, and encourages more visits to cultural attractions. Everybody wins! Use whichever platforms you feel most comfortable on – from WhatsApp parenting groups to the park bench, all mentions and shares make a difference.
And if this guide has saved you time and money, why not buy me a coffee to say thanks?
I absolutely love hearing how you get on so please do tag me @museummum on Instagram, @museum_mum on Twitter or comment below. And if you see me at one of these events, say hi! I'll share what we get up to each day over on my Instagram.
Disclosure: I have visited many of these attractions for free, in return for an honest review.
PIN FOR LATER: