Looking for things to do with kids during Easter 2022? Click here for my latest post.
In need of some inspiration to keep the whole family entertained over the Easter school holidays 2021? I've gathered together some of the most eggs-cellent things to do with kids, all from cultural places in and near London.
Despite the continuing pandemic, we're heading into a very different situation than last year's lockdown Easter. As of 29 March 2021 the Stay at Home order has ended and the rule of six returns, along with the option for two households to meet with no limit on household size. Government spokespersons have confirmed that day trips are permitted. Whether you're raring to go, or happier at home, there's plenty of cultural events to choose from across the Easter holidays. I've rounded up over 60 ideas, from egg hunts in historic gardens, to virtual theatre, indoor and outdoor art fixes and at home crafts to do at any time.
Many events require pre-booking – so let's hop to it!
National Trust Easter Adventure in Nature trails
Explore the signs of spring with Easter adventures in nature trail at Ham House and Garden. Hop like the Easter Bunny, spot bumble bees, be a hedge detective, peek into the veg patch and learn how to help nature at home. Each trail pack contains trail activity sheet and map, a special Easter adventures pencil, a spring at-home activity, and a chocolate reward.
1-18 April 2021. £5 adult, £2.50 child, £12.50/£7.50 family. Trails £3 each, whilst stocks last. Booking required, tickets released Fridays for the following week.
It's unclear at the moment, but Osterley Park and House and Morden Hall Park might offer Easter trails. Keep an eye on this page for more information.
You can take part in a National Trust Easter trail at properties nationwide. Here's the ones in South East London nearest London. Dates vary, entry must be booked in advance. Trails whilst stocks last.
Berkshire: Basildon Park, Cliveden, Greys Court, The Vyne
Buckinghamshire: Canons Ashby, Cliveden, Hughenden, Stowe, Waddesdon Manor
Kent: Chartwell, Emmetts Garden, Igtham Mote, Scotney Castle, Sissinghurst Castle
Surrey: Claremont Landscape Garden, Polesden Lacey, Winkworth Arboretum
Sussex: Batemans, Bodiam Castle, Nymans, Sheffield Park, Standen
English Heritage Easter Adventure Quests
Join the hunt for dragon eggs as you embark on an Easter Adventure Quest at one of 24 English Heritage properties nationwide. Explore the outdoor trails and crack the clues to track down the hatched dragon. You'll be rewarded with a chocolate treat and a certificate.
29 March – 18 April 2021. Entrance fees vary, trails cost £1.50 each, whilst stocks last. Booking required.
London venues: Eltham Palace and Gardens, Chiswick House and Gardens (3 April 2021 only), Kenwood House (SOLD OUT) and Marble Hill House
Bedfordshire: Wrest Park
Essex: Audley End
Kent: Dover Castle, Walmer Castle
Sussex: 1066 Battle of Hastings Battlefields and Abbey
More outdoor Easter trails
Take part in the Easter Lindt gold bunny hunt around the gardens of Hampton Court Palace. Using the trail map, find the Lindt GOLD BUNNY statues hiding in the palace gardens. Match up the name of the important palace person on the trail to the red ribbon on the bunny statue at each location. When you finish, you will receive a Lindt GOLD BUNNY (10g) chocolate reward and bunny ears! The Magic Garden playground is reopened, with admission on a first come, first served basis.
1-18 April 2021, trail FREE + entrance £15 adult, £7.50 child, FREE under 5s.
Psst: See over 100,000 tulips on display in the Palace's first ever Tulip trail, 17 April – 3 May 2021
Join Dennis and his Beanotown friends at Kew Gardens and Wakehurst on their mission to protect the banana from Dr Gloom and the risk of extinction, and rescue Bananaman. The interactive Dennis and Gnasher's Big Bonanza trail includes whoopie cushion steppingstones, bendy mirrors and foot-pump water pistols (Kew Gardens only). Learn about nature's cleverest tricks – including the stinky titan arum, the flame-repelling Giant Redwood, and an orchid that looks like a bee! Afterwards, tuck into a slice of Dennis' favourite banana cake for his 70th birthday picnic.
31 March-18 April 2021. Trail FREE + entrance charges. Kew Gardens: £15 adult, £5 child 4-15, 0-3 FREE. Wakehurst: £14.75 adult, FREE child 0-15.
Psst: Wakehurst also hosts Beano Banana Mission – track down hidden bananas buried among Wakehurst's wild habitat and crack an anagram for a top-secret prize. £4.50 per child.
Discover more about the amazing world of plants in an Easter trail around Chelsea Physic Garden. The longest established botanic garden in London, Chelsea Physic Garden dates back to 1673. Its four acre garden is home to over 5,000 different edible, medicinal, herbal and useful plants. At the end, each trail entry will receive a chocolate treat from Cocoa Runners. 2, 4 and 5 April 2021. Trail £5 per person + entrance charges £13.50 adult, £9.50 child, FREE under 5s. Booking required.
Look out for clues on the colourful Easter boards to solve the mystery puzzle in the Leeds Castle Easter Trail. There's 500 acres of historic grounds and gardens to explore – find black swans on the lake, play adventure golf (charges apply) and run wild in two playgrounds – Knights' Stronghold Playground (ages 6 to 14) and Squires' Courtyard Playground (under 7s). 29 March-18 April 2021. Trail FREE + entrance charges £28 adults, £19.50 child, FREE under 4s. Tickets valid for 15 months.
Follow clues to find a variety of 'things that hatch' as you take the Easter Trail through Hever Castle stunning gardens. Learn a little about each creature that starts life in an egg before you find them hiding in the grounds. Note there's no egg reward this year, and you need to print off the Easter map trail before visiting. Kids will adore the Tudor Towers adventure playground (ages 7-14), the Acorn Dell (under 7s) and the Water Maze. 2-18 April 2021. Trail FREE + entrance charges £15.85 adult, £9.95 child, FREE under 5s.
The magical new adventure playground Tumblestone Hollow at Stonor Park opens just in time for Easter. Play the Easter trail through the playground and gardens as you find clues, solve puzzles and word searches to receive a special chocolate treat. 2-18 April 2021. £8.50 adult, £11 child (over 105cm), £9 child (92-105cm), FREE (under 92cm).
There are animals hiding all over Leonardslee ready for you to find. Collect the Leonardslee Easter Trail from reception and follow the instructions to find them, for a yummy Easter treat. Keep an eye out for the new arrivals – baby joeys still in their mothers' pouches. You can watch them being fed daily at midday. Plus there's 240 acres of Grade I listed woodland gardens to explore. 2-18 April 2021. Trail £2 each + entrance charges £12.50 adult, £6.50 child, from £34 family.
Giant, colourful Easter eggs are waiting to be found in the Easter Egg Sculpture Trail at Painshill Park. You may recognise parts of the stunning 18th landscape gardens from Netflix hit series Bridgerton. Stroll around the Serpentine Lake, wander through woodland and enjoy the simply stunning views and vistas. 2-18 April 2021, Trail FREE + entrance charges £11 adult, £5.50 child (5-16), FREE under 5s.

Curiouser and curiouser! Locate Alice, her friends and objects from the Alice in Wonderland story within Ashridge House Easter Trail. Will you be able to find the golden Easter egg so you can return to reality? Includes a treat. 29 March – 11 April 2021. Trail FREE + entrance charges £8 adult, £5 child, £2 under fives.
Navigate the World Garden in Lullingstone Castle and Gardens on their Easter quiz plant hunting mission, with the reward of an Easter Egg for successful explorers. There's wacky sculptures to look out for, included warped mirrors, Colin the Cobra and a silver tree made from 51km of wire. Pre-booking not required. Easter quiz FREE + entrance charges £9 adult, £4.50 child (3-16 years), FREE under 2s, £20 family.
Family Favourites
Brunel Museum launches three new guided family walking tours which explore the history of Rotherhithe and Wapping. Head back to 1843 in the Victorian Rotherhithe tour, explore Southwark Park and what it is has witnessed, or investigate the quirks of Wapping. 2-6 April, 11:00 and 13:00. £15 per person/£60 for private bubble tour.
Enjoy outdoor maritime-themed fun as National Maritime Museum celebrate re-opening the Museum's outdoor spaces. Museum Inside Out includes a Sailor School family trail, pop-up catering and fun active games inspired by the Museum's collections. 12 – 18 April 2021. FREE, no booking required.
London's highest public garden, the Sky Garden, reopens 12 April 2021. Enjoy fantastic views over London, all for FREE. Booking required.
Also reopening on 12 April 2021 is London Wetland Centre. Discover wide open spaces bursting with wetland nature. Includes Wetlands Unravelled, a contemporary arts programme with new sculptural, installation, video and textile works by ten artists exploring our relationship with wetland environments. £14.75 adults, £8.95 child, FREE under 4s. Booking not yet opened.
Get an indoor art fix
From 12 April 2021, non-essential retail can open – including London's commercial galleries. With London's museums remaining closed until at least 17 May, here's my pick of places to go for your April art fix:
Rachel Whiteread Internal Objects at Gagosian Grovesvenor Hill. 12 April – 5 June 2021. FREE, booking required.
Gilbert and George NEW NORMAL PICTURES at White Cube Mason's Yard. 13 April – 1 May 2021. FREE, booking required.
Lucy Sparrow Bourdon Street Chemist at Lyndsey Ingram. 19 April – 8 May 2021. FREE, booking required.
Get an outdoor art fix
The Line is London's first dedicated public art walk, featuring work by Antony Gormley, Thomas J Price, Joanna Rajkowska and Richard Wilson. It runs between Queen Elizabeth Olympic Park and The O2, following the waterways and the line of the Greenwich Meridian. FREE, just turn up.
Take the bespoke walking trail Wander Art through Mayfair and Belgravia to find the artwork of twelve world renowned artists including Ricardo Cavolo, Emily Forgot, Yinka Ilori, Morag Myerscough and Richard Woods. Expect Miffy style houses, pop-up plant shrines, sculptures and murals. FREE, just turn up.
Now extended to mid-April 2021, Sculpture in the City's ninth edition juxtaposes works by both established international artists and emerging artists against iconic buildings in the Square Mile. And now, there's a free digital app from Bloomberg Connect to help you find and hear more from featured artists, such as such as Nina Saunders, Kevin Francis Gray and Nancy Rubins. FREE, just turn up.
Spend a day in the glorious Hertfordshire countryside exploring the work of Britain's foremost sculptor Henry Moore in his former gardens and studios. Grab a map and wander through Henry Moore Studios and Gardens 70 acres of lawned gardens, meadows, woodland and sheep fields to find 21 monumental sculptures. Wednesdays to Sundays and Bank Holidays, 31 March – 31 October 2021. Adult ticket £6.35, Child £3.25, Family £16.25, Under 5s FREE. Booking recommended.
Virtual Theatre

Where the Bugaboo Lives from Little Angel Theatre. 14 March – 2 May 2021. £13.50, ages 5-11.
Sir Willoughby's Challenge from Greenwich Theatre. 1-10 April 2021. £15, ages 6+.
Rapunzel YouTube Premier from Chickenshed Theatre. 2 April – 30 September 2021. FREE.
Alice in Wonderland from Motherwell Theatre. 3-18 April 2021. £10.
OnceUponA Virtual Children's Festival 6-11 April 2021. £3.50 per show, ages 0-10.
Story Storks Live: Rumpelstiltskin and Sleeping Beauty from Exchange Theatre. 6 April and 9 April. £5, ages 2-7.
Happily Every After from Greenwich Theatre. 12-18 April 2021. FREE, ages 5+.
Where's My Igloo Gone from Greenwich Theatre. 12-18 April 2021. FREE, ages 5+.
Dr. Seuss's The Lorax from The Old Vic. 14-17 April 2021. £10-40, ages 6+.
Online Easter 2021 family events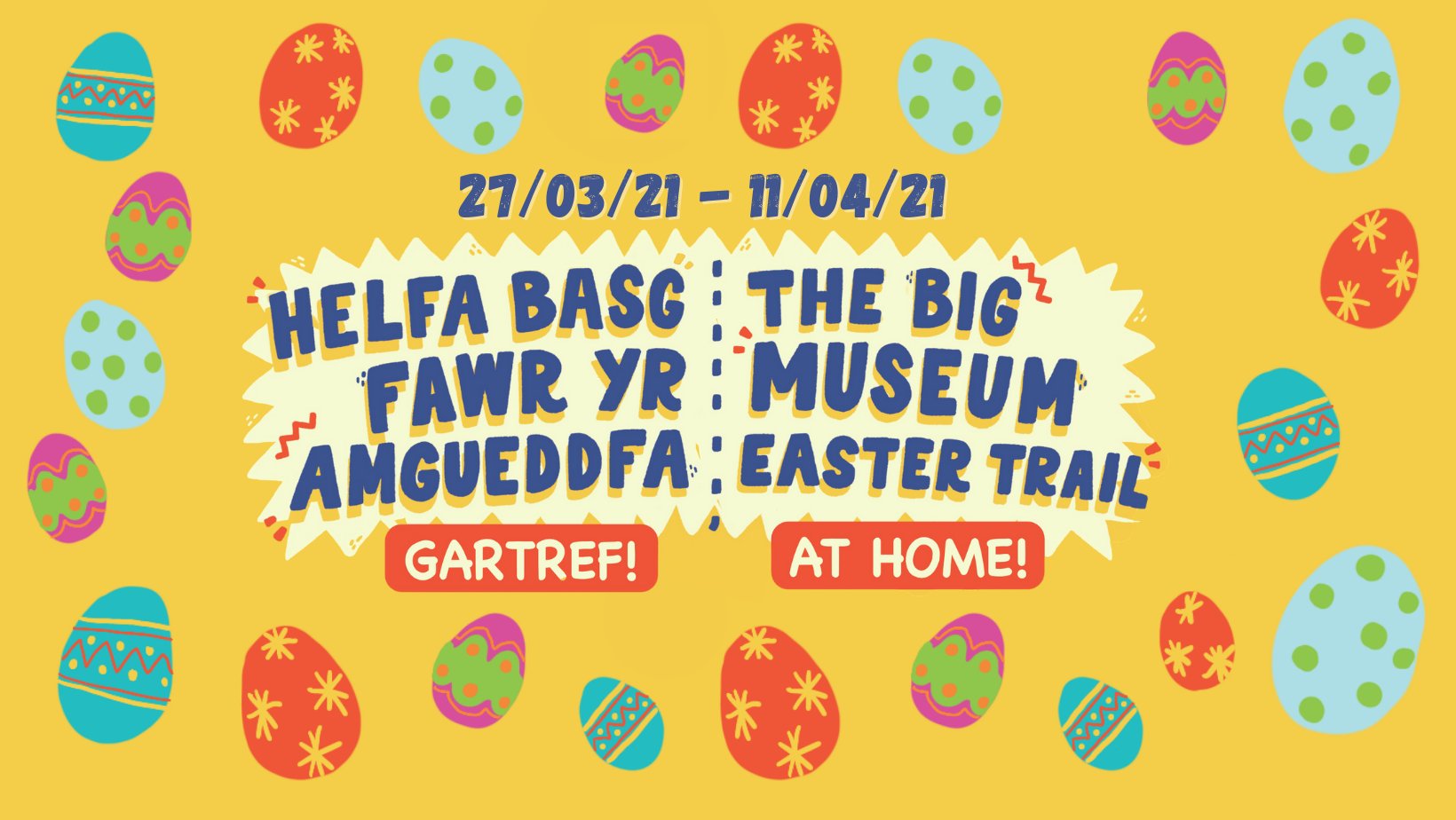 Here's some Easter activities from the cultural sector to keep your entertained when you can't (or won't!) go out:
The Big Museum Easter Trail: AT HOME! from Museums Wales. 27 March – 11 April 2021. £2 per family.
Life History Class: Georgian Easter celebration from Benjamin Franklin House. 1 April 2021, 15:00. FREE.
Craft Chocolate Easter Egg Making with Cocoa Runners from Chelsea Physic Garden. 1 April 2021, 17:00. £14.95, includes chocolate egg making kit.
New traditions Easter egg decorating from Islington Square and Little Angel Theatre. £14.50 per kit (discounted to £12.50 for 2+), includes Little Angel Theatre workshop. Workshops take place 2-4 April 2021.
Virtual Easter Egg Hunt from National Museum Wales. 3 April 2021, 10:00-12:00. FREE.
Family Workshop: Bird's Nest Baskets from Headstone Manor Museum. 3 April 2021, 11:00. £1 per family, includes materials pack.
Sunday Afternoon Art in April by Octagon 300 and Orleans House Gallery. 4 April 2021, 10:00. FREE.
Virtual Family Event Say Cheese from Charles Dickens Museum. 5, 8 and 13 April 2021, 11:00. £8 per device. Ages 11-14.
Easter explorers: Virtual Tour of Charles Dickens Museum. 5, 8 and 13 April 2021, 14:00 (ages 5-11). 13 April 2021, 16:00 (ages 12-16). £6 per device.
Family Easter Holiday Online Cook-a-longs from the Garden Museum. 6 April and 13 April 2021, 10:30. £2 per family.
Musical tales: Easter holidays from National Gallery. 6 April 2021, 11:00 and 15:00. 13 April 2021, 11:00 and 15:00. FREE, under 5s.
The Planets Online Family Workshop from Museum of Richmond. 6-9 April 2021, 10:30 and 13:00. £6.
Circus Skills workshop from Brunel Museum from 7 April 2021 onwards.
Decoding pictures: Easter holidays from National Gallery. 7 April 2021, 15:00 and 15 April 2021, 11:00. FREE.
A mindful moment from National Gallery. 8 April 2021, 15:00. FREE.
Toto the Ninja Cat x Museum of London | In Conversation with Dermot O'Leary. 9 April 2021, 11:00. FREE.
Celebrating Earth Day Online Family Workshop from Museum of Richmond. 13-16 April 2021, 10:30 and 13:00. £6.
Story studio: Easter holidays from National Gallery. 14 April 2021, 11:00. FREE
Complete the Wildlife Life Photographer of the Year trail from the Natural History Museum for a chance to win prizes. Until 14 April 2021.
Anytime online activities and printables for Easter 2021
No booking? No problem! Here's a selection of Easter activities you can take part in from home at any time.
Plus you'll find more at home museum activities in this blog post.
Easter activities for kids from English Heritage. Make your own clay dragon, a shield, a sword, decorate Easter eggs and cook saffron buns. Learn why we eat eggs at Easter, how we used to celebrate Easter, Saxon Easter traditions and dragons and their origins.
Easter crafts how to guides from National Trust. Make naturally dyed Easter eggs, an Easter basket and bean bag Easter chicks.
Easter Adventures in Nature downloadable packs from National Trust. Three FREE activity packs inspired by springtime friends – the house martin, thick-legged flower beetle and painted lady butterfly.
Make a chocolate painting with Tate Kids
Reading Museum Online Easter Activity Cart. Instructions for flower crown, bunny and chick boxes, Easter egg and flower collages and flying chick.
Decorate Spring Eggs with Tate Kids
Natural Dyeing eggs from Ditchling Museum
Easter Bunny Bunting from Ashmolean Museum
Online Gnome Trail from Headstone Manor
Stained Glass Museum Easter At Home pack
I hope this post helps you enjoy your Easter holidays. If you do something I mention, I'd love to hear about it. Comment below, or tag me @museummum on Instagram or @museum_mum on Twitter. And make sure you're following us on Instagram for more days out ideas.
Spread some cultural cheer – share this post with your friends and followers. Post to your Facebook wall, drop a link in your parenting WhatsApp groups, or share to your Instagram stories. Every share helps more people find more cultural things to do with their children.

Disclosure: Just like a journalist, I have been gifted free entry to many of these museums for review purposes. I work at the Museum of London, although can't take any credit for their family activities, and this blog is not associated with them.
PIN FOR LATER: