This is rapidly becoming a family tradition! Our visit to London Transport Museum last year was such a Christmas highlight that the Museum Kids were absolutely delighted to be invited back.
We have been to the London Transport Museum countless times now but no two visits feel the same. Every time there is something new to do – as well as the chance to revisit some favourite activities and exhibits. In this post I'll share more about their Christmas 2019 offering and highlight what else is new. I'll also suggest five other things for families to do in the Covent Garden area, so you can make a day out of it.
Meet Santa and Santa's Hideaway
Sometimes Father Christmas goes for a wander. As the Museum Kids saw Santa on the bridge as they practiced bus driving, and waved cheerfully to get his attention. Museum Boy caught up with him in the 1930s living room, and had his meet and greet there. One day I hope we find him inside one of the historic underground trains, or a top an old bus, as that would make for a brilliant photograph. You can meet Santa and his funny elf helper every day at the London Transport Museum until 23 December 2019.
Winter decoration making
Stop by Santa's Hideaway to make sparkly transport themed bunting every day between 10.30am and 5.30pm. Aimed at families with children aged 3 to 12.
Seasonal sing-a-long
Join in with these lively singing and storytelling sessions with props and instruments for the kids. The 20 minute sessions take place every day at 11.30am and 1.30pm in Santa's Hideaway. All ages are welcome, but most suitable for families with children under 7 years.
Recently opened is the immersive exhibition Hidden London, all about the abandoned and secret spaces on the London Underground network. It's so atmospheric it feels like a workman is about to walk in, stop his chirpy whistling, and ask you what on earth you're doing here.
Having done a Hidden London tour with Museum Teen earlier this year, I'm a bit in love with the subject. The tours are only suitable for ages 14+ so it's great that there is a taster of these fascinating spaces that's accessible to all ages. The set dressing is really well done, and brings in the dingy and slightly grubby nature of abandoned tube spaces perfectly. Perhaps it's even a little too atmospheric for Museum Boy who struggled with the dark spaces.
But immersive and interactive aren't the same thing and unfortunately there's not much for little hands to do. The notable exception is the telephone exchange interactive – during the Second World War, London Underground was used to house exchanges, safe from the Blitzed streets above. Museum Boy received phone calls from clipped RP voices, requesting he connect them with key wartime operations. Unfortunately missing cables and plugs meant despite the increasing urgency of the requests, Museum Boy was unable to put through some of the calls which frustratingly meant the game couldn't progress.
With not enough for the little ones we couldn't give Hidden London the attention it deserves – especially when they know there's tubes and buses gagging to be driven just outside. The exhibition is included in your ticket price so it's well worth giving it a try – Museum Dad and I hope to go back, hopefully this time without the kids.
Canteen at London Transport Museum
The museum's main cafe, above the shop in the entrance, has had a makeover since our last visit. Now called Canteen, it boasts a British classic menu and more seats. After a short but stressful wait hovering over other diners, we managed to nab one of their fetching moquette booths. It being the cafe's opening weekend there were issues with service and food availability, but hopefully they'll be running more smoothly in the future. At £5.25 for a main and side, the children's menu is good value, although there was no sight of the promised crudites. Museum Boy scoffed his flatbread margherita pizza, whilst Museum Girl demolished her creamy mash side. If you're looking for a post-visit treat, the roundel cupcake (£2.50) brought a large smile to Museum Girl's face.
Family favourites at London Transport Museum




There's so much more to do at the London Transport Museum than you'll find in any Christmas grotto. Here's a selection of photographs from our visit showing some of the Museum Kids' favourite activities. Museum Boy insists on doing the stamper trail every. single. time. There's always one or two which are tricky to find, even for an experienced visitor! He can now operate the stamper stations with very little adult help. Both absolutely love the driving simulators – children can try their hand at driving a bus, an old underground 'dead man's handle', and new this year, a modern tube driving simulator in the Untangling the Tracks display. There's normally little to no wait, although the new simulator was well worth the 20 minutes queue – I've never seen Museum Girl be so patient! Museum Boy discovered this cozy reading nook with a great selection of children's books. There's a transport themed soft-play area and toy train sets to play with too.
Christmas gifts from London Transport Museum
For strong Christmas jumper action I heartily recommend the London Transport Museum offerings. This year their children's jumpers are a cheery combination of Victoria Line blue and London bus red. They're striking without being tacky, and we always have people ask where they're from. And incase you have knitwear envy, they stock them in adult sizes too – Museum Dad is sporting last year's number. The jumpers are made in the UK and wash well. The children's jumpers were kindly gifted, but I bought Museum Dad's and am now feeling a little left out! The gift shop is filled with many other lovely gift ideas. Our Christmas tree is now sporting some perspex roundels, and last year Santa popped folding binoculars into the kids' stockings.
1. Find Twelve Lego Rebuilds of Christmas in the Savoy Hotel
A dragon shaped Christmas tree, a princess rocket castle and a giant oak tree are just three of the Lego Christmas decorations you can find in the Savoy Hotel this Christmas. Pick up a trail and see if you can find all twelve. It's free, and a great excuse to nosy round one of London's finest hotels. For more information, visit https://www.savoychristmas.com/lego
2. Marvel at Gingerbread City (and make your own!)
Biscuits meet cutting-edge design in this spectacular and entirely edible city. This year's 'transport' themed city is packed with over 100 show-stopping architectural creations and imaginative ideas of how to move people and produce around our congested cities, from trains and bikes to ski lifts, jelly drones and rockets. Family Gingerbread Making Workshops run daily. Paid, booking recommended.
Read our full review here: Gingerbread City 2019 with kids
3. Skate at Somerset House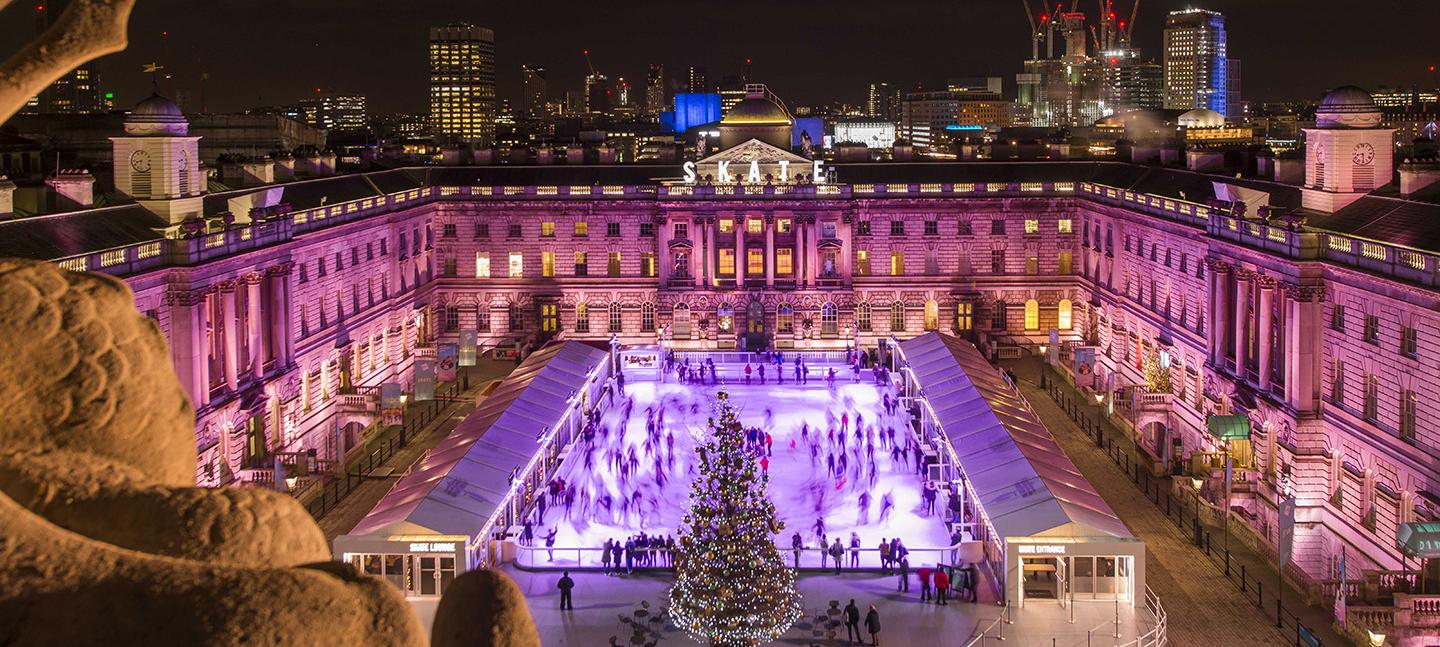 London's iconic skating experience is back, with a Skate School and Polar Bear Club and late-night DJs series Skate Lates cool enough for even the most discerning teen. I had to postpone our family visit due to flu, but look forward to sharing our experience with you just after Christmas. Paid, booking recommended. Find out more, and book tickets here: https://www.somersethouse.org.uk/whats-on/skate-somerset-house
4. See alternative Christmas show The Lost Thing at the Royal Opera House
The Lost Thing tells the strange story of when bottle top collector Shaun (Joel Brown) finds a lost, bizarre creature on a beach. It's a quirky, moving story about compassion, with a diverse range of both disabled and non-disabled performers combining contemporary dance, opera and musical theatre. Paid, booking recommended. Best for ages 6+
Read our full review here: The Lost Thing at Royal Opera House
5. Check out Covent Garden's Christmas decorations
Historic Covent Garden is feeling even more festive this year. As well as its 55ft Christmas tree laden with over 30,000 lights, new this year is the Wonder Wood, a Christmas tree forest dressed by leading brands. The piazza and surrounding streets are positively twinkling with 115,000 lights, and this Tiffany and Co Winter Wonderland pop-up even has a little free ice rink, with some tickets available on the day.
Christmas at the London Transport Museum runs until 5 January 2020. The museum is open every day, except Christmas Day and Boxing Day.
Adults £16.50 online (£18.00 on the door), children aged 17 and under FREE. Your ticket gives you unlimited entry for a whole year.
For more information visit their website: https://www.ltmuseum.co.uk/learning/families/events
Disclosure: We were invited to London Transport Museum, and gifted lunch and Christmas knitwear, in return for an honest review. I visited in November 2019 with Museum Dad, Museum Boy (7) and Museum Girl (5).
PIN FOR LATER: