*Updated to include 2019 and 2020 family events*
Westminster Abbey is without doubt a London icon – an architectural marvel, a working church, the setting of countless royal occasions, a site of ceremony, royal burial and countless memorials, and one of London's most popular visitor attractions.
But is it a place to visit with young children – born since the last royal wedding, who haven't heard of a single person buried there, and have no religious beliefs? (Unless you count the cult of Peppa Pig).
The answer – a resounding yes! I took my family – including a 2 and 4 year old – to their recent family day and we had a very special day out. Having enjoyed it so much, I thought I'd give my top tips for families visiting Westminster Abbey, especially for those with young kids:
1. Diarise their family days
We were invited to come to Westminster Abbey's first family day, a special day with lots of activities aimed at families. On our visit, there was craft, storytelling, a special choir performance and family tours. At 4 and 2 ours are a bit young still for a tour, but loved the craft and choir. We particularly enjoyed making a (paper) crown, complete with jewel embellishments. As this is clearly the closest we will ever get to following in the footsteps of royalty, we made the most of it by wearing our crowns around the Abbey for the rest of the day, much to other visitors' amusement.
*Confirmed family events for 2019-20. Last updated June 2019*
Summer 2019
30 July- 22 August 2019
FREE events with activities on the themes of Queen Victoria, Who's Who, Makers & Materials and Knight School.
Tuesdays and Thursdays
Interactive family sessions in College Garden
Wednesdays
Themed Family Tours at 11.00 and 13.00 (5+)
Teen Tours at 13.00 (13+)
Family Days (aimed at ages 13+)
Pilgrimage Day – 19 October 2019
Abbey Birthday – 23 October 2019
Christmas Carol Singalong – 14 December 2019
A Commonwealth Celebration – 21 February 2020
Royal Oak Day – 29 May 2020
Half Term Holidays
Easter 2020
14-17 April 2020
Eggscellent Abbey
Summer 2020
FREE family days in College Garden
Knights and Dragons – 31 July and 3 August 2020
Glorious Gardens – 14 and 17 August 2020
Wednesdays
FREE interactive family tours
Themed Family Tours at 11.00 and 13.00 (5+)
Teen Tours at 13.00 (13+)
The new family trail is available every day, not just on family days. Beautifully illustrated by Ailsa Burrows, it features two best friends on a day out at the Abbey with their families, and the wonderfully drawn Livingstone the lion (named by public vote). The trail uses open questioning to help families and children explore the Abbey, and think about what what they are seeing. However, the clear photographs and story type approach to the trail mean you can read it anywhere – Museum Boy and I really enjoyed reading it together on the tube on the way home.
3. Keep your eyes peeled for Kids go Free offers
This February half term the Abbey ran a Kids go Free offer. Rather fantastically it allowed up to three children per paying adult – meaning it only cost £20 for a solo parent to bring a brood of three! The family ticket was also reduced in price. The offer doesn't run every school holiday, although it was available in half term last February too.
4. Try their free half term activities
The Westminster Abbey Education team run a number of free family events every school holiday. A sneaky tip is if you book for a free tour in the summer they always go inside the Abbey – albeit for varying lengths of time. I'm sure this sneaky peek will definitely get you wanting to come back for more!
5. Arrive early
If your kid has you up at 630 without fail EVERY DAY (Museum Toddler, I'm looking at you) this is the perfect time of your life to make an early morning visit to Westminster Abbey. Set up for Evensong starts quite early (2pm on a Saturday in Winter), restricting access to some parts of the Abbey. We arrived at 1130 after Museum Boy's swimming lesson, so we didn't get as much time as we would like to see everything and do the requisite feeding of perpetually hungry children before Evensong set up. Next time we'll hopefully be able to come a lot earlier *prays Museum Boy either moves up or down a level at swimming*.
6. Rein in the youngest
At least in the chapel parts of the abbey, if your youngest is a bolter then I would definitely recommend having some form of reins on them. Unless you want them to be inside Oliver Cromwell's tomb, lifting the tapestry and shouting 'Look mummy!' at you in front of dozens of laughing tourists *hollow laugh at idea rope barriers mean anything to a 2 year old*. In the cloisters there is a lot more space for them to tear around without risk of embarrassment.
7. Go on an animal hunt
Westminster Abbey is practically a stone zoo, there's so many animals dotted throughout. I could swear we saw a porcupine – I know we definitely found lots of lions!
8. Eye spy colours
Museum Toddler has just mastered her colours, we we had great fun searching the Abbey for them together. The multi coloured flags in the Henry VII chapel were a particularly fruitful find!
9. Strike a pose
With all these highly carved tombs and memorials, there's lots of figures, in all sorts of positions. Get your children to spot and copy them. Museum Toddler and I copied the kneeling figures around the Margaret Douglas tomb, which you can just see in the bottom right of the photo below. I'll admit it was a little hard on the knees on the stone floor – Museum Toddler was quick to point to the cushions they were kneeling on and ask 'what's that?' Too. Smart.
10. Catch the choir
One of the best parts of our day was the special performance of the choir. We got the rare treat of sitting in the choir benches with the red lights, whilst the choir sang to us from the top of the quire arch, complete with organ playing. It was really was a special moment to hear it live within such an awe-inspiring space.
We also had a q and a session with four of the choristers. Museum Boy, who's a bit obsessed with homelessness, asked if they had homes. I was fascinated to find out that the choir boys live and go to school at the Abbey. They practice singing for an hour in the morning, half an hour in the afternoon, and then every Evensong. All visitors are welcome to listen to Evensong as part of their visit.
Sidenote: if you put your toddler in a red dress, they'll look like a tiny runaway choir boy. Which is always fun.
11. Light a candle
The most touching moment in our visit was when Museum Boy asked about the many tea lights lit. When I explained they were to remember someone, he asked to light one for Granddad M, who very sadly passed away last year. Cue scrabbling around for some coins for the donation box (er, do you take contactless?). It was very moving to take part in this little ritual, with Museum Boy carefully lighting his own candle – perhaps a little too eagerly. The presence of lit candles in this part of the Abbey is something to bear in mind with younger children, especially if they are of the tearaway/pyromaniac variety.
12. Forget the packed lunch

Something I very rarely advise as a family of five! We ended up having an impromptu lunch with the lovely
Tincture of Museum
and her family as we bumped into each other on the stairs waiting for the Cellarium Restaurant. The food was very good quality – my sea bass was incredibly fresh and tasty, my partner's lamb was beautifully cooked with the right amount of pink. I was too hungry/busy with kids/busy chatting to take many photos but this is one of my partner's delicious grilled artichoke starter which is on the
set lunch (£17 for 2 courses/ £20 for 3).
In February half term the Abbey ran a 'Kids Eat Free' offer, with one free children's meal for each adult main meal bought. Our kids tucked into a good quality sausage and home made fries. We dined upstairs in the light and spacious terrace, whilst downstairs the ancient cellars are more atmospheric. It is not a quick option – my partner rather accurately described it as 'an Italian experience', which was true right down to the waiter kissing Museum Toddler, and saying 'Ciao, bella!' to her. But it did feel like we managed to combine a good meal out, adult conversation and a table full of kids, which is a rarity! It was definitely a highlight and we plan to eat there again. Try and have lunch near the end of your visit though so you don't miss too much before Evensong sets up.
13. Exit via the gift shop
Yep, for once it's definitely worth leaving via the gift shop as everyone who has done the trail gets a gift – my kids were delighted to have their very own Livingstone the lion badge to take home.

14. Keep coming back!
We all really enjoyed our visit to Westminster Abbey – Museum Boy said 'of course' he'd like to go again. I can only imagine future visits will become even more rewarding as they learn about British history, and the kings, queens, poets and people who are commemorated in Westminster Abbey. And at some point in their lives, watch the spectacle of a new monarch being crowned, sat in the very Coronation chair we bid farewell to on our way out.

Disclosure: I was given free entry and lunch at the Cellarium in return for an honest review.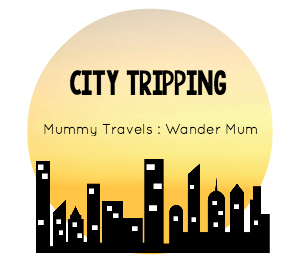 PIN FOR LATER: